Don't let the idea of spending the day at the beach with your kids stress you out. Here are 10 life hacks for your day at the beach that will make your day more enjoyable.
A summer outing to the beach is a great way to spend a day. But with the heat, crowds, and all the stuff you have to drag with you, it can get a bit stressful.

Here are 10 Life Hacks for your day at the beach to help make your family's trips this summer a more stress-free experience!
10 Best Life Hacks for Your Day at the Beach
Be Sand-Proof
It's not a beach without sand, right? The problem is that sand gets everywhere! A trip to the beach usually means I'll be finding sand in weird places for days.
1. Baby Powder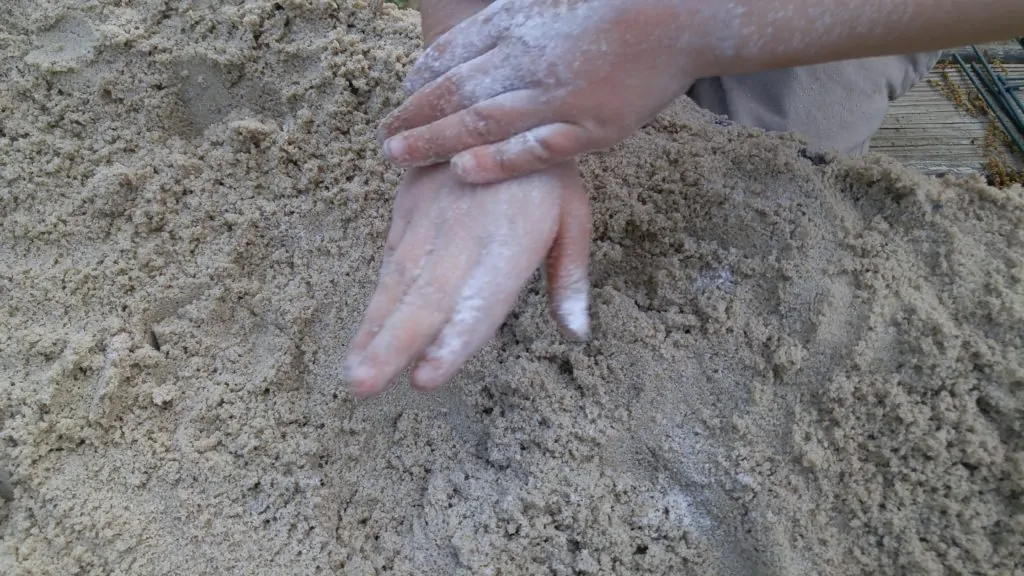 Sprinkling baby powder on your wet, sandy skin will absorb the moisture and help the sand fall off. We tried it and it works!
2. Carry Stuff, Not Sand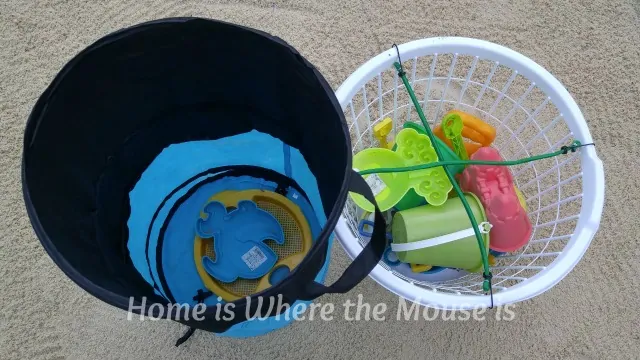 Use a pop-up hamper or laundry basket to carry your beach items allows the sand and water to fall out through the holes. It's great for rinsing out your beach toys if your beach has a shower head to wash your feet. You can take your stuff home without bringing half the beach with you! I picked up some bungee cords to use as straps along with a basket at the dollar store.
3. Fitted Sheet Barrier
Sand can be blown around by the wind (ever been to Aruba?) or kicked on to you and your blanket by your kids and other beach-goers. Use a fitted sheet as a beach blanket. Put items at the corners to weigh the sheet down like you would normally d0. Then turn up the fitted ends to create a raised wall around your blanketed area. This will cut down on much of the unwanted sand.
Be Secure
One of the big concerns during any beach day is keeping an eye on your valuables, whether it be your family members or personal items. It's best to leave as much in your car or at home as possible, but it is useful to have a little something on you.
4. Dry Protection
Use an empty container to hide valuables like cash, ID, and jewelry. The Internet will tell you to use a suntan lotion container, but I've never seen one with an opening large enough to get items in and out of. An empty deodorant would be my choice. Got a little one in diapers? Use a rolled up diaper with your valuables inside. Just remember not to throw it out!
5. Wrap Tech in Bags
It's not just other people you want to protect your stuff from. Keep your phone, tablets, and other items protected from sand and water using ziploc storage bags. You should still be able to use your touchscreens through the bags. Ziplocs are also great for snacks and pre-made slush drinks. They also come in handy for separating wet items from dry ones inside your beach bag.
6. Make Your Spot Easier to Find
One of the biggest issues at any public beach is that everything looks the same. Everyone has brightly colored umbrellas, chairs and blankets. Spend time in or down by the water and you can easily end up searching for your stuff. Help your area stand out and make it easy to find amidst the crowd by planting a flag or wind spinner, or even attaching a kite tail attached to your beach umbrella. There is almost always a nice breeze to blow it around and make it visible from a distance.
Instruct children to go to the lifeguard's chair if they are lost, and give them a reference point like a house or building to help them locate your spot.
Fix Stuff
7. Bread Tag for Flip Flops
This is one of the most popular beach related hacks on the web. Unfortunately, I don't know if I'll have a bread tag on me when my flip flop breaks. Safety pins and/or bobby pins might be a more reasonable item to have stashed in your beach bag.
You want something to put around or through the button to make it larger than the hole so it won't come out again. It doesn't have to be pretty, it just needs to get you through the day so you can buy a new pair.
8. Water for Umbrellas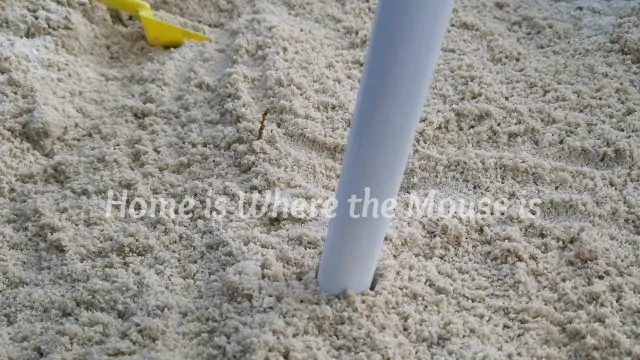 Dry sand is loose. That's the reason your umbrella will fall over after you stick it into the sand. Take a page out of the professional sandcastle-maker's book and use a mixture of water and sand (50/50 is good) to fill the hole. The water compacts the sand and makes it stronger.
Keep Cool
Here are a couple of hacks to help beat the heat, aside from the obvious taking a dip in the water!
9. Frozen Water Bottle
This is one of our favorite hot-weather hacks, and it made the list of our 10 best lifehacks for your Disney Vacation. Fill up a water bottle only partially (no more than half) and lay it on its side in the freezer overnight. Before you head out to the beach, fill the remainder with water and you'll have cold water that you can drink right away and will stay cold for hours.
10. Kiddie Pool
Rough surf can make it tough on little ones to enjoy the beach. It sounds odd, but bringing a kiddie pool to the beach is the solution. Inflate and fill up with some ocean water to create a gentle pool for your kids to cool off in! This also keeps the little ones close by.
Don't have a kiddie pool? Dig a hole and line it with a shower curtain liner, then fill it up!
We hope these lifehacks help make your next day at the beach a pleasant and stress-free day of family fun. Have a handy beach hack we didn't mention?? Share it with us!
For more summer travel tips,
check out the other great posts from our friends!