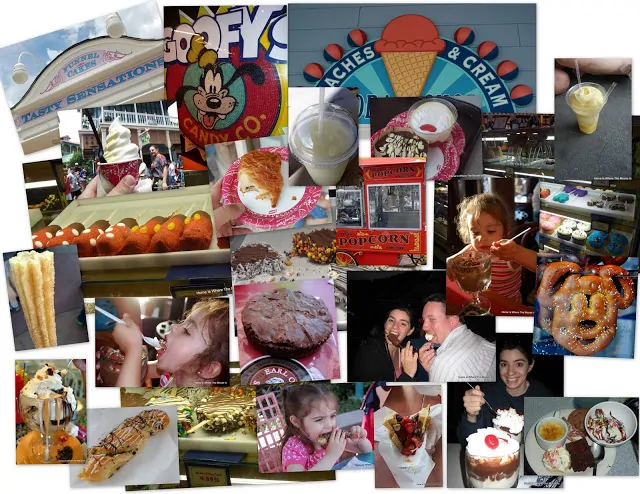 DoleWhips? Turkey Legs? Mickey Ice Cream Bars? What is the best snack/treat to get while enjoying your stay at Walt Disney World? We couldn't pick just one, so here are our 10 Best Snacks at Walt Disney World
We couldn't come to a consensus, so you'll get two 10 Best lists. Some snacks we agree on, but each of us has a couple of unique favorites. It was hard enough to limit ourselves to just 10 favorites, so with the exception of our #1 picks, the remaining 9 are in no particular order. Ladies first, and then James will only go into detail on choices that differ from Lisa's.
Lisa's Favorite Walt Disney World Snacks
My ultimate favorite snack at WDW is popcorn, and while popcorn is great anywhere in Disney, it is BEST if you get it from a popcorn cart on Main Street USA. I opt for the souvenir bucket!






2. Nutella Waffle
This could arguably be a meal, but we're taking some liberties and calling it a snack. A Generously size belgian waffle with Nutella, strawberries, blueberries, and banana! Want to know where to get one? We devoted an entire post to this incredible treat.
3. Soft Pretzels
Warm, salty pretzel… yum! In the shape of Mickey's head? Even better!!
4. Chocolate Croissant
Several Bakeries on property offer this flaky and sweet treat. We couldn't even wait to take a picture before getting started on it!
5. Chocolate Covered Frozen Banana
Parents can feel slightly less guilty treating their kids to one of these refreshing snacks on a hot day. This ranks as Bella's favorite!
6. Cupcakes
Too many varieties to pick just one, Disney has taken decadence to the extreme with its cupcake offerings. Check out our take on the outrageous Butterfinger cupcake from Starring Rolls Cafe
7. Ghirardelli Ice Cream
Everyone likes Ice Cream, and though there are plenty of great places on property to get a scoop, cone, or sundae, Ghirardelli is my favorite!
8. Frozen Lemonade
Is there anything more refreshing on a hot day in Walt Disney World than a fresh frozen lemonade? The Minute Maid kind that is frozen solid doesn't count. We're talking about the slushy kind you can eat with a spoon, or drink through a straw!
9. Chocolate Covered Marshmallows on a Stick
It sounds so simple, yet it is SO good! Different chocolate and topping combinations mean you can always try something new! At Disney's Hollywood Studios, we always grab some to take with us to eat while we wait for Fantasmic! to start!
10. Chocolate Covered Rice Krispie Treat
Goofy's Candy Co. is the place to watch your snack get made right in front of you! I like mine covered with chocolate and Reese's Pieces!
James' Favorite Walt Disney World Snacks
1. Triple Chocolate Brownie
My ultimate favorite snack is the the brownies at Earl of Sandwich in DTD. Made fresh, with the flaky, crackly top, moist and rich on the inside… I buy one to eat there and several for the trip home!
2. Ice Cream Sundae
I'm also a big fan of Ghirardelli's, but on our most recent trip, I was blown away by the "No Way Jose" sundae at Beaches n' Cream. Boy, was it good!
3. Churro
I'm not sure why I love these so much, but I can eat them all day. With or without the dipping sauce.
4. Frozen Lemonade
5. Cupcakes
6. Chocolate Covered Marshmallow on a Stick


7. Milkshake
I can't resist a good milkshake, and classic vanilla is my favorite flavor. I was in heaven at Whispering Canyon Cafe with their bottomless milkshakes!
8. Mickey Bar
This classic treat is simple and nostalgic. A favorite treat to enjoy while watching the afternoon parade! We even tried to make our own Mickey Ice Cream Bars at home!!
9. Chocolate Croissant


10. Funnel Cake
This snack is perfect for sharing. True Story: I once used the last remaining day on my multi-day pass to enter EPCOT and walk to the American Pavilion, JUST to get a funnel cake and bring it out of the park!
So that's our 10 Best List for each of us for all of Walt Disney World. Each park has its own unique snacks, so be sure to stay tuned to see our lists for each individual park.
Right now, you can check out our 10 Best Snacks in Magic Kingdom!
So what's your favorite Disney snack??