It boasts some of the biggest thrills that Walt Disney World has to offer, and it's currently under a lot of construction as they get set to open Star Wars: Galaxy's Edge. But we're going to tell you why you shouldn't skip it, especially if you have little kids.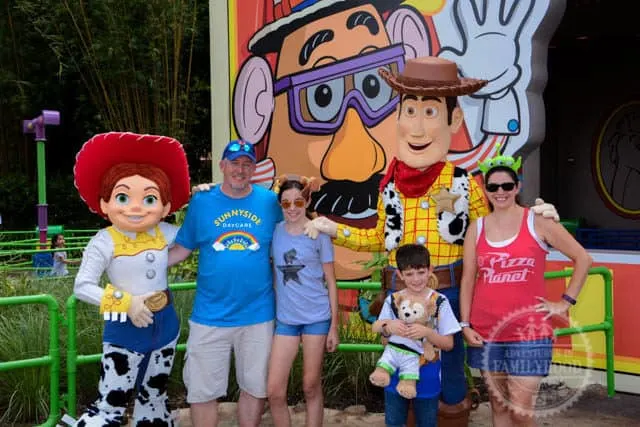 Here's our 10 Best Things to Do with kids at Disney's Hollywood Studios!
I know we're all kids at heart, especially while at Disney, but for this list, we're going to concentrate on the little ones. So nearly everything we mention here is going to be accessible to all kids ages.
1. Toy Story Land
Toy Story Land is Awesome! The only complaint I have is that there isn't more of it. But each of the three attractions is one we could do over and over, and just walking around the land makes you feel like you are the size of a toy!
Toy Story Mania
Even if your kids are too small to do it on their own, they can have a blast helping mom and dad try to score high on the carnival-style 3D games.
Slinky Dog Dash
Even if you aren't a roller coaster person, we think you'll love Slinky Dog Dash. The family-friendly coaster's height requirement is only 38″, which means a lot of 4-year-olds and even some 3-year-olds are tall enough to ride!
Alien Swirling Saucers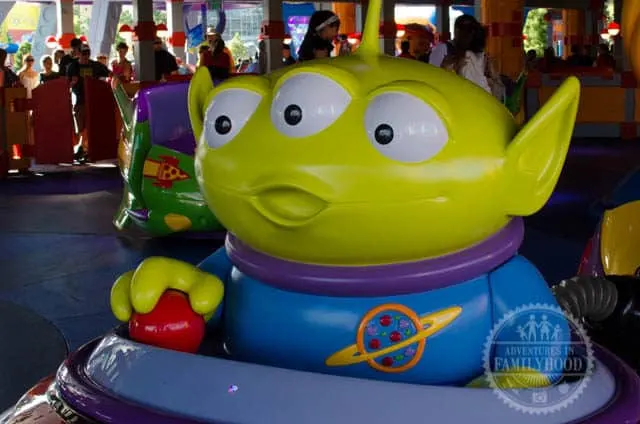 We weren't sure what to make of Alien Swirling Saucers when we first heard about it. But we all loved it once we got on! And while there is a height requirement, it's only 32″.
Many guests will hit Toy Story Land first thing in the morning, but we also recommend you go back at night!
2. Disney Junior
Kids love Disney Junior, and Disney's Hollywood Studios is the only park in Walt Disney World that features characters from Disney Jr. shows.
Meet Vampirina, Doc McStuffins, and Fancy Nancy
If your kids are fans of these popular Disney Junior characters, then Disney's Hollywood Studios is the place to be!
Play N Dine at Hollywood and Vine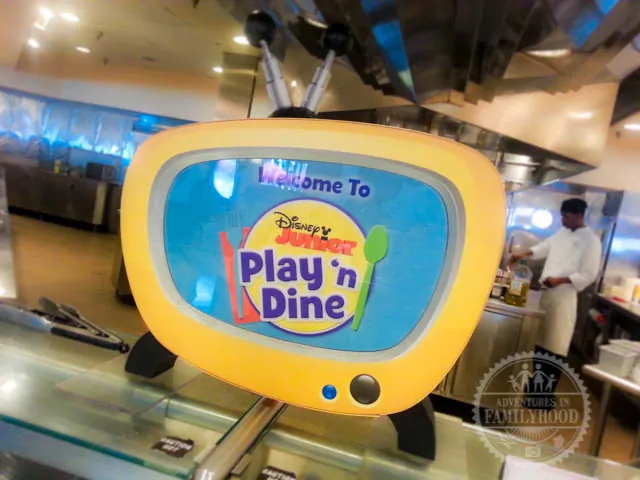 Back when our kids were really into the Disney Junior shows and characters, the Play N Dine breakfast quickly became one of our favorite character meals.
Now, the characters are new, and we're not sure if they do the same songs and dances for the kids that they used to. But, it's still a great way to meet Vampirina, Doc McStuffins, Sofia the First, and Goofy in his Roadster Racer outfit.
Disney Junior Dance Party!
Another "must do" for Disney Junior fans is the Disney Junior Dance Party! Kids can get their groove on during this interactive show that features appearances from Vampirina, Doc McStuffins, Timon, and Mickey Mouse in his Roadster Racer outfit!
3. Character Meet n' Greets
It may take some time for your little one to warm up to larger than life characters, especially on a first visit. But once your child gets over their hesitance, you may find you have trouble pulling them away from their favorites. Disney's Hollywood Studios is great for character meets because there are many here you can't meet at the other parks.
Here are some of the characters you can only meet at Disney's Hollywood Studios
BB-8
Olaf
Green Army Men
Cruz Ramirez
Vampirina
Doc McStuffins
Sofia the First
4. Jedi Training: Trials of the Temple
Once only available during Star Wars Weekends, the Jedi Training: Trials of the Temple is now open all year round, training a whole new generation in the ways of the force! Space is very limited and fills up quickly each morning. So be sure to get there early to sign up your young padawans for their chance to battle the sinister Darth Vader or another Star Wars villain!
This is the only experience on our list with an age requirement. The Jedi Training Academy is officially only open to children ages 4-12. They don't ask for a birth certificate, but they do need to speak to your child when you register to make sure they can answer questions and follow directions. I'm sure a few advanced 3-year-olds and young-looking thirteen-year-olds have wielded lightsabers at Disney's Hollywood Studios.
Their training takes place for all to see, with a special section reserved for parents. PhotoPass photographers are on hand to capture these magical moments, and each child is presented with a certificate upon completion of their training.

Shows are subject to cancellation due to inclement weather. I advise checking the hourly forecast when signing up.
5. MuppetVision 3D
Who doesn't love the Muppets? Until the new movies came out, our kids only knew the muppets from Walt Disney World, but they still enjoyed what I consider to be the best of all the 3D movies that Disney offers.
There's just something I love when I see not just my kids, but all the kids in the theater reaching up and trying to touch the 3D objects. The wacky effects and sight gags will have your laughing the whole time. There's even some classic Muppet humor for the adults too!
6. Lightning McQueen's Racing Academy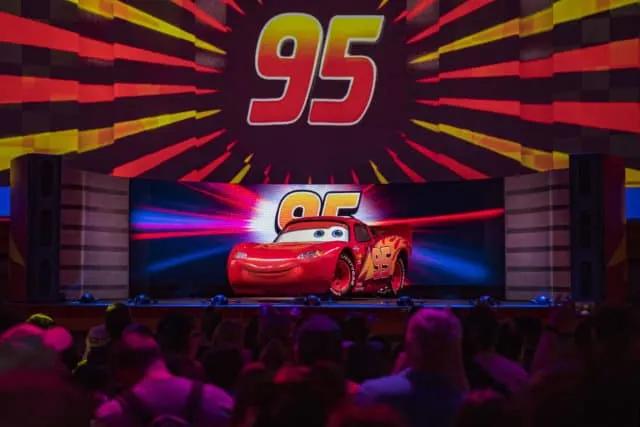 This new show experience invites guests into the world of "Cars" as they become rookie racers and learn the rules of the road from Lightning McQueen, himself.
The experience also has a Cruz Ramirez Meet and Greet located just outside. And there is a Dance Party with DJ held throughout the day.
7. Frozen Sing A Long
Despite many parents' secret wishes, "Frozen" is still quite popular. While the Frozen Ever After ride can be found in Epcot, Disney's Hollywood Studios has "For the First Time in Forever: A Frozen Sing-Along Celebration". It's like seeing only the song parts of the movie, with live actors filling in the gaps. It's not as painful as it sounds. I actually enjoyed it, and more importantly, so did the kids.
8. Voyage of the Little Mermaid
What I love about this version of the Little Mermaid is how it combines the live Ariel with the very colorful puppet sea creatures, the animated background, and the little "4D" touches that make you feel more a part of the story. Kids love it because it is so colorful and they know the story and the music.
It's long enough to offer a good escape from the Florida heat and humidity, but short enough for the kids to sit through it.
9. Beauty and the Beast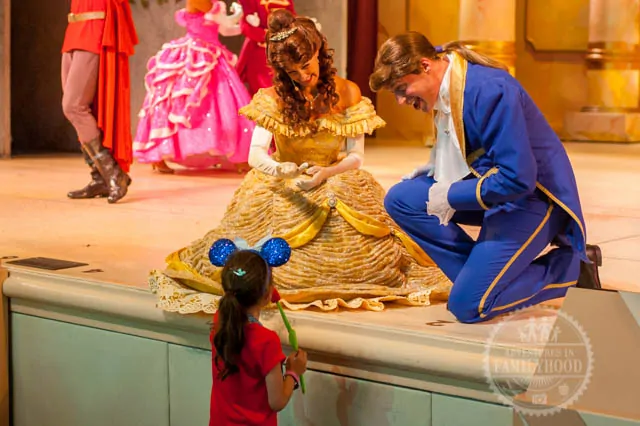 With all the great music and characters of the film, this broadway-style stage show is a delight to watch. The theater is outdoors, so there's no air conditioning, only a canopy to provide shade. But once the show starts you'll forget all about the heat and be swept up in the magic of Beauty and the Beast! It's something for the whole family to enjoy!
Arrive early and your child might be picked to play a special part in the show. It's one of those special "pixie dust" experiences Disney is famous for.
10. Fantasmic! and Fireworks!
Disney's Hollywood Studios has not one, but two nighttime spectaculars on most days. Provided the kids are not tuckered out and asleep, it's a great way to end the night.
Fantasmic!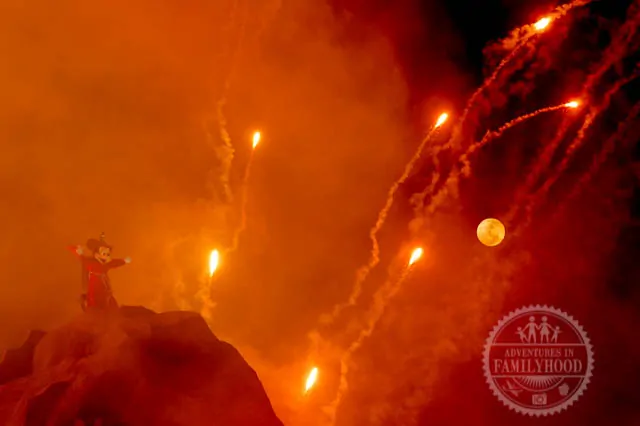 Disney's Hollywood Studios' nighttime spectacular Fantasmic! is a must-see. The wait can be tough to endure, since you have to arrive early to get good seats. But if you can handle the wait (bring snacks, light-up toys to keep kids occupied), you're rewarded with a great show combining live-action with pyrotechnics and water-projections! The grand finale is awesome!!
Wonderful World of Animation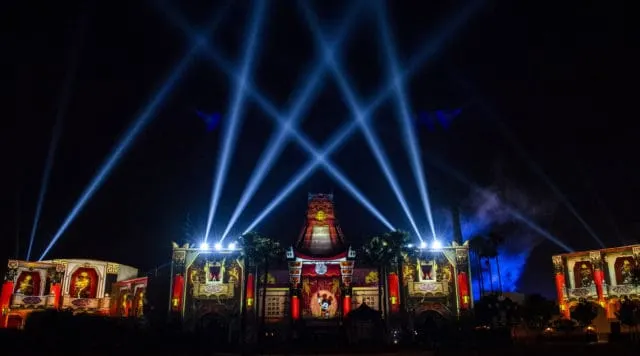 The new "Wonderful World of Animation" show is a nighttime projection show debuting on May 1, 2019. This new experience uses state-of-the-art, projection-mapping technology to take guests on a magical journey through more than 90 years of Disney animation.
Star Wars: A Galactic Spectacular
This relatively new display combines music, projections, and fireworks with the story of Star Wars to create a thrilling spectacle. While I would normally advise possibly watching the fireworks from a distance, the projections need to be seen up close. If the kids are bothered by loud noises, consider bringing noise-canceling headphones.
So there you have it, our 10 Best Things for Kids at Disney's Hollywood Studios… for now! We're eager to see how the openings of Star Wars: Galaxy's Edge and "Mickey and Minnie's Runaway Railway" are going to affect this list.
In the meantime, did we miss anything? Let us know in the comments!!