What were the top trends in play at Toy Fair 2018?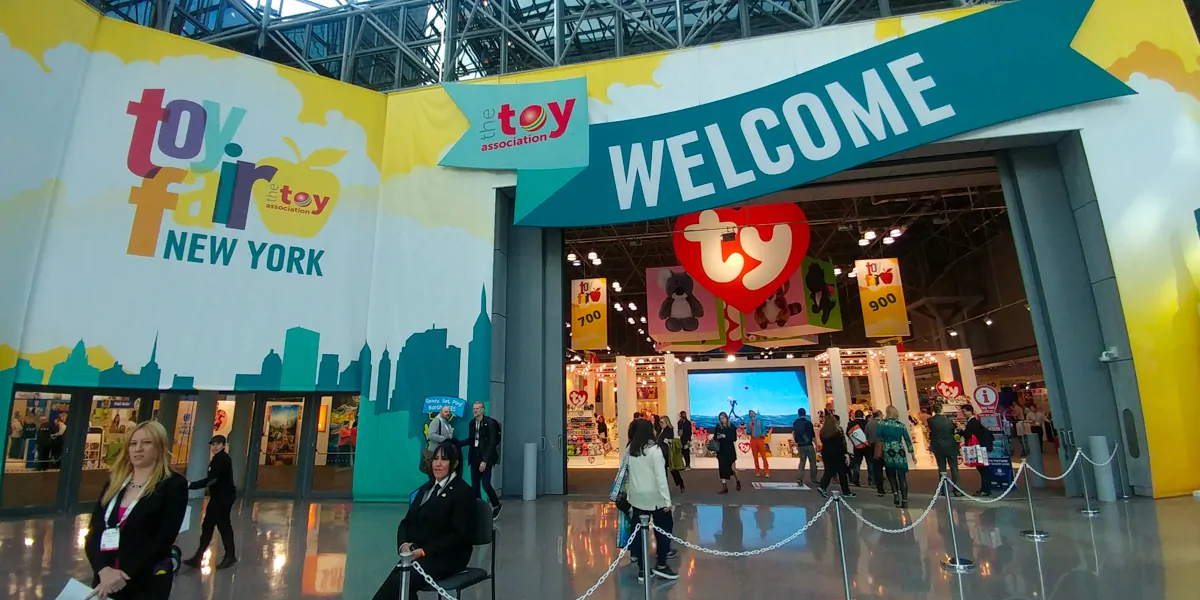 We attended the event held over the weekend in New York City. Here are 10 trends we noticed in the toys kids will be playing this year.
Toy Fair NY
Each year over one thousand exhibitors show up for 4 days at the Jacob Javitz Center in New York City to showcase what's new in toys and entertainment at Toy Fair NY. This event is not open to the public, but media and toy buyers attend to get a look at what the toy trends will be for the upcoming year. We attended for the very first time and were blown away by just how big Toy Fair is. It seriously takes 4 days to even try to see all it all!
Potty Humor
Potty humor has always been a thing with kids (and some adults). But from what we saw at Toy Fair, 2018 promises to be the "Year of Poo". It seemed like most of the booths we visited were trying to cash in on the poop-ularity of potty humor.
And it wasn't just poop, but gross things in general that were very trendy.
This Pop-A-Zit game
looks pretty gross, but some kids will love it. It's sprays water, but you can use an adapter to shoot string instead.
In What's That Smell?
, players have to actually smell cards and see if they can identify the smell. Lose has to smell something really gross!
And you can imagine the laughs kids will have playing the Pull My Finger
farting monkey game.
Unicorns
On the opposite side of the spectrum, Toy Fair NY was a unicorn paradise. Unicorns were super hot last year, and that trend will continue.
We should know, as we have a small human who thinks she's a unicorn living in our house.
This inflatable Unicorn sprinkler
will be a hit this summer for sure!
Oh, and if you want to combine unicorns and poop? You get Poo-nicorns! There is a whole line of collectible figures and plushes. We used some to create these great Poo-nicorn Easter baskets.
Surprise!
Who doesn't love the thrill of opening a mystery pack to see what's inside? Part of the fun is not knowing what you are going to get and this year, toy makers are making the reveal even more fun. They're taking it to the next level. In 2018, just opening the surprise is going to be fun.
You don't just open the new Grossery Gangs in the Flush 'n' Fizz packs
. You have to flush them in their toilet to find out what you got.
Play Foam Pals
are disguised inside packs of play foam which adds to the fun!
Shopkins Fizz 'N' Surprise
add some fun to adding to your collection!
Tactile Toys
Sensory play isn't just for preschoolers. Toys like Soft'n Slo Squishies
are very popular with tweens and now their are DIY versions they can customize just the way you like them.
We were excited to see that Disney has expanded its Tsum Tsum line by partnering with Jakks Pacific to create Tsum Tsum Squish-Dee-Lish
Orb Molecules
are a fun, sculpting material that adds a unique sensory experience for endless play.
Fingerlings
, which took home a Toy of the Year award, are expanding their line of toys that respond to kids' touch.
STEM/STEAM
Toys that emphasize Science, Technology, Engineering, Math and Arts are all the rage. Seems like every company is trying to capitalize on the STEM trend. Parents feel good when their children play with STEM/STEAM toys like the Constructechs
because of the added educational value they provide.
There's probably no bigger trend in STEM than coding. Coding in its simplest form is merely teaching kids that if you do this, then this will happen. And that is the building block of computer programming, web development, and all those cool tech jobs that are so important these days.
Companies like LittleBits specializing in making coding fun. They have a bunch of cool coding kits, including their award-winning Star Wars Droid Inventor Kit
. But what's even cooler are the kits that are based on creations from actual kids!
For younger kids, the basics of coding can be simpler and just as fun. This Musical Train plays songs as it goes around the track. But the notes are determined by the placement of the switches. Kids can rearrange the tracks to compose music!
Another musical toy that subtly teaches young kids about circuits are these Tune Zoo plushes
. In order to hear the music, kids must complete the circuit by touching one of the animal's hands, and then the other. And you can add as many people to the chain as you want, and see what happens!
In addition to coding, we saw some cool toys that invited kids to explore nature, like this butterfly kit by Insect Lore
. They have a whole line of nature kits and a partnership with Eric Carle books. Kids can grow their very own Hungry Caterpillar!
And these My Fair Gardens
combine the fun of fantasy play with the thrill of growing real live plants! Here is our My Fairy Garden review.
Social Games
We love games. Family game night should be a thing in every home. One of the trends in games is the social aspect. Games, where the players have a say in the outcome as opposed to random rolls of the dice, are becoming more popular. They encourage you to play with friends and family, and are great for parties! Comedian Jeff Foxworthy has even come out with his own version called Relative Insanity
.
Another social card game we saw was Utter Nonsense
! Players have to say phrases in certain accents. You can imagine how silly this one gets.
Another type of game that is trending is the strategy card game. Think UNO meets Pokemon. Unstable Unicorns
, a popular Kickstarter, was on hand at Toy Fair. I had to buy this for Bella to play with her friends.
Open-Ended Play
Games have rules, but "open-ended" play is all about making up your own. And while any toy can be played with in any way you want, we saw a few toys that really encouraged using your imagination. The best example were these toys by Moluk
. These colorful toys inspire creativity because they can be anything you want them to be.
Another open-ended star was Antsy Pants
. They won a Toy of the Year award for their build kits, which can be used as designed or combined with other kits to create whatever your imagination can think of.
Retro
They say a classic never dies. Apparently, that holds true for toys. As much as the newest and most innovative toys garner attention, today's kids can have just as much fun kicking it old-school! NeatO brought toys and games that have been fun for generations, like Paddle-ball. We all had one of these as kids. And what's great about introducing this generation to our toys is how it brings us closer together.
Remember Colorforms? Walking into this booth at Toy Fair brought me back to my childhood instantly. Colorforms
has everything from travel packs to giant wall playsets.
One of the Toy of the Year Award winners was an old friend, Teddy Ruxpin
. The story-telling bear is back with a updated look to entertain a whole new generation.
Games Paired with Apps
While STEM/STEAM toys emphasize learning, especially about technology. A trend we saw at Toy Fair NY was toys integrating technology into play. Many toys we saw were being displayed with apps that you can use along with them. The When in Rome game
is played by using Amazon's Alexa.
Beasts of Balance
is a game that combines physical skills, strategy, and technology. You can work together or against each other creating a magical world of beasts that appear on the screen after you've combined stackable elements on the platform in real life.
The Play Impossible Gameball
is a cool piece of technology that you can play with just like any normal ball, and then use the app to see how fast the ball was spinning, how high you threw it, how fast you kicked it, and more!
In some cases, the apps can bring characters to life. The Playmobil Ghostbusters set
has an app that can project a hologram of a ghost for the team to catch!
Webisodes
The last trend we saw from Toy Fair NY was the increasing use of webisodes to help bring the story of toys to life. With more and more kids watching YouTube, toymakers are trying to get their creations in front of them.
Kids might stumble upon these videos and then want the toys. Or they may get the toy and the videos may add to that experience. Either way, Toymakers are putting more effort into creating webisodes to go with their products. These webisodes, along with the popular unboxing videos, mean your child may come to you asking for a toy you've never heard of… yet!