Disney•Pixar's latest achievement, Inside Out opens in theaters today!!
We got to see the movie a few days ago, and in our opinion you shouldn't think twice about taking the whole family to see this movie! Here are 10 Reasons why Inside Out is the Perfect Family Movie! (no spoilers)
Over the past year, Inside Out had gradually heightened my expectations. I wasn't sure what to think when I first heard about the movie. But with each preview we saw, our kids were falling more and more in love with the characters and our excitement grew. It even prompted me to wonder if Inside Out would be bigger than Frozen, since I couldn't recall a movie we had been more excited about. It also had me worried about being let down, because how often does a movie live up to the hype?
Thanks to a special early screening through Fathom Events, our wait to see Inside Out was lessened by a few days. This movie took five years to make, and without a doubt, it was worth the wait!
I made sure I didn't read any one else's reviews, and there'll be no spoilers here.
The Story
Riley is the main character of Inside Out, but the action takes place inside her head.
Inside Out is the story of Riley, who's family moves from their home in the Midwest to a new life in San Francisco and how she copes with such a big change in her life. It's a simple story, but told from the perspective of her emotions, it adds layers of depth and becomes incredibly moving.
The Setting
There is an entire world to explore inside our own minds.
In Inside Out, they create a place that allows all of us to visualize how our minds work, and what gives each of us our unique personalities. Simultaneously unique and yet very familiar, it's world-building on par with the best fantasy and science fiction, and it makes perfect sense. It's easy to believe that this could be what is going on inside our heads.
The Animation
Ever wondered what Brain Freeze looks like inside your head?
The animation is everything we've come to expect from Disney•Pixar, rich with details that really make you believe that these are what are emotions look like, and this is how our minds are laid out.
I was too caught up in the story to look for the "Easter eggs", but there are so supposed to be more than a few.
The Emotions

Your 5 basic emotions aren't there for show, they each serve a purpose.
These characters are the reason we were so excited about the movie to begin with. They are so easy to identify with. I often thought my emotions were so much more complex, but they truly can be boiled down to these five basic emotions of Joy, Sadness, Anger, Fear and Disgust. Only someone devoid of feeling wouldn't like these characters.
Bing Bong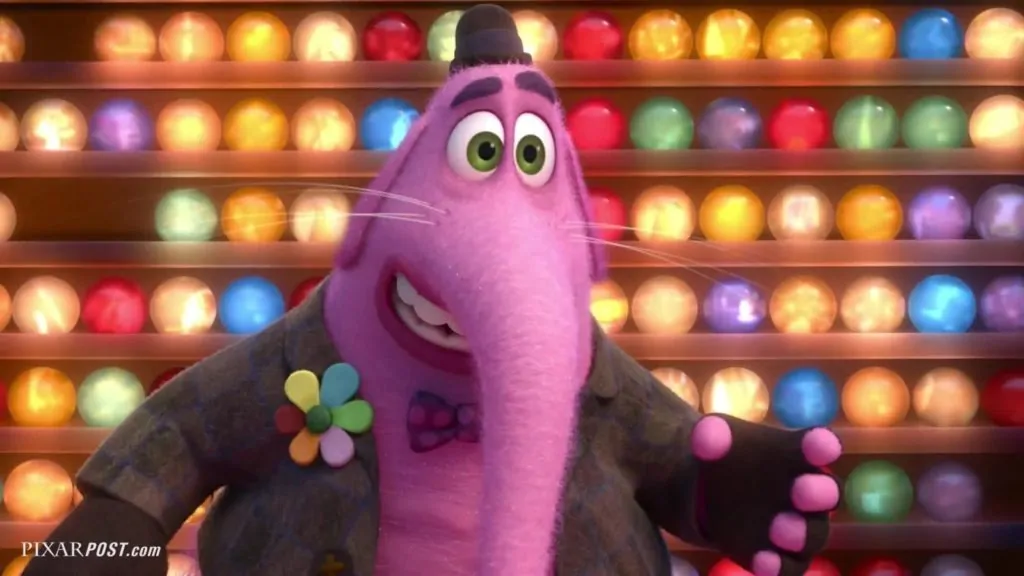 Image: PixarPost.com
Then there's Bing Bong. He's a combination of cat, elephant, dolphin and cotton candy. He's ridiculous, yet we probably all had our Bing Bong growing up. Bing Bong is like an old best friend you forgot you had. I didn't see too much of Bing Bong in any of the previews, so I wasn't sure what to think of him going into the movie. He's a scene-stealer, and the movie wouldn't be the same without him.
The Acting
The voices inside Riley's head
Each of the main characters has such distinct traits that it would become so easy for them to be over-the-top with their personalities. This was one of my concerns going into the theater. I wondered how the interactions between such powerful emotions would play out, especially with actors who seemed to be such great fits.
Thankfully, the performances here are do not become annoying at all. Even at the most pivotal points in the story, the acting is understated, which allows for the moments to take center stage.
The Moments
You may want to pack a few tissues for Inside Out.
I laughed and laughed some more, which I fully expected from what we'd seen from the previews. I also got a little teared up, and I'm not ashamed to say I was crying right there in the theater along with Lisa and Bella. That was unexpected. The story struck such a chord with me that I got swept up in Riley's emotional journey. Not many movies do that. It was amazing.


The Music
Michael Giacchino also created the score for Up!
This is the one piece that Lisa felt was lacking. She felt it was missing a great soundtrack. I disagree. This is not a musical, and the movie doesn't contain any songs, unless you count jingles. Instead, you have a unique score that perfectly matches each moment of the film.
It's easy to overlook how good the score is, given how great everything else about the movie is. You almost have to listen to it on its own to appreciate it. Which is what I'm doing right now on Spotify as I write this.


The Message
Joy at the controls inside Headquarters
There is a heart-warming message within the story, of course. What I loved most is how everything comes together in a way that both grown-ups and kids alike can take something from Inside Out.
I can tell you that for my part, I'll never think about my own emotions the same way again. I won't look at my children and gauge how they're feeling in the same light, either.
The Credits
Even Riley's parents have their own set of emotions.
In true Disney•Pixar style, the credits are must-see. You can tell the animators had a lot of fun with making those.
I think by now you know how I feel. I've had a few days to think on it, and Inside Out is the BEST Disney movie I've ever seen. I'll take it further… It's one of the best movies I've ever seen, period.
Will it be bigger than Frozen? That remains to be seen, but my gut tells me no, despite the fact that I believe Inside Out is a far better movie.
But don't just take my word for it. While I think Lisa falls a bit shorter in her praise for Inside Out, she still thinks it was a great movie. And here's what our kids said when I asked them if they thought their friends should see Inside Out:
Bella:
"I think Inside Out is a great movie with a lot great parts. Even the sad parts are good because they make the movie interesting."
Jackson:
"All of my friends should see Inside Out because they will love every part."
So there you have it!! Take the family and go see Inside Out, you won't regret it! Once you see the movie, come back here and let us know what you thought of it!!