This is a sponsored post. We received compensation in exchange for promoting these ideas about play, but all of the opinions and experiences are our own.
---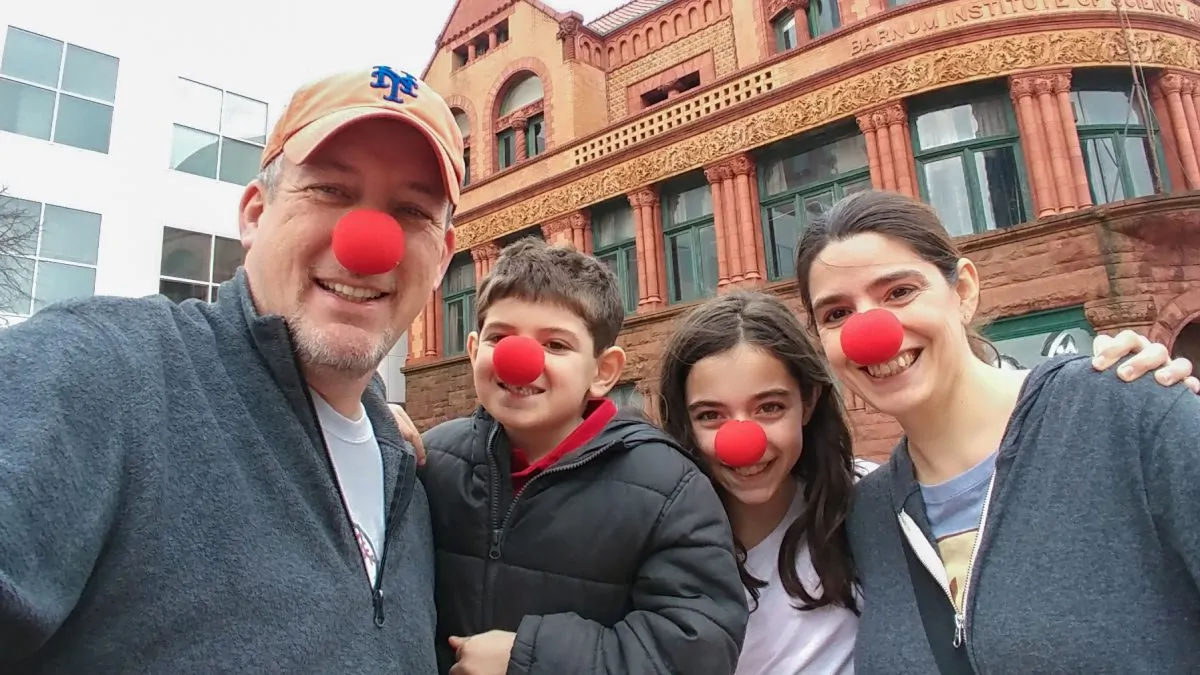 The experts all agree that play is an important part of childhood development and our well-being as adults. As one expert puts it, "play is our brain's favorite way to learn."
Despite its benefits, playtime is often taking a back seat to life's other priorities. Here's why play is important for both children and grown-ups, and 10 ways we can put more play into our day.
I've always believed that playing is something we should all do, no matter how old we are. One of the reasons we prioritize vacations and travel is because we view the world as one big playground to explore and learn from.
It turns out that people a lot smarter than I am feel the same way. In fact, the American Academy of Pediatrics is now calling for doctors to write prescriptions for play!
One visit to The Genius of Play website was all it took to discover a wealth of research and expert opinions on the subject of play. It helped me realize just how much play impacts our lives. As a result, I can tell you two things:
My kids don't play nearly as much as they should.
I don't play with my kids nearly as much as I should.
This is a problem. In case you don't believe me, here's what the experts say:
Benefits of Play For Kids
Physical – Active play helps kids with coordination, balance, motor skills, and spending their natural energy.
Emotional – During play, kids learn to cope with emotions like fear, frustration, anger, and aggression
Social – Playing with others helps kids negotiate, collaborate, compromise, share, and much more.
Cognitive – Children learn to think, read, remember, reason, and pay attention through play.
Creative – By allowing imaginations to run wild during play, kids create new worlds, form unique ideas, and much more!
Communication – Play lets kids exchange thoughts, information and messages.
Benefits of Play For Adults
Relieves stress.
Improves brain function.
Stimulates the mind and boost creativity.
Improves relationships and connection to others.
Keeps you feeling young and energetic.
I couldn't agree with these more. It's one of the reasons I love taking my family to Walt Disney World. I always return with more energy and creativity. With this in mind, I think you'll all agree that we should find ways to play more throughout the day. Here are some ideas I've come up with.
10 Ways to Put More Play in Your Day
1. Play Along
There's a rule in improv that says you have to say "yes" to whatever suggestions or ideas are thrown at you. My children love to try to rope us into playing parts in their pretend play. There's a definite tendency (especially when we're busy with something we think is more important) to respond by saying we want no part of it. Instead, we can try to roll with it. We don't have to necessarily stop what we're doing. Just acknowledging their ideas and allowing ourselves to be part of whatever world it is they are imagining can not only be encouraging for them, but it could get us smiling and having fun as well. So say yes when they ask you to be in their:
Magic Show
Doctor's Check-Up
Spy Game
Space Exploration
2. Schedule Play
When something is important, we make time for it. So we should make time to play. I know that sounds strange, since we tend to think of play as spontaneous. But there's no reason we can't schedule play into our day. Plus, part of the fun is in the anticipation… so it's always good to know it's going to happen.
Make play dates with friends
Hold a regular family game night
Plan weekend adventures
Plan a "field trip" to somewhere fun
3. Play With Your Food
I can't say we've ever had any all-out food fights in our house, so I'll stop short of recommending that here (but if you don't mind cleaning up that mess, go for it!). There are plenty of ways to be playful when it comes to food, without resorting to throwing it across the room.
Get up from the table and have a picnic instead
Create themed meals like we do with our family movie nights.
Make pizza and pancakes in unusual shapes.
Try some edible art.
Eat the Rainbow (try to eat foods of all different colors).
4. Learn Through Play
One of my favorite benefits to play is that you might learn something without even realizing it. It doesn't matter if this is something being taught in school or knowledge that will be needed later in life. Just the act of learning and discovering something new while having fun will pay off for years to come.
Do a science experiment like the one we did in the video!
Use an app/site like Quizlet to help study.
Reinforce what they learn in school with activities and field trips.
Play trivia and strategy games to encourage critical thinking.
Use your senses! Touch, Taste, Listen, Smell and See the world around you differently.
5. Stock up on Play
All you really need is your imagination to play, but having materials on hand does make it easier.
Keep toys, puzzles, games stashed away for a rainy day
Load some game apps onto your phone or tablet
Keep an activity kit in the car for road trips
Rotate toys in and out of storage to keep things fresh.
6. Dedicate Spaces for Play
Our kids have a playroom. It's always a mess, but I think it's important that they know there is a place they can go to play. But the room itself isn't enough. You need to create spaces and structures upon which they can build their fun. Things like:
Treehouse/Playhouse
Chalkboard/Dry Erase Board
Craft/Art Table
Tool/Work Bench
Kitchen
7. Play a Little Bit at a Time.
One of the things that often stops us from doing an activity is not having enough time. What happens is we keep putting it off and putting it off because we don't think we'll have time for it. So, find something that you can do over time.
Large puzzle
Game of Chess
Artwork
Read a Book
Model Building
8. Play Outside
A couple of weeks ago, we had a snow/ice storm that closed schools and kept us in the house all day. By the afternoon we were all sick of being inside. When the opportunity arises, get out of the house! Don't let the cold or rain stop you, either. Go check out some:
Parks
Museums
Walk/Ride around the block
Planetarium
Library
9. Productive Play
As Mary Poppins famously sang, "a spoonful of sugar helps the medicine go down." Adding an element of fun helps make even the most boring chore a bit more bearable.
Add a timer and race against the clock
Make cleaning up a scavenger hunt
Hide things for kids to find while cleaning
Give an award/reward for doing the most chores
Role Play – dress up to clean!
10. Share Your Play
We live in an age of social media. Sometimes that is good, and sometimes it's not. One of the good things about it is that we can easily connect with friends, family, and even people we don't know over great distances. Laughter and play are things that we can all enjoy and relate to. Sharing our play through social media can not only give others enjoyment, but it can also enhance what we're doing.
Social sharing sites like Instagram, Facebook, and Pinterest are great places to get ideas for what and where to play next! We've started sharing some of our fun on YouTube too!
Speaking of Social Media and Play… check out The Genius of Play for great ideas on activities to encourage all types of play, as well as some great toy recommendations. You can find them on:
We're always searching for new ways to play, so let us know the ways you put some play into your day! We'd love to hear your ideas and try them for ourselves!