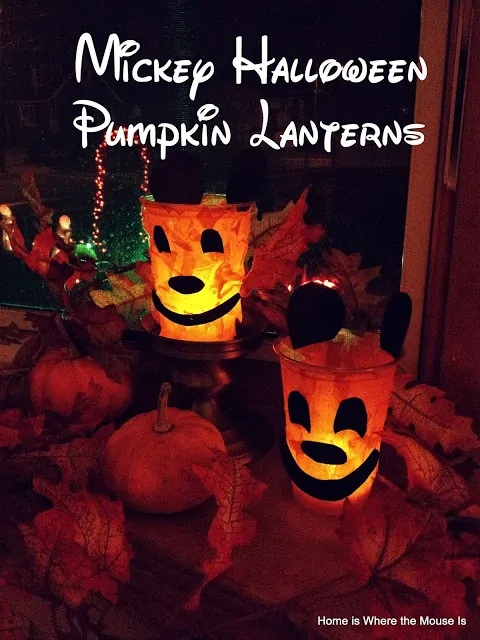 In our 'home', we always like to make a craft or two to celebrate special holidays. We also try to make crafts that are easy for our kids to do. With a 6 and a 2 year old, our crafts need to be a simple as possible.
This craft was inspired by Mason jar candle holders. I love how they look soft and glow-y when they are lit up at night.
But glass and kids just don't mix. I had to think of a way to make this idea kid friendly.
After deciding to swap out the glass Mason jars for clear plastic cups, the Mickey Halloween Pumpkin Lantern craft was born. Here's how to make them.
Supplies:
orange tissue paper
clear plastic cups
watered down glue (makes it easier to apply to the cup)
paint brushes
black scrapbook paper
white crayon
scissors
glue dots
battery operated candle
Directions:
Tear up the tissue paper into pieces. This is a great activity for little ones to do as it helps them with fine motor skills.
Paint the watered down glue on the cup a little at a time and immediately place the tissue paper on top. Continue until the whole cup is covered.
Draw Mickey's face and ears on black scrapbook paper. If you or your child can't draw it free hand, print out a stencil for a Mickey pumpkin and trace it on the paper.
Cut out the face and ear parts. Use glue dots to make them stick to the cup.
Add a battery operated candle and you're done!
Easy right? These lanterns are a simple and inexpensive way to add some spooky ambiance to your Halloween decor.
Be sure to check out the other posts in our 13 Nights of Halloween series.