Happy New Year!!
One of the most popular resolutions each year is to SAVE MORE MONEY! Last January, we noticed a number of 52-week savings challenges being shared on social media, as people were using them to put money away toward any number of uses.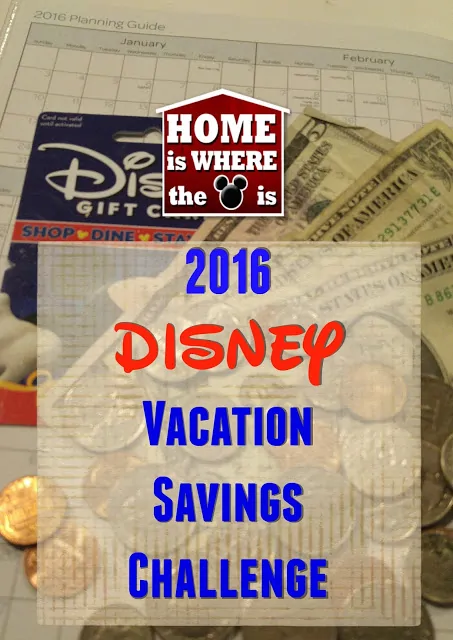 This year, we're putting our own twist on the popular 52-week saving challenge with a Disney vacation as our goal. Not only will this help us budget for our trip, but it could also save us a few bucks to put towards souvenirs or doing something special.
Here's how:
The most common 52-week challenge that asks you to save just one dollar during the first week, and add one dollar more to the next week, and so on. You stick this money in a jar, pot, or in a savings account as you go.
That's a nice chunk of change to put towards a Disney trip. Probably not enough to cover everything as park tickets alone for a family of four can run almost $1300. But as the Disney Mamas point out, you can easily double your contributions to save over $2700!!By the last week, when you add your final contribution of $52 to your savings, you'll have a grand total of $1,378.
Problem #1: It Gets Harder As You Go
Some people have trouble with the way the challenge is structured. The amount starts small and gets larger, and more difficult as the year goes by. It's easy to get started, but progressively harder to maintain.
You could always flip it around to make it easier, starting with the largest amount and contributing less as you go.
So it comes down to a question of whether you want it to be easier to get started, or easier to finish.
The other option is to contribute the same amount each week. For the $1378 plan above, that works out to $26.50 per week.
Problem #2: Temptation to Use It
The second issue is that whether you keep it in a jar on a shelf or in the bank, as long as you have access to it, there will be temptation to dip into it or even use all of it in an emergency.
If you search around, you may be able to find a savings account that requires time to transfer money, which takes away the option of immediate spending on impulse. You could also try to find a jar or container that would need to be broken to get at the money inside. That could make you hesitate when considering to dip into those funds.
Another interesting option is to convert the money into a form with limited use, like Gift Cards.
In our case, Disney Gift Cards are just as good as cash at Walt Disney World, but not nearly as useful at home.
The Solutions
Disney Gift Cards
Disney Gift Cards are available in a number of local stores. They usually come in set amounts of $25, $50, or $100. They can also be purchased online. Gift Cards are the perfect alternative to cash in a jar. They can be used to pay for just about everything from our hotel, tickets, souvenirs and food while at Disney.
$25 is not far off from the $26.50 average of the 52-week challenge either. Which makes purchasing them a nice round number to deal with. If you don't want to accumulate many gift cards, you purchase one and then add value to it as you go, or combine your gift card balances at https://www.disneygiftcard.com/
Added Benefits
Sound like too much work? Consider these potential benefits:
Gift Card Discounts – It's possible to save money by purchasing Disney Gift Cards at a discount. Target offers a 5% discount if you are a REDcard holder, and wholesalers like BJs and Costco often sell gift cards at about the same discount.
Converting Other Rewards – Reward programs like Shopkick let you redeem points for Disney Gift Cards. Store promotions that reward you with store gift cards can be used to purchase more Disney Gift Cards if they sell them.
Asking for Gift Cards – Birthday? Anniversary? Christmas? Asking for a Disney Gift Card lets friends and family contribute to your vacation as well.
The Plans
There are a lot of factors that will determine how much you will need to save for your Disney vacation. To make the savings challenge as simple as possible, we've boiled it down to 3 plans based upon the popular Gift Card amounts you can buy.
VALUE PLAN – $1300 = $25 per week
This is close to original challenge. It's enough to get a vacation package at a Value Resort for a few days, especially if you are going during the off-season. Want to bump it up a bit? Adding an extra $25 every other week will bring it up to $1950.
MODERATE PLAN – $2600 = $50 per week
A week's stay for a family of 4 at a Moderate Resort with park tickets would probably put you in this range, depending on the season. Add an extra $50 contribution every 4th week to get your savings up over the $3000 mark.
DELUXE PLAN – $5200 = $100 per week
Planning to stay at a Deluxe Resort? Considering splurging on a Disney Cruise? Then you may need to step your game up to the Deluxe Challenge. If that's too steep, alternating the Moderate and Deluxe contributions ($50/$100 weekly) will put you just under $4000 for the year.
Each plan we've outlined can be used a a starting point to a more customized plan to fit your needs. Each plan also has some savings potential if you want to take advantage of them.
Target REDcard method savings based on actual cost:
Value Plan $1300 – $65 discount
Moderate $2600 – $130 discount
Deluxe $5200 – $260 discount
For our overview on saving money on Disney using the Target REDcard, click here:
If you don't need any more convincing, head over to sign up for your own REDcard, click right here.


How will you be saving for your next Disney Vacation?