The 2019 Toy of the Year Awards were handed out as a kickoff to Toy Fair 2019!
We saw a number of these toys at last year's Toy Fair. So, we're excited to see which toys being unveiled this weekend will win next year! Here is the list of 2019 Toy of the Year Award Winners…
2019 Toy of the Year
L.O.L. Surprise! by MGA Entertainment
At last year's Toy of The Year Awards, L.O.L. Surprise! shared the overall "Toy of the Year" award with Fingerlings! Both were two of the most sought-after holiday toys that year.
This year, L.O.L Surprise! has the coveted top award all to itself, as it followed up last year's co-win with even more great toys, including their Eye Spy Under Wraps dolls, and L.O.L. Suprise! House playset.
Action Figure of the Year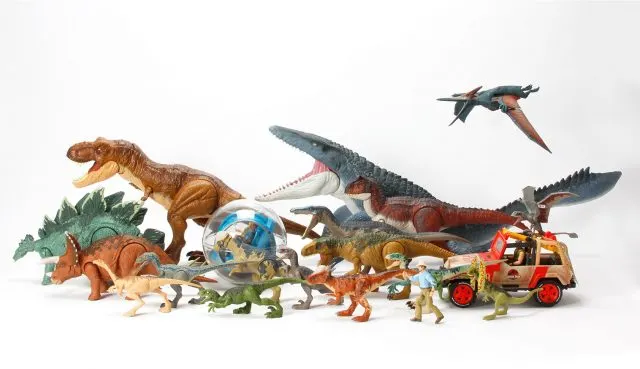 Mattel Jurassic World™ Dinosaur Action Figures by Mattel, Inc.
The Mattel Jurassic World action figure line brings the blockbuster Jurassic World franchise to life with human and dinosaur action figures, vehicles and accessories – all to scale size – that allow kids and adults to recreate their favorite movie moments and fully build out their own Jurassic World.
MSRP: $7.99-54.99 | 4+ | shop.mattel.com
Collectible of the Year
LEGO® Harry Potter™ and Fantastic Beasts™ Minifigure Series by LEGO Systems, Inc.
A collection of twenty-two Limited Edition LEGO® Minifigures characters to build and play out your very own magical Harry Potter™ and Fantastic Beasts™ movie scenes.
MSRP: $3.99 | 5+ | www.lego.com
Construction Toy of the Year
LEGO® Harry Potter™ Great Hall™ by LEGO Systems, Inc.
Create a magical fantasy realm from the Harry Potter™ movies with this 4-level LEGO® 75954 Hogwarts™ Great Hall Harry Potter building kit, featuring a fireplace, benches, tables and reversible house banners, plus the Grand Staircase tower with a spiral staircase, potions room, treasure room, sorting hat and Mirror of Erised™.
MSRP: $99.99 | 9-14 | www.lego.com
Creative Toy of the Year
Cool Maker KumiKreator by Spin Master
The Cool Maker KumiKreator is a breakthrough way to braid beautiful friendship bracelets before your eyes. Just choose a bracelet design, load the spools, and spin to create! The KumiKreator includes everything fashionistas need to spin up 10 customizable friendship bracelets they can stack, wrap and share with their besties.
MSRP: $29.99 | 8+ | www.coolmaker.com
Doll of the Year
L.O.L. Surprise! Eye Spy Under Wraps by MGA Entertainment
L.O.L. Surprise! Eye Spy Under Wraps Dolls have 15 new surprises! Unbox the spyglass, follow the codes and unlock surprises. Each doll is hiding in a mysterious disguise — unbox each layer to discover who's inside! Mix & match outfits for tons of new looks.
MSRP: $9.99 | 6+ | lolsurprise.mgae.com
Game of the Year
Disney Villainous™ Game by Wonder Forge by Ravensburger
You are the Villain! Command your henchmen, defeat the heroes, and enact your evil scheme. Players experience events from the Disney classics Aladdin, Sleeping Beauty, The Little Mermaid, Robin Hood, Alice in Wonderland, and Peter Pan in new ways. Be the first to achieve your Villain's devious objective to win!
MSRP: $34.99 | 10+ | www.wonderforge.com
Infant/Toddler Toy of the Year
Fisher-Price® Laugh & Learn® Smart Learning Home™ by Mattel, Inc.
An interactive playhouse updated with "high-tech" amenities – smart home hub and thermostat. Includes 200 songs, tunes and phrases while teaching numbers, shapes, and weather with rewarding music and lights as they explore 15+ role-play items. Three Smart Stages™ learning levels with four languages to choose from in English, Spanish, Mandarin, French.
MSRP: $149.99 | 6-36 months | fisher-price.mattel.com
Innovative Toy of the Year
Botley™ the Coding Robot Activity Set by Learning Resources
Your child will get to learn early STEM skills while playing and having fun. Botley teaches the basics of coding through active play – completely screen free. Perfect for promoting critical thinking and problem-solving skills. Ready to use, right out of the box.
MSRP: $69.00 | 5+ | www.learningresources.com
License of the Year
L.O.L. Surprise! by MGA Entertainment
L.O.L. Surprise! is a successful pop culture phenomenon that has reached unprecedented heights worldwide in the toy industry and licensing realm. There are 270 global licensing partners in key categories including apparel and accessories, home furnishings, party goods, seasonal, craft/activity and stationary and look forward to increasing our portfolio.
Outdoor Toy of the Year
Glove-A-Bubbles by Zing
Churn out oodles of BUBBLES with the wave of a hand! Remove the bubble pouch and pour the bubble solution in. Dip the glove into the re-sealable and refillable pouch, wave back and forth and start making bubbles! Comes with one glove, two packs of solution and eight different animal-themed gloves.
MSRP: $1.99 | 3+ | www.zing.toys
People's Choice Award
Unstable Unicorns by TeeTurtle, LLC
Build a unicorn Army. Betray your friends. Unicorns are your friends now. Unstable Unicorns is a strategic card game about everyone's two favorite things: Destruction and Unicorns. The first person to build an army of 7 Unicorns wins!
MSRP: $20.00 | 14+ | www.unstableunicorns.com
Playset of the Year
L.O.L. Surprise! House by MGA Entertainment
L.O.L Surprise House is the ultimate hangout for L.O.L Surprise dolls. Unbox 85+ surprises to move the included, exclusive family into the L.O.L Surprise House with a moving truck and furniture to unbox! The House is made from real wood and includes three stories, six rooms, and a working elevator!
MSRP: $199.99 | 6+ | lolsurprise.mgae.com
LEGO® Creator Expert Roller Coaster by LEGO Systems, Inc.
With over 4,120 pieces, this ultimate Roller Coaster is a fully functional chain-lift model that comes with 2 trains and an array of authentic features, including a ticket booth, cotton candy cart, concession stand, height marker, 11 mini-figures and an option to upgrade with LEGO Power Functions or LEGO BOOST.
MSRP: $379.99 | 16+ | www.shop.lego.com
Plush Toy of the Year
Scruff-A-Luvs by Moose Toys
These unloved and abandoned pets need your help! Scruff-A-Luvs arrive as a ball of matted fur, but once you bathe, dry, brush and love them, you will discover what kind of pet they really are and reveal their true beauty. In return, they will be your FFF (Furry Friend Forever).
MSRP: $19.99 | 2+ | www.scruff-a-luvs.com
Star Wars Ultimate Co-Pilot Chewie by Hasbro, Inc.
Kids can imagine taking on the galaxy with their very own Wookiee sidekick, ULTIMATE CO-PILOT CHEWIE! Standing 16 inches tall and more than 100 sound and motion combinations – make a noise and the Chewie will roar back! Features poseable legs and a variety of facial expressions for fun surprises.
MSRP: $129.99 | 4+ | www.hasbro.com
Preschool Toy of the Year
Fisher-Price® Think & Learn Rocktopus™ by Mattel, Inc.
With 3 ways to play, Rocktopus helps kids explore 15 instruments and 5 musical styles. Music mode- kids compose their own songs by "handing" the octopus different instruments and adjusting tempo and sound effect. Game mode- leads kids through five levels of musical gameplay. Math mode – addition, subtraction, patterning skills.
MSRP: $59.99 | 3-6 | fisher-price.mattel.com
Rookie of the Year
Ollyball – The Ultimate Indoor Play Ball! by VICTURY Sports
The Ollyball was created for full-speed, full-force indoor play! The 12″ ball collapses on impact through patent-pending KrunchCOR construction, weighs less than an ounce and can be colored with crayons or markers! Ollyball was invented by a former DisneyStore Executive and his wife, a Special Education Instructor.
MSRP: $14.99 | 1-12 | ollyball.com
Specialty Toy of the Year
LEGO® Harry Potter™ Hogwarts™ Castle by LEGO Systems, Inc.
This highly detailed LEGO Harry Potter collectible has over 6,000 pieces and offers a rewarding build experience. It comes packed with highlights from the Harry Potter series, where you will discover towers, turrets, chambers, classrooms, creatures, the Whomping Willow™, and Hagrid´s hut, plus many more iconic features.
MSRP: $399.99 | 16+ | www.shop.lego.com
Tech Toy of the Year
Arcade1Up by Tastemakers LLC
The fist-pumping adrenaline and old-school fun of iconic arcade gaming is now available at home with Arcade1Up, a new line of 4ft arcade game cabinets, each loaded with multiple classic arcade games, an immersive full-color, hi-resolution display, authentic sounds, and original game control configurations.
MSRP: $399.00 | 13+ | www.arcade1up.com
Vehicle of the Year
PAW Patrol Ultimate Rescue Fire Truck by Spin Master & Nickelodeon
Save the day with Marshall's Ultimate Rescue Fire Truck! This supersized fire truck is equipped with extendable 2 ft. tall ladder, working claw arms, water cannon launcher, flashing lights and room for all six pups. A Mini Fire Cart is also stored inside that is ready to roll into action.
MSRP: $59.99 | 3+ | www.pawpatrol.com
About the Toy of the Year Awards
The finalists were selected from more than 550 nominees submitted by over 200 companies of all sizes. Nineteen judges, including toy and play experts, retailers, academics, and journalists, reviewed and ranked the products in specific categories relevant to their areas of expertise.
The judges then participated in a live discussion to determine the finalists in each category. They considered each product's creativity, design, play value, and marketing.