This summer is the perfect time to visit Hershey, PA. From brand new attractions, to new food, to tons of outdoor fun, you'll want to make sure you schedule a trip to the Sweetest Place on Earth.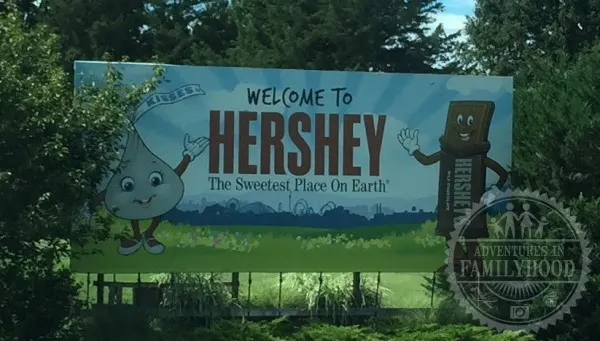 Hershey, PA is year round destination for family fun. My family and I loved our experience during the holidays and look forward to visiting sometime in the fall. But summer has been our go-to time to visit. There's so much happening during the summer season and it's about to get sweeter this year. The two major attractions, Hersheypark and Hershey's Chocolate World will unveil new attractions. Plus, there are a few opportunities for families to experience the fun at a discounted price. I've rounded up 8 reasons why you should visit Hershey, PA this summer.
8 Reasons to Visit Hershey, PA This Summer
Reese's Cupfusion at Hersheypark
Opening May 25, Reese's Cupfusion is a mild family thrill ride. Your mission will be to protect the factory to make sure the world is never deprived of Reese's Peanut Butter Cups. This new interactive gaming ride will feature the most targets in the world and 6 ways to play. We are looking forward to riding this one as a family when we visit this summer.
Hershey's Unwrapped at Hershey's Chocolate World
As a huge chocolate lover, I always make sure a visit to Hershey's Chocolate World is on the agenda. This summer, a new attraction, Hershey's Unwrapped will make its debut. Unwrapped is a theatrical experience that lets visitors unwrap and taste their way through the tale of Hershey's chocolate. Yum! It will be a great addition to the line up of other attractions which include Create Your Own Candy Bar, 4D Chocolate Movie and Trolley Works.
Pro Tip: Purchase your tickets to Hershey's Unwrapped in an Adventure Bundle to save up to $17
New Food at Hersheypark
As much as we loved our visits to Hersheypark, food was an area I felt could use some improving. I'm happy to see the addition of new snacks and treats to 12 different locations in Hersheypark this summer. They're celebrating the opening of Reese's Cupfusion with a new King Size Shake and an amazing snack fusion Fundae. They've also added in some new savory items. Here's what's new on the menu.
Reese's Cupfusion Inspired King Shakes – Simply Chocolate
Fundae (Funnel Cake Sundae)- Founder's Way Funnel Cake
Hershey's Dipped Cheesecake (and other dipped treats) – Turkey Hill Creamery
Sundaes and Waffle Bowls – Rita's
Smoked Turkey Sandwich – Country Grill
New gluten free sandwiches, salads and wraps – The Outpost
Smoked Brisket – Spring Creek Smokehouse
Pierogies – Overlook Food Court
Chick-fil-A, Nathan's and Keepin' It Kosher food trucks
The Boardwalk at Hersheypark
Summertime means fun in the sun! No better place to beat the heat than at The Boardwalk at Hersheypark. The Boardwalk at Hersheypark will open for the season on May 27th. Families can enjoy East Coast Waterworks splash area, The Wave Pool, 6 tube slides and so much more. Admission to The Boardwalk is included with your Hersheypark ticket.
Marvelous Mondays at Hershey Garden
Just across the way from Hersheypark, high up on the hill, lies the Hershey Garden. Originally created to fulfill Milton Hershey's request for a nice rose garden, this 23-acre botanical garden features an assortment of flowers, shrubs and trees.
On Mondays during the summer, the children's garden hosts Marvelous Mondays. Enjoy special children's activities and crafts while you stroll the interactive area designed just for kids. Admission is free with the purchase of your ticket to the Hershey Garden.
Tickets include admission to Hershey Gardens and the indoor Butterfly Atrium.
Regular (ages 13-61): $13.50
Senior (ages 62+): $12.00
Junior (ages 3-12): $9.50
Children ages 2 and under – FREE
Hershey Gardens Members – FREE
Summer Concerts at Hersheypark Stadium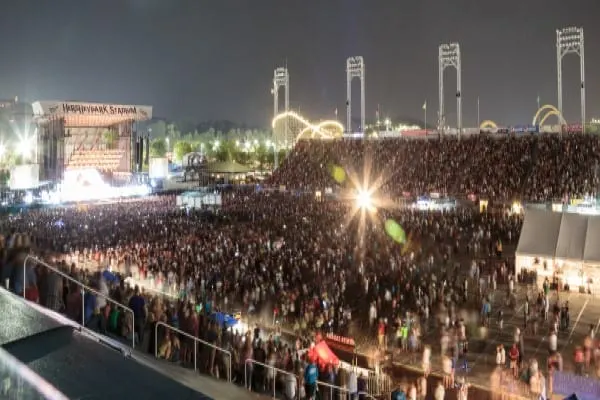 There's nothing like an outdoor concert in the summer. You can see the stars under the stars when you take in a show at Hersheypark Stadium. The line up for summer 2019 is pretty awesome, especially if you are a boy band or country music fan.
Luke Bryan, June 6
Blink 182 and Lil' Wayne, July 5
New Kids on the Block, July 6
Thomas Rhett, July 20
Breaking Benjamin, July 27
Florida Georgia Line, August 17
Backstreet Boys, August 18
KISS, August 21
Zac Brown Band, August 29
Hootie & The Blowfish, August 30
Jonas Brothers, August 31
Everyone Pays Kids' Ticket Prices at Hersheypark
Tickets to a theme park can be a huge expense for families. Hersheypark is making it easier for you to say yes to a visit this summer with their Everyone Pays Kids' Prices offer. Save money on tickets to Hersheypark when you buy your tickets online before June 30th. The Everyone Pays Kids' Ticket Prices offer saves families more than 30% on tickets. Not planning on going right away? Purchase your tickets by June 30th and they are valid all summer long.
Pro tip: Did you know a sweet sneak peek is included with every Hersheypark ticket? Just present your ticket the evening before your visit & enjoy up to 2.5 extra hours.
Kids Stay, Play and Eat Package
Want an even sweeter deal? Not only does Hersheypark just want you to visit their theme park, they want you to stay and enjoy all Hershey has to offer. Kids Stay, Play and Eat Free package is available May 2- August 25, 2019. With this package, kids 17 and younger will receive free accommodations (either at The Hotel Hershey or The Hershey Lodge), free park Hersheypark tickets, and free breakfast. Rates are based on a family of four staying on Kids Stay, Play & Eat FREE package.