When the wind's from the east and the sun's from the west

And the sand in the glass is right

Come on down stop on by, Hop a carpet and fly

To our…
It's been a long time since we shared one of our Disney Family Movie Nights. To be honest, having one of these nights was kicking my party planning nuttiness into overdrive. They were becoming more like mini birthday parties than a special family night. Who has the money or the time to keep that up? This movie night has brought me back down to reality. I was able to have a fun night with my family without spending an arm and a leg.
The Decor:
The only item we bought to decorate was a simple purple tablecloth. For the rest, we gathered all the pillows and throw rugs we could find and put them around the living room coffee table. We made a display with the kids' Aladdin toys. For a centerpiece, we used a Moroccan- inspired candle.
The Menu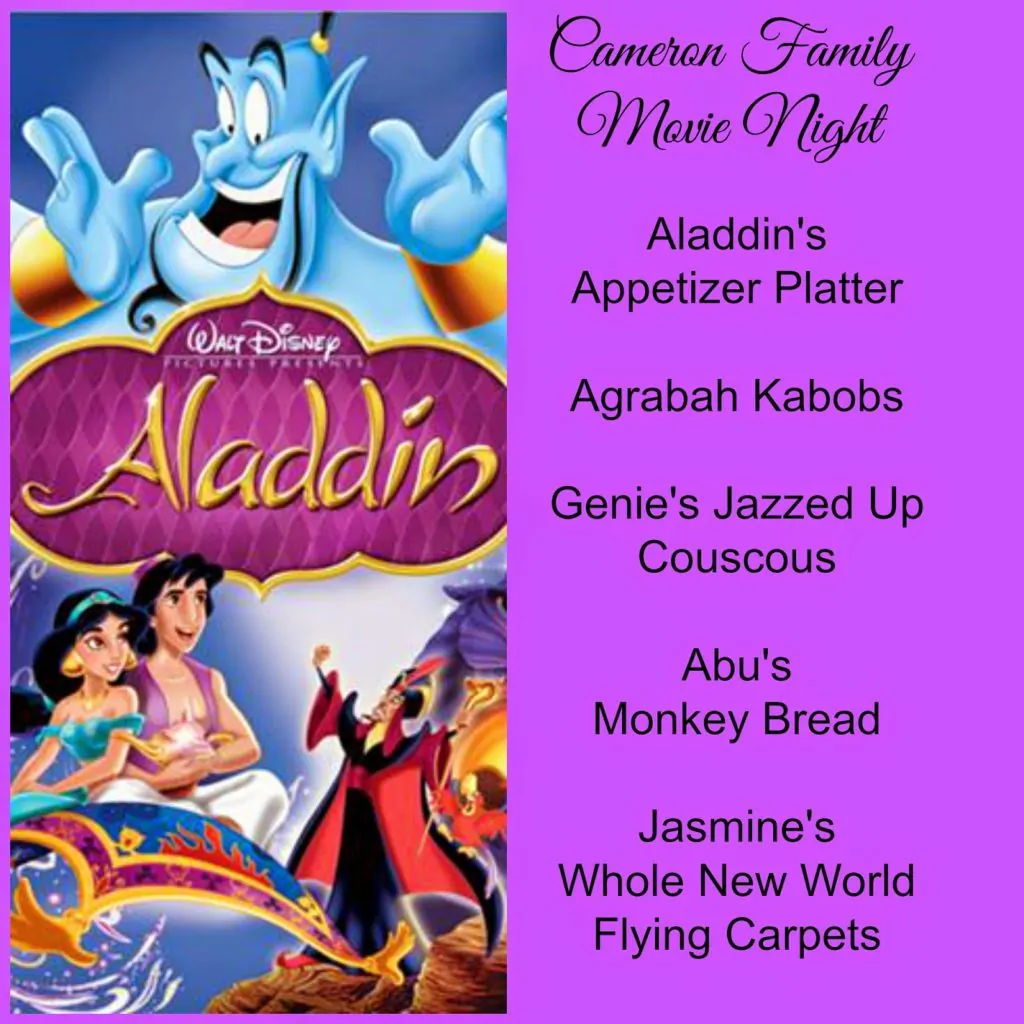 The appetizer was a tray of hummus, tzatziki sauce, olives, pita and Naan bread. (most of these items were left over from the Chicken Gyros we had earlier in the week)
For dinner we had grilled chicken kabobs with yogurt and Moroccan spices and couscous with sauteed zucchini, garlic and chick peas.
I also made Monkey Bread Muffins. I found this great recipe on Pinterest. It's basically biscuit dough, butter, sugar, brown sugar, butter and raisins.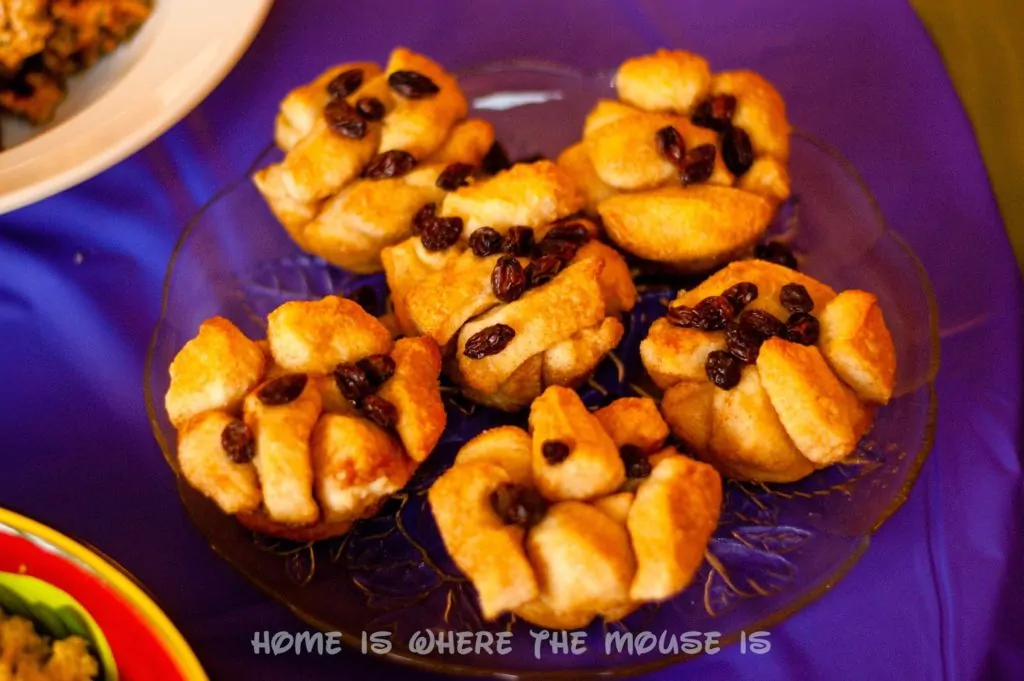 I wish I could take credit for the awesome dessert we had. It was actually the brain child of my 7 year old daughter. For dessert, we made Jasmine's Whole New World Magic Carpets. It's a bit indulgent, but oh so good!
To make them you'll need graham crackers, chocolate bars, frosting, sprinkles, and food writers (optional).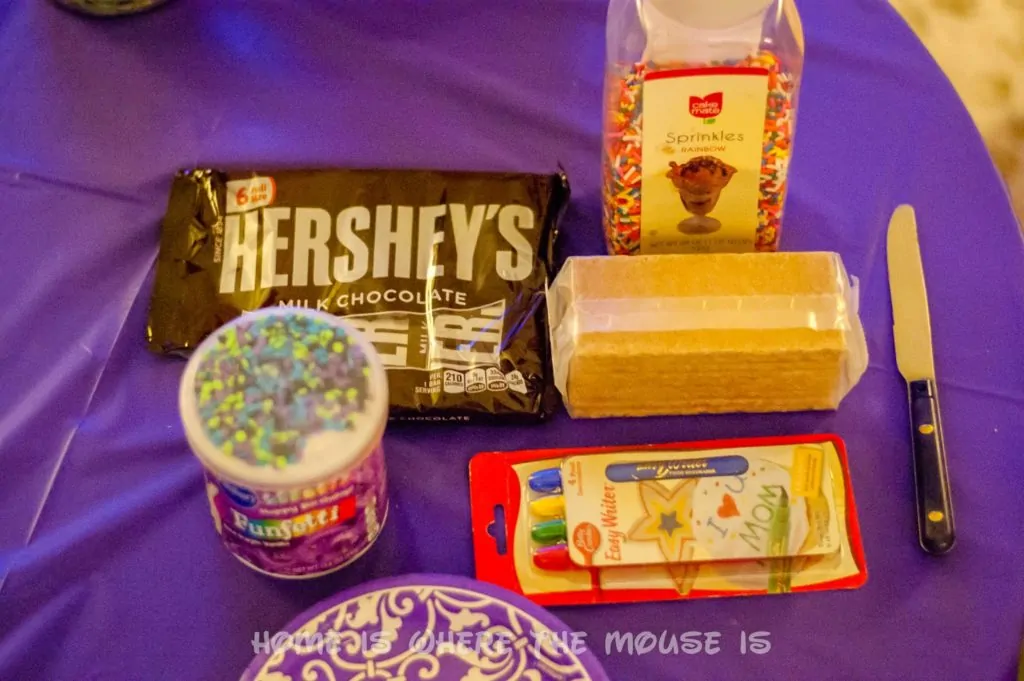 Take a graham cracker and cover it with frosting.
Place a whole chocolate bar on top of the graham cracker. Cover the chocolate with more frosting.
Decorate your magic carpet with sprinkles. You could also use the food writers to decorate the frosting before you add the sprinkles.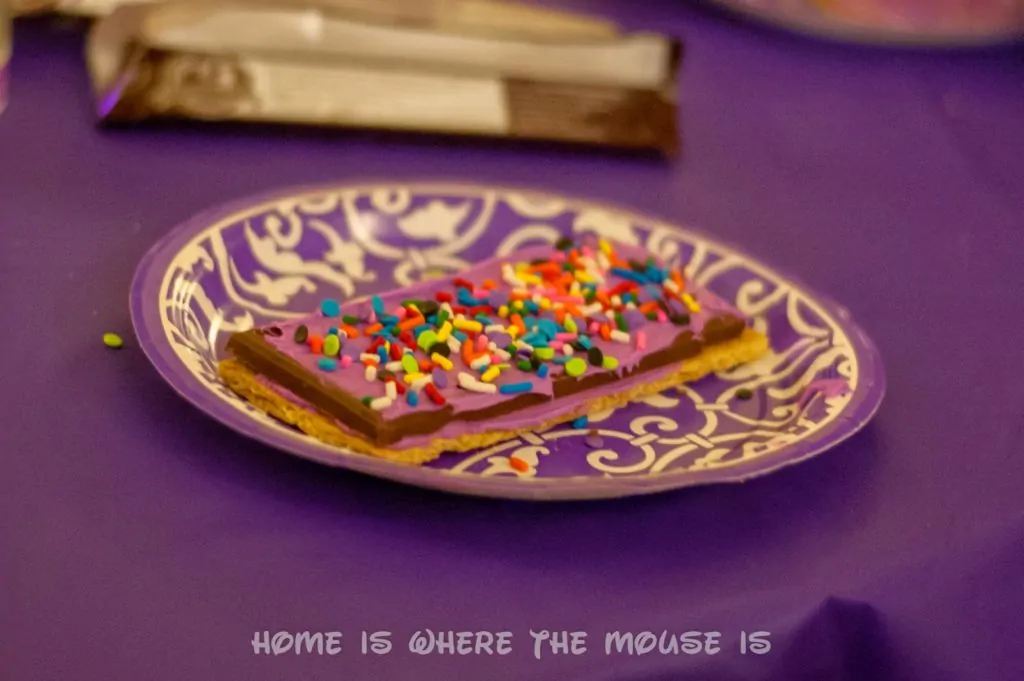 It's pretty filling so the best idea would be to share or cut them into smaller carpets.
Activities
Our activity was making the magic carpets. There are also other things that you can do such as:
Make paper bag Magic Carpets
Go for Magic carpet rides on towels outside
Play Genie and grant 3 wishes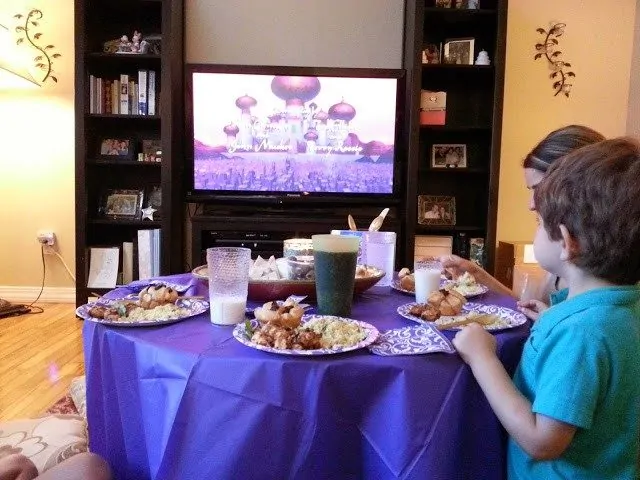 It was nice to be able to spend family time together to watch this marvelous Disney classic. I loved seeing my kids try some new foods and hear them laugh when the magical Genie appeared. They don't watch Aladdin very often, but I can tell that after this experience, it will now be put into their regular rotation.
What do you love about Aladdin?
If you enjoyed this movie night, please check out our Family Movie and Theme Night board on Pinterest.