The Super Bowl is just a few days away! Sports fans everywhere are gearing up for the big game. To be honest, I'm more of a Disney fan than a sports fan, but I do love Super Bowl party food. Why not combine both of them. I've come up with a Super menu, inspired by Disney food that will please both sports fans and Disney fans.
Every year when the big game rolls around I try to come up with a fabulous array of appetizers and snacks. We've had everything from mini corn dog muffins to deep dish pizzas to poutine burger sliders.
Last year, I tried my hand at making a snack stadium. It didn't really go so well, but hey, I tried.
I thought it might be fun to create a sampling of appetizers based on some of our Walt Disney World favorites. This menu has a little something for everyone. While I may or may not create this menu for this year's festivities, it is a party I'd like to create someday.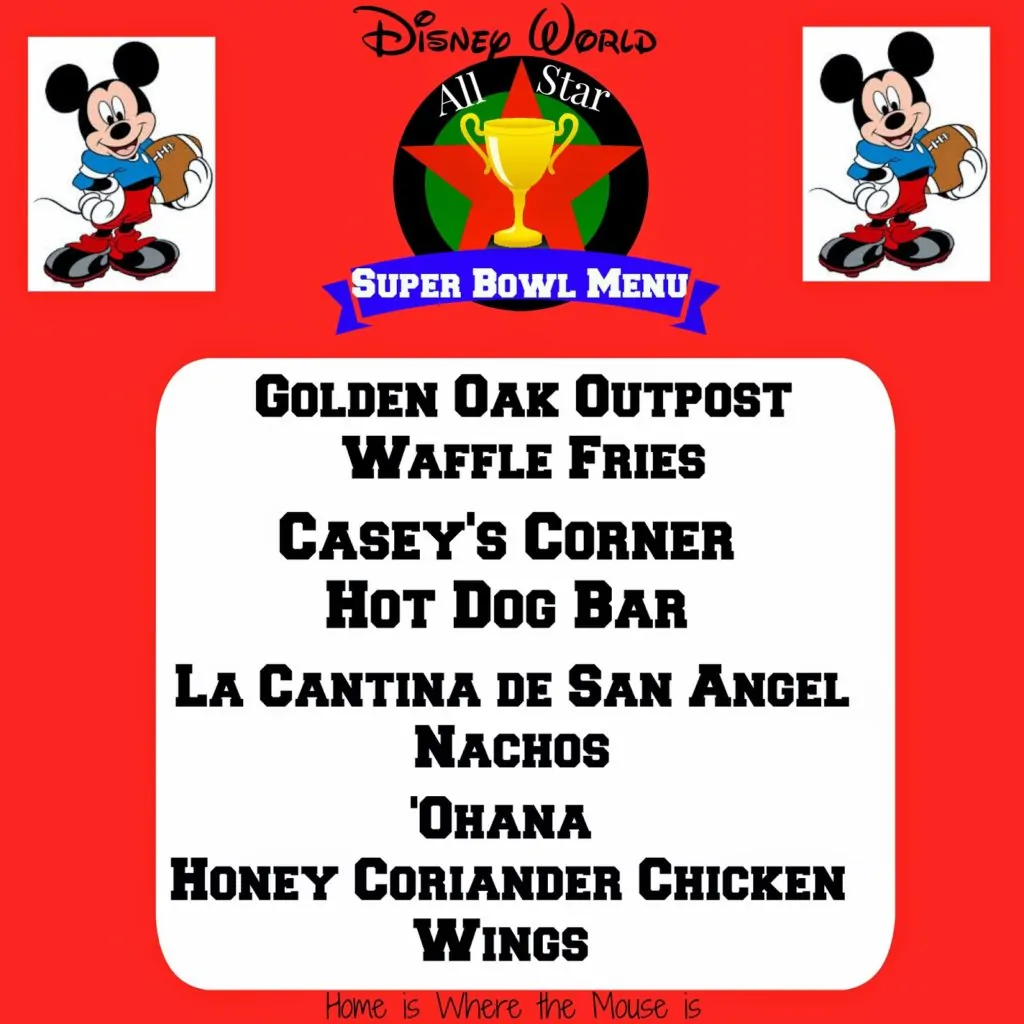 Golden Oak Outpost Waffle Fries:
We tried these for the first time Wine and Dine weekend (they were a very tasty reward). You can read more about our experience here. To recreate these at home, bake a tray of frozen waffle fries. Top them with your favorite flavor combination. For our DisneySide @ Home Celebration we'll be making the ranch kind.
Casey's Corner Hot Dog Bar:
Casey's Corner is James' favorite Walt Disney World quick service restaurant. I personally love their toppings bar! Put out a ton of toppings for your hot dogs such as sauerkraut, onions, relish and ketchup.
La Cantina de San Angel Nachos:
These are my Epcot must haves! I'm not much of a meat eater, so if I were to make them at home, I'd omit the beef. The ones they serve at La Cantina de San Angel are smothered in seasoned ground beef, nacho cheese, tomatoes, jalapenos, black beans and sour cream.
'Ohana Honey Coriander Chicken Wings:
It's not a Super Bowl party without chicken wings! While I've never personally had these, they were a big hit with our tablemates when we dined at 'Ohana. We're including the recipe because they sound too good not to make.
Honey Coriander Chicken Wings Recipe
Spice Rub
1 tablespoon salt
2 tablespoons paprika
2 tablespoons sugar
1/2 teaspoon black pepper
1/2 teaspoon turmeric
1/2 teaspoon ground cinnamon
1/4 teaspoon cayenne pepper
4 tablespoons canola oil
4 pounds chicken wings/drummettes
Directions:
1. Combine Kosher salt, ground paprika, sugar, ground black pepper, turmeric, ground cinnamon, granulated garlic and cayenne pepper.
Coriander Wing Sauce
1 tablespoon chili powder
1/2 teaspoon ground ginger
1 tablespoon ground coriander
2 tablespoons lime juice
1/2 cup soy sauce
1 cup honey
3/4 cup water
2 tablespoons cornstarch
Directions:
1. In a nonstick pot, simmer chili powder, ground ginger, lime juice, ground coriander, soy sauce and honey.
2. Mix together cornstarch and water. When mixture begins to thicken slightly, add cornstarch mixture.
3. Stir until sauce thickens nicely, then remove from heat.
Chicken
4 tablespoons canola oil
4 pounds chicken wings/drummettes
Directions:
1. Preheat oven to 400.
2. Add chicken to the spice rub mix and canola oil and using your hands, tossing wings so that they're well covered with spice rub.
3. Lay chicken pieces on cookie sheets lined with foil, well spaced and not overlapping.
3. Bake until cooked through and browned, about 20-35 minutes depending on size of wings and drums. Juices will run clear when they have cooked through.
4. When the chicken wings have cooked through, toss in the wing sauce.
5. Serve
So what do you think of our menu?
How will you be celebrating the Super Bowl this year?