Bring the magical mosaics and windows from Be Our Guest home by making this stained glass project with your kids. You'll be amazed how easily tissue paper can be transformed into a beautiful piece of art.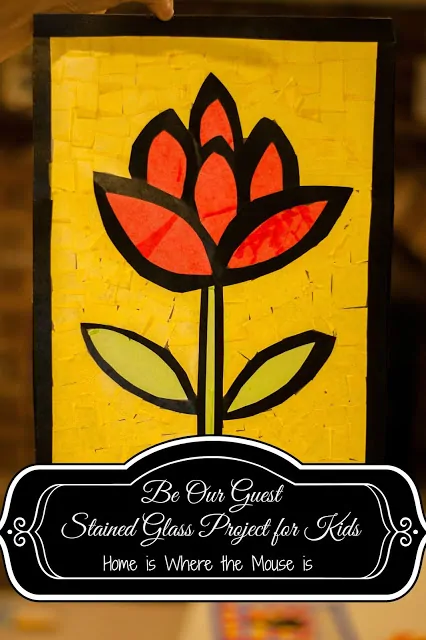 January is one of my favorite months of the year. Besides being the kickoff to a brand new year and new beginnings, it's also my birthday this month. Two years ago I was lucky enough to celebrate my big day at Walt Disney World. I made a special request to have lunch at Be Our Guest. We had dined there that past summer and I couldn't wait to try it again.
In my opinion, Be Our Guest is the best themed restaurant on property. As soon as you step through the doors, you feel as if you have been transported into the movie Beauty and the Beast. Such attention to detail was put forth when creating this restaurant. Every corner is something magical to see.
My favorite part of the restaurant's decor is the beautiful mosaic designed stained glass windows that adorn the lobby area. The most stunning one is the one that depicts the ending scene of the movie.
While it would be amazing to create one of these masterpieces to hang in your home, it's not so easy to do.
What is easy, though, is this fun and easy project for your kids to do. They can make their own unique "stained glass" projects that will bring a little piece of Be Our Guest to your home.
Materials:
Roll of clear contact paper
sheet of tissue paper in many different colors
sheets of 12×12 black scrapbook paper
Instructions: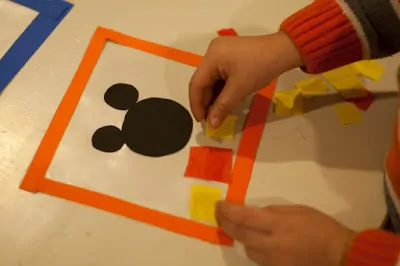 Roll out a piece of contact paper to your desired length. Remove backing and lay sticky side up on a work surface.
Line the contact with strips of cut black paper to make a frame. This will also help the contact paper stay down.
If you wish you can cut shapes or designs out of the black paper. Place those down on the contact paper.
Cut or rip small pieces of tissue paper to create your one of a kind design.
Hang your masterpieces in the window and let the light illuminate its beautiful colors!
These beautiful works of art now hang proudly in our playroom window. The kids love to watch the colors stream through the window as the sun hits them. You could also frame them and create a little Be Our Guest display in your own home.