Ready to run Disney? Here's a list of songs that will keep you motivated throughout your run.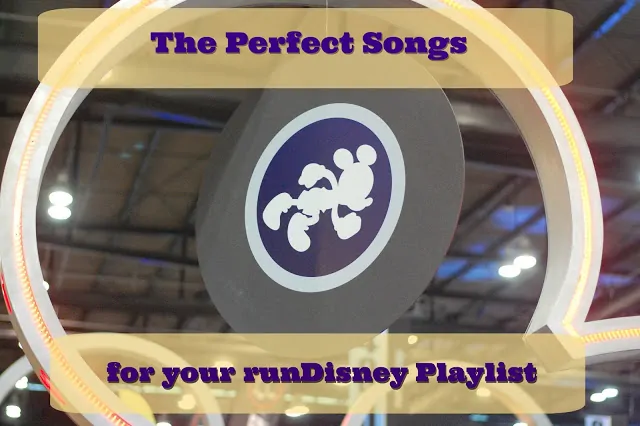 From 5k to Marathon, we've got Disney music to help you keep your pace, stay focused, or take your mind off the fact that you are running through the parks! Follow these steps to create the perfect runDisney playlist.
Safety
There is some debate about whether you should run with music or without. But no matter what side you are on, everyone agrees that if you are going to listen to music while you run, you should make sure you are doing so safely.
Keep the Volume Low – you should still be able to hear ambient noises, cars, other people. There are headphones/ear buds which are designed to not block out surrounding noise.
One in/One out – Try running with only one ear bud in to keep one ear open to your environment.
Now, with that out of the way, we can talk about what you are listening to. When I first started running, I just listened to my favorite music. It was just a way to take my mind off the fact that I was running. It helped the miles and minutes go by.
What I like and what you like may be completely different. Even if I assume that we're both Disney fans and like most Disney music, we may not enjoy listening to the same soundtracks or songs.
The perfect playlist is something you enjoy listening to that also helps you run better.
The Science of Running and Music
Here's what it boils down to: You have a pace, and so does your music. Your running won't impact your music, but your music can impact your running.
When you run while listening to music, you'll probably find that you change your pace with each song so that your feet hit the ground along with the beat. A slower song might hold you back, while a song that's too fast might make you tire out quickly.
So, to make the "perfect" runDisney playlist, we have to make sure they have a beat that matches our desired pace.
Step 1: Finding Your Pace
Pace is determined by two things: Stride Length and Stride Rate. Since stride length will vary from person to person, your pace could differ from mine even if our stride rates are the same. Here's a way you can figure it out yourself.
Run for 15 minutes at a pace you are comfortable with
During that run count your steps for 1 minute. Do this several times to get an average.
That average is your Steps Per Minute or SPM.
I did this on a recent run and found my SPM to be about 160 when I was running my training pace, which is about 10:00 per mile. This is my target pace for runs from 4-6 miles long. I'll use a slower pace for longer runs and might try a faster pace for a short run.
Step 2: Find Songs
The "pace" of a song is commonly referred to as Beats Per Minute, or BPM. That's the rate you clap your hands or tap your feet along with the beat.
To find out if a song's BPM matches your SPM, you can use a website like this one or an app on your phone that does the same thing. Just tap along on your keyboard or your phone's screen while the music plays and it tells you the BPM.
Now, since my SPM is 160, I'm looking for songs that are between 160 and 170 BPM. I can also songs in the 80-85 BPM range if I time the same foot to those beats.
Now, there are websites/programs out there if you search around that claim to give you the BPM of any song in your library or let you just type in the artist/title to find it. I've had mixed results with both, so try these at your own risk.
Step 3: Create Your Playlist
Now that you know your pace and desired BPM, you need enough music to cover the length of your run. You can even get fancy and mix up your BPMs for run/walk intervals or changing your tempo during your run. But that's up to you.
Here are some of the Disney tunes you may want to include in your playlist, grouped by BPM. I'll keep adding to this list as I go through all the Disney albums I can find. I hope to have a spreadsheet and spotify playlists to share with all of you when I'm finished.
If you've got any songs I should add, let me know! Just put the song or songs in the comments and I'll figure out the BPM and add it to the list.
The runDisney Playlists
50/100 BPM
The Bare Necessities – Jungle Book (102)
You've Got a Friend in Me – Toy Story (106)
Heigh Ho – Snow White and the Seven Dwarfs (103)
Zip-A-Dee-Doo-Dah – Song of the South (104)
Bibbidi-Bobbidi-Boo – Cinderella (106)
Under the Sea – The Little Mermaid (100)
Stir It Up – Chicken Little (105)
Life is a Highway – Cars (105)
Fixer Upper – Frozen (105)
Universe of Energy – Epcot (107)
When Will my Life Begin – Tangled (109)
Splash Mountain Medley – Magic Kingdom (100)
Love is an Open Door – Frozen (100)
For the First time in forever – Frozen (101)
55/110 BPM
I'll Make a Man Out Of You – Mulan (114)
Muppet theme Dconstructed (115)
On The Open Road – A Goofy Movie (110)
Fly – Planes (110)
Hawaiian Roller Coaster Ride – Lilo & Stitch (115)
60/120 BPM
I Won't Say (I'm in Love) – Hercules (120)
Strangers Like Me – Tarzan (120)
Good News – James and the Giant Peach (120)
Seize The Day – Newsies (126)
One Jump Ahead – Aladdin (122)
Be Prepared – The Lion King (120)
Dig Down Deeper – Pixie Hollow Games (62/124)
Partysaurus DConstructed (129)
Hey Pluto Dconstructed (128)
Once upon a dream (Dconstructed) (126)
MSEP (Dconstructed) (125)
You've Got a Friend in Me (Dconstructed) (120)
Now is the time – Carousel of Progress (129)
Be our guest – Beauty and the Beast (125)
Fantasmic Finale (125)
65/130 BPM
UNKLE Recontsruction – The Incredibles (DConstructed) (133)
The Great Divide – Secret of the Wings (137)
Let it Go – Frozen (135)
Mickey Mouse March – Mickey Mouse Club (131)
70/140 BPM
Roar – Monsters University (Yogi Remix DConstructed) (142/71)
Into the Open Air – BRave (70/140)
You Might Think I'm Crazy – Cars (67/145)
Who I Am – The Pirate Fairy (144)
Topsy Turvy – The Hunchback of Notre Dame (141)
75/150 BPM
Gaston – Beauty and the Beast (75/150)
Three Caballeros – Saludos Amigos (150)
Supercalifragilisticexpialidocious – Mary Poppins (152)
Step in Time – Mary Poppins (153)
On Your Marks – Imagination Movers (150)
Ready for Action – Doc McStuffins (150)
80/160 BPM
Touch The Sky – Brave (80/160)
Almost There – Princess and the Frog (80/160)
Zero to Hero – Hercules (165)
Nothing Can Stop Me Now – Planes (168)
The Wonderful Thing about Tiggers – Winnie The Pooh (165)
What's This? – The Nightmare Before Christmas (81/162)
85/170 BPM
Circle of Life – The Lion King (Mat Zo Remix DConstructed) (86/172)
I'm Late – Alice In Wonderland (170)
Something That I Want – Tangled (85/170)
Hakuna Matata – The Lion King (85/170)
90/180 BPM
Go The Distance – Hercules (90/180)
Dig a Little Deeper – Princess and the Frog (98/186)
I Wanna Be Like You – Jungle Book (98/196)
The Enchanted Tiki Room Song – Magic Kingdom (181)
---
For more runDisney info, check out the other great posts.