We're continuing our month-long theme of Disney resorts worth visiting even if you're not staying there. Today, we're looking at Disney's BoardWalk Inn and Villas.
Is it an entertainment district with a hotel attached? Or is it a hotel with fabulous entertainment options in its backyard?
Does it matter?
Disney's BoardWalk Inn and Villas
Disney's Boardwalk is an homage to the heyday of Jersey shore where vacationers could soak in sun and enjoy the beach atmosphere without having to get sand between their toes. The one main difference between Disney's Boardwalk and Atlantic City is that there are no casinos. That may disappoint some, but we're willing to place a bet that the charm of Disney's BoardWalk will win you over just the same!
Reasons to Visit
We've been able to use our Disney Vacation Club membership to stay at Disney's BoardWalk Villas a couple of times, but the BoardWalk itself has been a "must-do" of ours since long before we bought into DVC. More often than not, we'd go out of our way to visit the Boardwalk Bakery for an awesome breakfast before a day in the parks. Other times, we'd try some of the full service restaurants like The Flying Fish Cafe, or just take a stroll around Crescent Lake.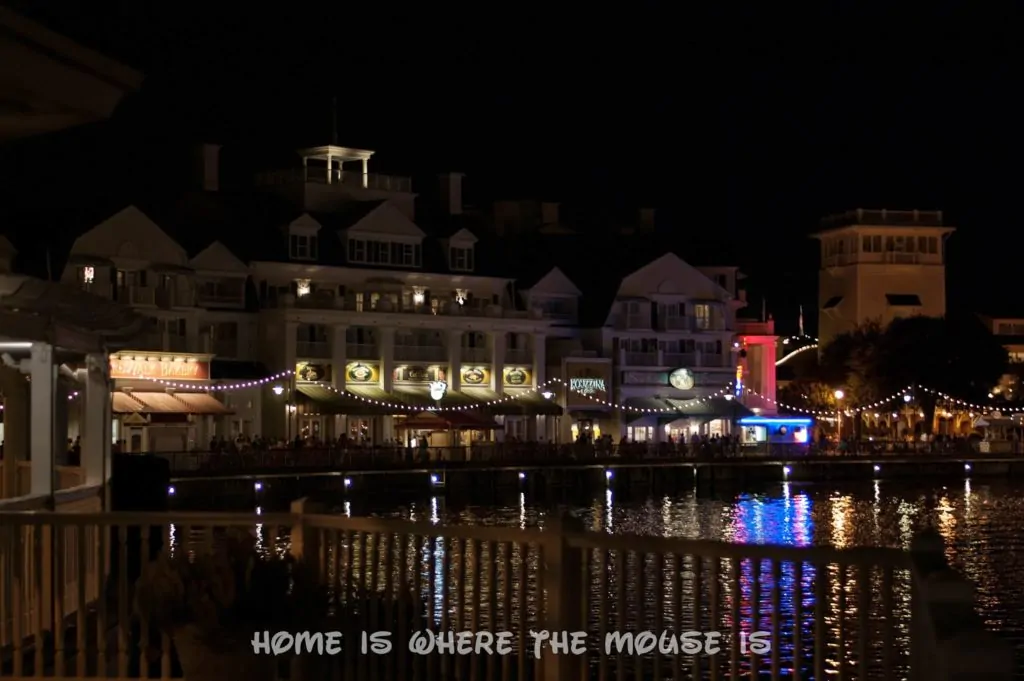 The atmosphere of the Boardwalk is relaxing and picturesque by day and really comes alive when the sun goes down and everything lights up. With so many places to eat, shop, and have fun, you can easily spend an entire day at Disney's Boardwalk.
Best of all, admission is free!
Shopping
Whether you're just looking to browse, satisfy your sweet tooth, or take home a Disney souvenir, there are several shops to keep you occupied.
Eating
From tasty snacks to signature meals, you can choose to indulge however you feel appropriate.
Playing
Catch a live broadcast of a sporting event in the ESPN Club, play games in the BoardWalk Arcade, or rent a surrey bike to ride around the lake!
Night Life
Whether you like to dance, enjoy cocktails while listening to music, or sit under the stars enjoying a campfire and a movie on the beach*, there's plenty to do when the sun goes down at Disney's BoardWalk!
*Movies are hosted by Disney's Yacht and Beach Club Resorts, but are within an easy walk of the BoardWalk Inn
Access to more fun!
One of the best things about Disney's Boardwalk Inn and Villas is its location. Positioned within walking distance of both Epcot and Disney's Hollywood Studios, you could easily make a visit to the Boardwalk part of your day at the parks, or a visit to one of the parks part of your day at the Boardwalk. Complimentary boat service is also available between the Boardwalk, Yacht and Beach Club Resorts, Swan and Dolphin Resorts, Epcot's International Gateway, and Disney's Hollywood Studios.
It's location makes it prime real estate for guests visiting during the Food & Wine and Flower & Garden Festivals in Epcot.
To add to the nighttime entertainment of the Boardwalk, portions of IllumiNations: Reflections of Earth can be seen from the Boardwalk. In addition, you can enjoy fireworks from Disney's Hollywood Studios on the nights when they occur.
Fireworks cruises
A splurge that's available from the BoardWalk area is a fireworks cruise. Board a boat from the docks of the Yacht Club on Crescent Lake and cruise over to Epcot to park in your very own spot for IllumiNations: Reflections of Earth! It can be a pricey splurge, but if you're able to split the cost between a couple of families, it becomes much more affordable!
Smaller boat rentals are available from Disney's Yacht Club, but those do not provide access to Epcot.
Holidays
During the winter holiday season, Disney's Boardwalk Resort is a stop on the Resort Gingerbread House tour. It's a must-see for us during the holidays at Walt Disney World.
We always consider staying at Disney's BoardWalk when we are planning our next trip. There is just so much to see and do, and the location is one of the best in all of Walt Disney World! But even if we don't stay here, we always end up stopping by because it's one of the best places to visit… beyond the parks!
What's your favorite reason to visit Disney's BoardWalk?