Get your kicks on Route 66 and stop by our Cars Land Inspired Birthday party. For our son's 3rd birthday, we wish we could have taken him all the way to California to meet his favorite, Lightning McQueen. Since that trip wasn't in the cards this year, we decided to bring the magic of Cars Land and Radiator Springs to our home.

Invitation:
Your invitation gives your guest's their first impression of your party. For this party, we make a postcard from Radiator Springs.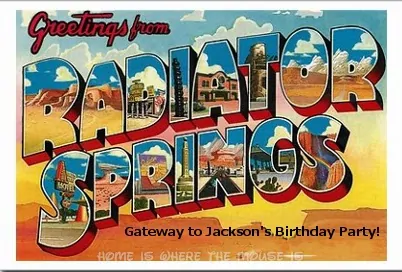 We changed the tag line to read "Gateway to Jackson's Party" instead of "Gateway to Ornament Valley". The back gave all the information guests would need to know about the party.
Decor:
In the Northeast, the weather in April can be iffy. We had planned for an outdoor party and hoped that the weather would be kind to us. Thankfully it was! We used our backyard as the party space.
Tip: Always have a back up plan, especially if you are planning a party outside.
To get the "Radiator Springs" vibe, we made a giant road that the kids could play on. We then decorated the space with road signs and checkered flags.
If you have read about my parties before, you know how I like to do a great display for the food buffet. For this party, I used the birthday boy's Radiator Springs play set and cars to decorate the table. In addition, I used wooden crates and street signs to give it a small town feel.
Tip: To throw a great party, you don't have to break the bank on decorations. Use what you have at home to decorate. Toys are good to use as decorations for a kid's party.
Food:
In planning the food for this party, I researched the menus from the Cars Land restaurants in Disneyland. I decided to use the different places in Radiator Springs as inspiration for the food.
Luigi's Casa Della Tires
Pizza Wheels, Black Wall Tire (Beef Sliders) and White Wall tires (Turkey Sliders).
Fillmore's Organic Fuel
Fruit Salad and Lemonade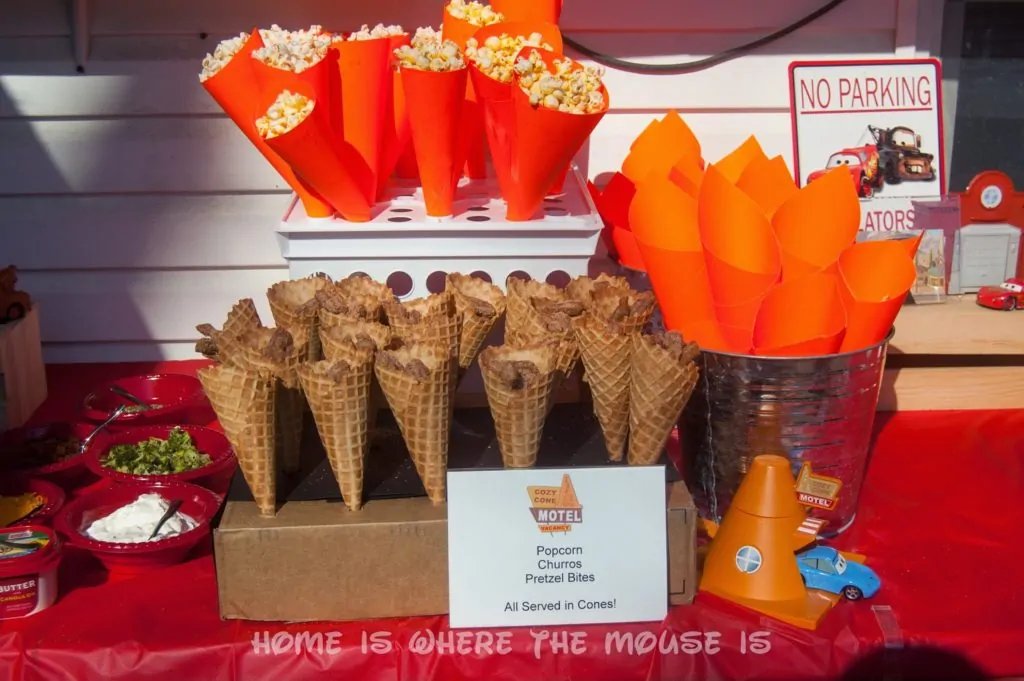 Cozy Cone
Popcorn Cones, Churro Bites Cones, and Pretzel Bite Cones
Flo's V 8 Cafe
"Route" Beer Floats
For every party I throw, I always like to set up a "Make Your Own" bar.
Mater's Baked Potato Bar
Toppings: cheddar cheese, sour cream, bacon bits, broccoli, chives, and turkey chili.
Tip: "Make your own" bars help to make the party interactive. They're also a fun way to get your guests involved.
Dessert:
Sarge's Surplus of Sweets.
Stop Light Brownies
Candy Cars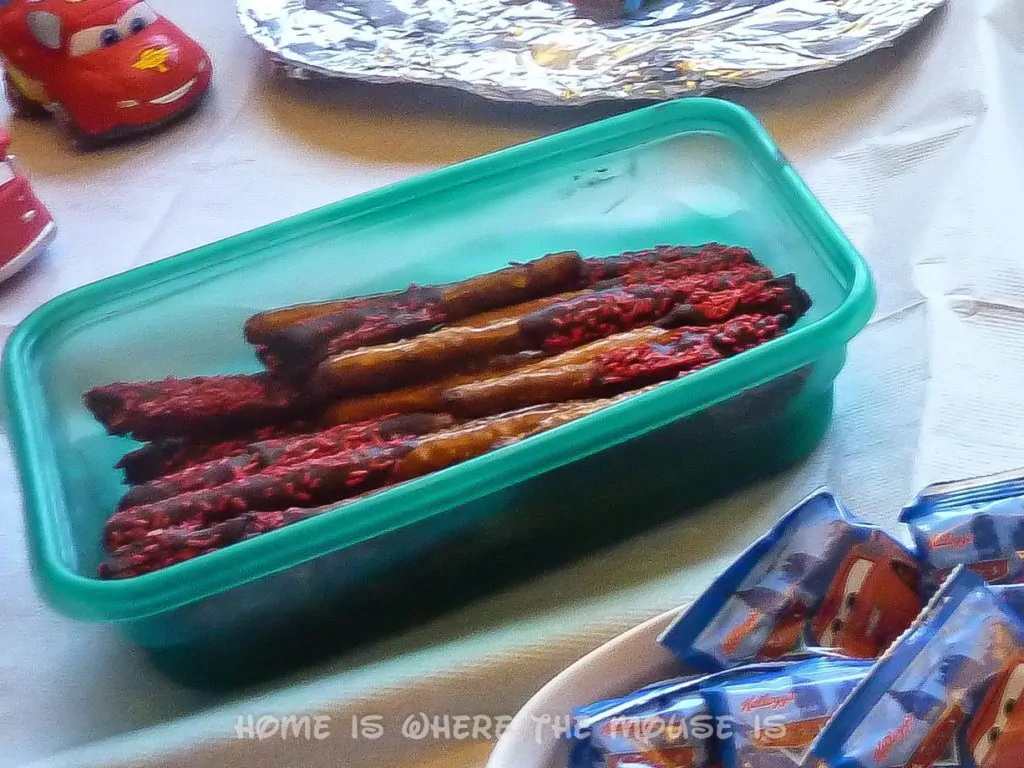 Chocolate Dipsticks (pretzels)
#3 Road Cake
Activities:
We set up two stations for the kids.
Ramone's House of Body Art Temporary tattoos
Doc's Fix It Shop
Puzzles
Surprisingly this was a big hit with the toddlers.
We also had the Bouncy House set up. Riding toys let the kids take a spin on Route 66.
Jackson's Cars Land Party was a big hit!