Take a family getaway to Cooperstown, NY and Otsego County. Just 4 hours from the hustle and bustle of New York City, you'll be able to experience the best of nature, history, family fun and of course, baseball.
I bet the first thing that comes to mind when I say Cooperstown is baseball. While the area has a rich history in America's pastime, the town and surrounding county is so much more. In fact, baseball is only a fraction of the experiences you'll be able to have in Cooperstown and Otsego County.
Weekend Getaway to Cooperstown
We recently spend a 3-day weekend in Cooperstown thanks to our friends at This is Cooperstown. In just a short period of time we were able to get a taste of everything this area has to offer. Beautiful nature, lots of history, tons of family activities, in addition to baseball attractions, are what is waiting for you in Cooperstown and Otsego County.
Covid-19 Safety Update
Our trip to Cooperstown proved to be the perfect destination to get away to during this unusual summer. Given the circumstances, we wanted to make sure our itinerary was safe and included opportunities for social distancing. Many of the activites we took part in naturally lent themselves to social distancing so we didn't have to worry too much. Low crowds also made it easy to be safe. Masks were required in all indoor shops and restaurants, and on Main Street. Special guidelines are in place at the National Baseball Hall of Fame (see below). All in all we felt very at ease touring the area.
Please see their website, thisiscooperstown.com, for the latest travel updates and advisories before visiting.
Cooperstown and Otsego County for Families
Here are our suggestions for what to do on your getaway to Cooperstown and Otsego County. Whether you're looking to get back to nature, take in a round of golf, or learn more about the history of New York State, you'll be able to find it in the Cooperstown area.
Oneonta Sports Park~ sports and family fun
Oneonta Sports Park is a great place for the whole family and an easy attraction to stop at either on your way in or out of town. Take in a round of miniature golf on their Tiki themed course or hit a bucket of golf balls at their driving range. But, in my opinion, the best way to spend the day at Oneonta Sports Park is to reserve their Eagle Point Bliss picnic area.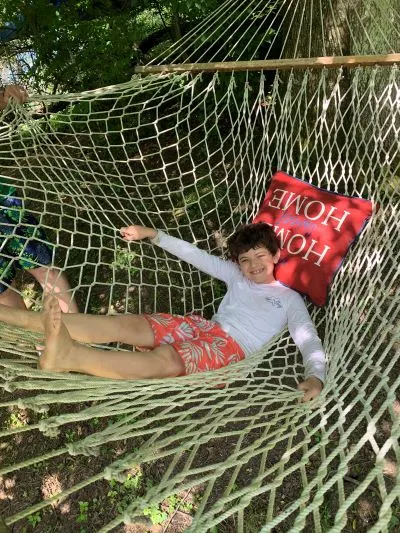 For $29.00, you get 4 secluded hours in a private area by the river just for your party. The picnic area is equipped with chairs, picnic table, hammocks and a fire pit. Bring your own lunch or make your own on the barbecue. Then relax the day away floating down the Susquehanna River. The Sports Park provided inner tubes for us to enjoy. We absolutely loved this area and thought it was a great way to start our getaway.
Glimmerglass State Park~ nature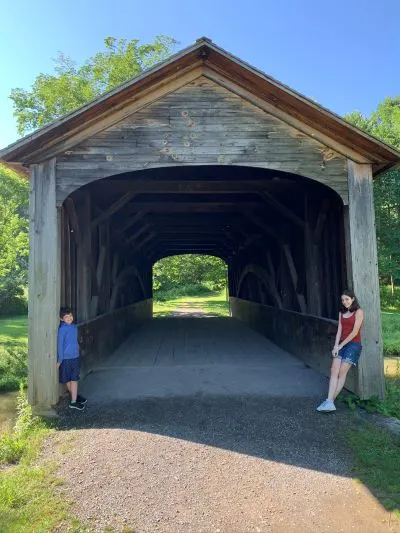 Nestled on the banks of Otsego Lake, this beautiful park is home to the oldest covered bridge in America, Hyde Hall and nature as far as the eye can see. We spent our morning there hiking one of their many trails, before getting a tour of Hyde Hall. Other park amenities include a beach, camping and water craft rentals just to name a few. One of the best things to come out of our current situation is finally having the time to take in the beauty that is all around us.
Hyde Hall~history
Take a tour of historic Hyde Hall during your visit to Glimmerglass State Park. This mansion has stood overlooking Otesgo Lake for over 200 years and has been inhabited by 5 generations. To really understand the rich, and sometimes complicated, history of Hyde Hall, take one of their 50-minute guided tours. Each tour leaves on the hour and is offered from May- October.
Our tour guide John was very knowledgeable and shared so many stories with us about the rise, fall and resurrection of Hyde Hall. He also shared one of the most fascinating facts: Hyde Hall is haunted! In addition to history, Hyde Hall also boasts over 200 years of documented paranormal activity. Because of this, guided ghost tours are available by reservation.We'd love to go back and do one of those around Halloween time.
Fly Creek Cider Mill~food and family fun
Get a taste of this region of New York when you have a meal at Fly Creek Cider Mill. This 160 year old water powered mill is home to 40 specialty foods, wine and hard cider tastings. During our visit, we took it upon ourselves to try as many as possible. Our favorites were the baked mac and cheese, apple blossom and apple cider slush. I also tried their wine slush made with apple wine. So yummy! Everything was delicious and tasted farm fresh.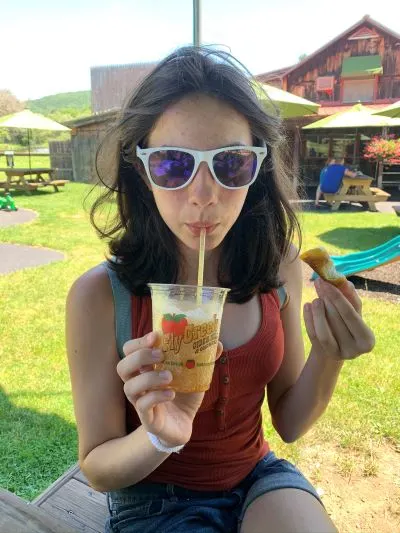 After lunch, we spent the rest of our visit feeding the ducks and geese on Millpond, participating in duck races and shopping in the Mill Store Marketplace.
Pro tip: Be sure to buy a Quacker Pack for the kids. It contains duck food, a rubber duck for the duck races, duck whistle and stickers.
Inside the Mill Store enjoy shopping along with wine and cider tasting. You can also learn how cider is made.
Barnyard Swing Mini Golf ~family fun and sports
At Barnyard Swing, we were treated to a round of miniature golf followed by ice cream. The 18-hole course is well-maintained and great for families, as it is not overly challenging, and has a lot of fun features. One of the holes even allows you to hit your ball into the river that splits the course. The kids got a kick out of seeing their ball go for a swim.
It was a hot day, so ice cream from the Sassy Cow ice cream parlor inside the barn was a welcome treat following our round of mini golf. The Sassy Cow features nine different flavors of soft-serve ice cream, waffle cones, shakes, sundaes, and floats. Barnyard Swing also offers both indoor and outdoor laser tag as well as a country-style gift shop.
Canoe and Kayak Rentals, Portlandsville~ recreation
On our last day in Otsego County we spent the morning kayaking down the Susquehanna River. Canoe and Kayak Rentals in Portlandsville is the place to go for canoeing, kayaking and paddle boarding. At this location, you have the option of paddling on the Susquehanna River or making your way over to Goodyear Lake.
As we were newbie kayakers, we opted to take an easy ride on the river. Because it was so hot, there would be a lot of boat traffic on the lake. Kayaking down the Susquehanna River was one of the highlights during our trip to Cooperstown and Otsego County. It took us a little while to get the hang of it but once we did it we had so much fun. The calm and peaceful surroundings made it a great way to start the day.
Baseball in Cooperstown
I'd be remiss if I didn't mention the reason so many people flock to Cooperstown, baseball. Though there were so many other amazing attractions to visit, we had to include some baseball fun and history into our itinerary.
Doubleday Field
Our first taste of Cooperstown's rich baseball history was our tour of Doubleday Field. The entrance to the field is right on downtown Main Street, but you could almost miss it if you weren't paying attention as you walk by. In front of the old-timey brick facade, it's not a statue of Babe Ruth that greets you. No, it's a statue of a shoeless farmboy known as the "Sandlot Kid" that represents the kids who played baseball on the pasture that was in this very spot over 100 years ago.
We learned on our tour that the story of the first baseball game being played here is a bit of a tall tale. But whether or not Abner Doubleday was ever here on this spot in Cooperstown has become irrelevant. The Legacy of the past 100 years is what has made Doubleday Field hallowed ground.
Taking the tour also gave us the opportunity to step out on to the field. We ran the bases and strolled through the outfield grass, walking and playing on the same field that so many Hall of Fame baseball players have played on through its history. And I guess that sums up the beauty of Doubleday Field, because on what other field in America can you get such an opportunity?
National Baseball Hall of Fame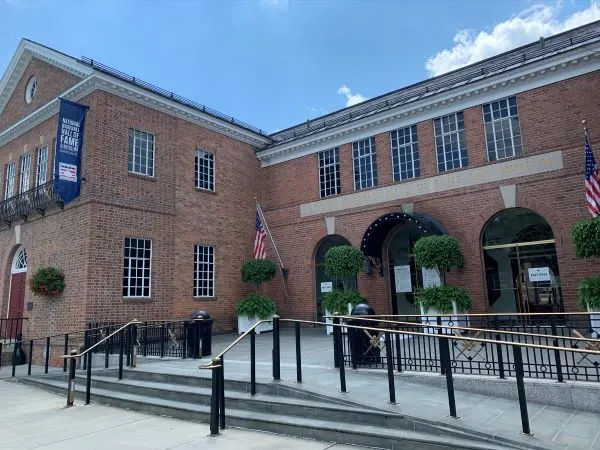 Of course, no trip to Cooperstown is complete without visiting the National Baseball Hall of Fame. And while things have been improving, COVID-19 remains a risk, and we were happy to see that the National Baseball Hall of Fame was taking the necessary precautions and steps to ensure the safety of all its guests.
We had a reservation with a set entry window, we wore masks, and the museum even provided each guest a stylus to use for the buttons and touchscreens of the various interactive features inside. We also enjoyed the playful social distance reminders placed throughout the museum.
As for the museum itself, there was so much to see and it was a lot to take in on our first visit. At the advice of the museum, we started our journey on the second floor, which told the history of baseball from its beginnings to now. There are special exhibits dedicated to celebrating how the color barrier was broken, women in baseball, and the influence of Caribbean players. The Locker Room features artifacts from each Major League team arranged in its own team locker.
The third floor is great for families, and you don't have to be a baseball fanatic to appreciate the exhibits that highlight the experience of attending a baseball game, or the many baseball records, and pop-culture artifacts. This was probably the favorite floor of the museum, as it had something for everyone.
Finally, we made our way back to the first floor, where we browsed some of the pieces of art and then entered the impressive Hall of Fame Gallery. The plaques are organized by "class", but there is also a directory to make it easy to find your favorite players. The Hall of Fame Gallery is so striking that it's easy to overlook the hallway next to it that leads to a few other exhibits, including the broadcasters and writers and baseball at the movies.
We couldn't leave without a stop at the gift shop for some souvenirs. As we left, we also took a moment to check out the outdoor sculpture garden.
KOA Cooperstown
Accommodations for our trip were generously provided by KOA Cooperstown Journey. We spent 2 nights in a deluxe cabin with a patio. This particular room includes a kitchenette, dining area, living area with futon, a master bedroom and another bedroom with bunk beds. Outside we got to enjoy hot dogs from the barbecue and s'mores by the fire pit.
Here's a video of Jackson giving a tour of our cabin. As you can see he loved having the bunk room all to himself.
The facility also has a pool, playground and gift shop. It's location right by an open corn field made it a great place to watch the sunset or do some nighttime star gazing.
Virtual Trip to Cooperstown for Families
Though there's nothing better than the real thing, you can take a virtual trip to Cooperstown and Otsego County. This is a great activity to do as a family if you're not ready to travel just yet or would like to get a taste of what Cooperstown has to offer before your visit. These attractions offer virtual experiences.
Thank you!
Special thanks to the Destination and Marketing Corporation of Otsego County for planning such an amazing adventure for us. Thanks also to the following attractions for providing us with complimentary admission and accomodations.
KOA Cooperstown Journey
Fly Creek Cider Mill
Friends of Doubleday Field
Oneonta Sports Park
National Baseball Hall of Fame
Barnyard Swing Miniature Golf
Hyde Hall
Canoes and Kayak Rentals and Sales, Portlandsville
More Fun in New York State