Today we are sharing ideas for Disney movie nights. For our movie night, we chose Disney's animated classic: "The Jungle Book."
Before the live action version of "The Jungle Book" hits the big screen, we're taking a look back at the animated classic. All you need are the bare necessities and you're ready for a fun Disney Family Movie Night.
Although, "The Jungle Book" is a beloved Disney classic, the kids and I had never seen the whole thing. We were excited to finally sit down and watch it. For us, the best parts were the music breaks, especially "Bare Necessities."
Synopsis:
Mowgli, a man cub, is abandoned as a baby and is taken by Bagheera to live with a wolf family. When word hits the jungle that Shere Khan is back in their area, it is decided that Mowgli must return to the man village. Guided by Bagheera, Mowgli embarks on an adventure through the jungle. Along the way he meets a variety of characters including Kaa, Baloo, and King Louie. Although hesitant as first, ultimately it is Mowgli who returns himself to the man village.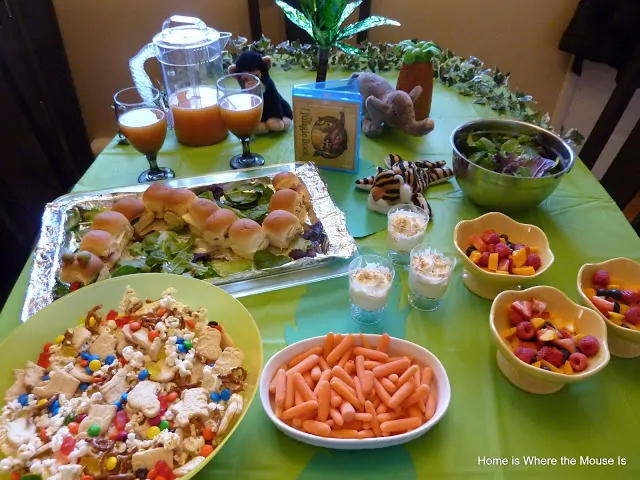 Jungle Book Menu and Decor:
I kept this movie night fairly simple. Since the setting of the movie is in the jungle, I wanted to keep the food fresh and clean. But I also threw in some goodies to make the night more fun! The decor was easy too. We gathered anything jungle related we had around the house. The kids made paper jungle leaves for the table. We also found some jungle friends to come to our movie night.
Our menu consisted of:
Shere Khan's Tiger Tails (baby carrots)
Jungle Leaves (salad)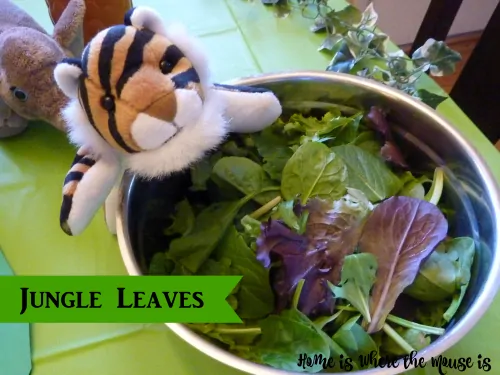 Baloo's Bare Necessities Fruit Salad (Simple fruit salad drizzled with honey)
Kaa's Ssslider Sssandwiches (Mini slider sandwiches in a few varieties)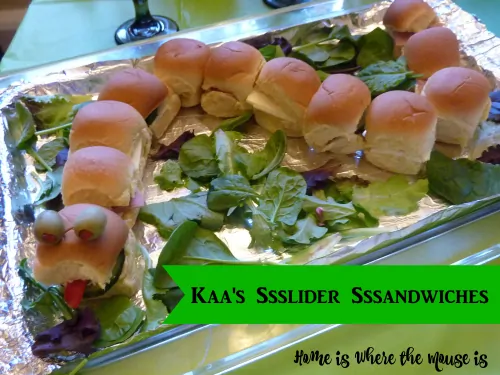 King Louie's Banana Trifles (Nilla wafers topped with vanilla pudding, bananas and whipped cream)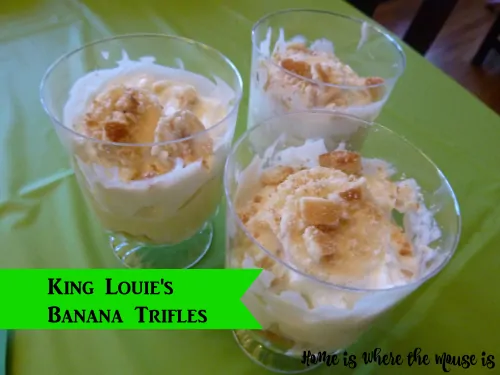 Jungle Juice (Passion Fruit, Orange and Guava juice blend)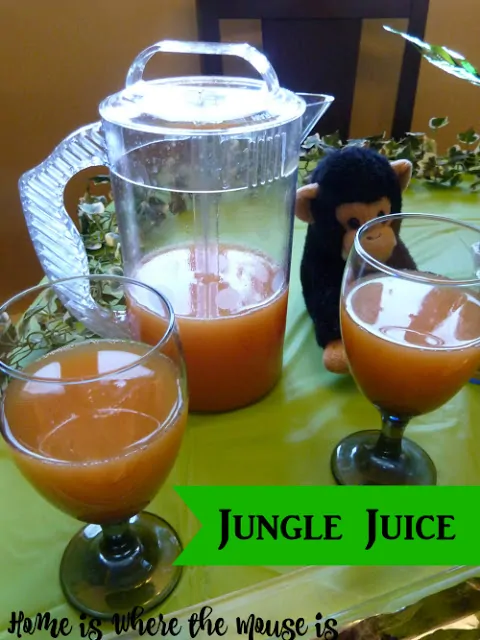 As we watched the movie, we munched on Mowgli's Man Cub Munch.(popcorn mixed with animal crackers, gummy bears, M&Ms, and pretzels)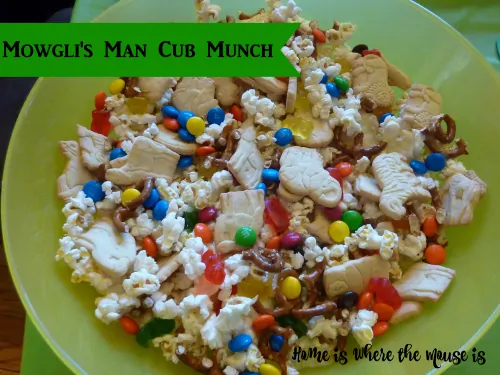 Activities:
Although we didn't have time, you could surely add to your Jungle Book movie night by adding in some activities. Here are some suggestions:
For more Disney movie night ideas,
check out the other great posts from our friends!