Welcome to this month's Blogorail Yellow Loop. Today we are sharing some fun Valentine's Day crafts.
---
The best kids crafts are ones that are not only cute to look at, but ones that are memorable too. Kids will only be young once. Keep those memories by making this precious Disney Valentine's Day hand-print craft. All you need is a little hand, paint and some creativity.

Hand prints are my favorite keepsake. With just a little ink or paint, my kids' tiny hands become frozen in time. It's fun, and little sad, to look back many years later and see how much they have grown. On Thanksgiving, my sister has the tradition of making hand print turkeys with my kids. These have become some of my favorite crafts that my kids have made for me.
It doesn't have to be Thanksgiving to make a hand-print craft. They're perfect for any holiday, especially Valentine's Day.
Materials:
For this craft you will need:
paint brushes
card stock
embellishments such as foam shapes, googy eyes, stickers (optional)
sharpie marker
Instructions:
First, grab your favorite little helper. I did ours with my 4 year old son, Jackson.We rarely get to craft together, so that made this activity even more special.
Come up with a plan. You're going to have to think of a design and a cute saying. For this one we decided to do a Frozen themed snowflake hand print and use the saying "You Melt My Frozen Heart".
Get out your supplies. Make sure you cover your work area with newspaper or a place mat. Roll up your little one's sleeves so they won't interfere with the hand print.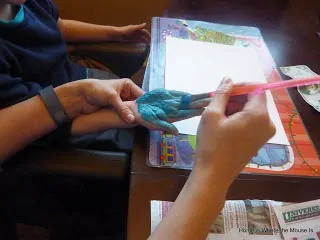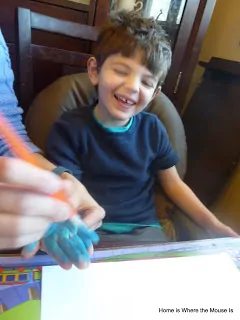 Paint your child's hand. Jackson got a kick out of this part. It tickles! Cover it well and make sure they're not scrunching up their hand. I had to remind Jackson several times to keep his hand straight.
Quickly make the hand print on the paper. For the snowflake we had to do 6 prints. We needed to reapply the paint after the 3rd print.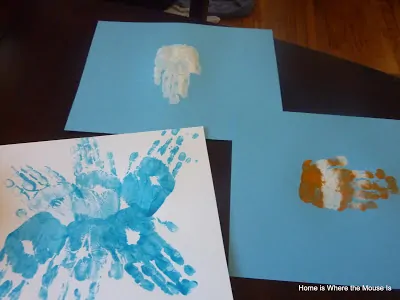 Let the hand-print(s) dry. Once it's completely dry, it's time to decorate. You can use embellishments or simply paint the decorations. We painted on a layer of glitter modge-podge and a red heart, letting the project dry after each application. After the entire project was dried, we wrote the saying.
Now that the project is done it can be framed as a holiday keepsake or given as a gift. This snowflake one would be a great Valentine for Jackson to give to his sister.
Variations:
Here are some other ideas you can try:
Nemo
Olaf
Up House (using fingerprints)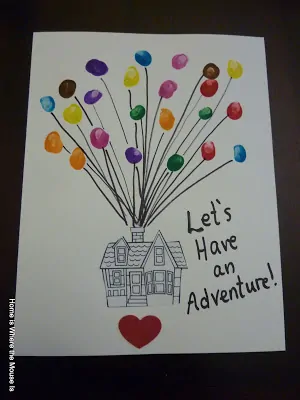 Jackson gave this project a high five and your kids will too. Which design would you make?
---
For more great Valentine's Day crafts,
check out the other great posts from the Blogorail!
Here is the map of our Magical Blogorail Yellow | Valentine's Day Crafts Loop: