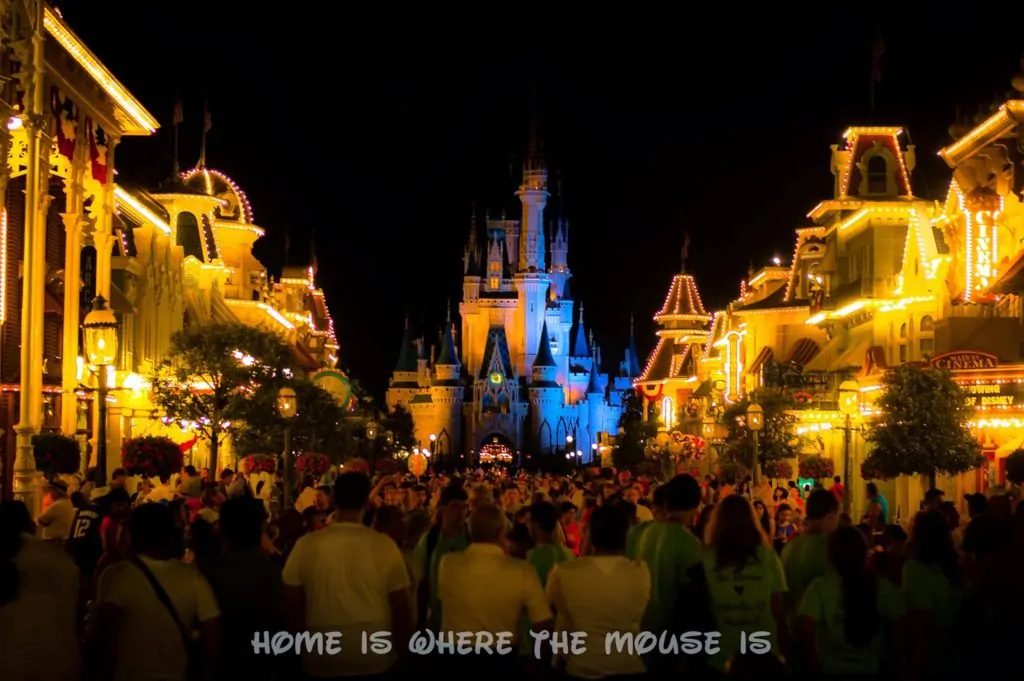 There's just something about things that light up that is simultaneously wondrous and mesmerizing. At home, we often take this modern convenience for granted, but in Walt Disney World we marvel at the implementation of lights in attractions, shows, and scenery, especially at night. It's just another of the many ways that Disney manages to bring out the kid in all of us.
Click "Read More" to continue reading about Disney Light-Up Souvenirs

Light Wands being sold prior to the Main Street Electrical Parade
Of course, Disney shrewdly capitalizes on our fascination by selling a myriad of souvenirs that dazzle us with illumination. Every parent knows how hard it is to resist the temptation to buy when that cart full of light-up souvenirs comes by while you're waiting for the Main Street Electrical Parade. It's not just the lure of the lights that you're contemplating, but also the ability to keep your child occupied during a long wait, and to make them feel like they're a part of the magic.
Jackson is a part of the show with light up wand and glow band "ears" that we brought with us from home.
When we were kids, the array of souvenirs amounted to glow bracelets and necklaces that you had to put in the freezer back home or at your hotel to try and make them last longer. Or perhaps you splurged on the light-up sword, which was a flashlight topped with plastic cones that extended outward when you thrust it. Today, these souvenirs have evolved, incorporating fiber optics, LEDs, and in some cases, computer circuitry to enhance their effects and helping to bring some of our favorite characters to life with spinning, whirring, and flashing.
Assorted Character Light-up souvenirs for sale in Magic Kingdom
The very latest development in light-up souvenirs has been interactivity. Last year, Disney unveiled "Glow with the Show" Mickey Ear hats. There had been illuminated hats for years, but these were something new. Not only do they light up, but they change colors, and in certain situations, the colors are dictated by what's happening around you. Right now, with Glow with the Show ears, you can become a part of the show during "Wishes", "Celebrate the Magic", "Fantasmic", and during the holiday season, "Holiday Wishes" and the "Osborne Family Spectacle of Dancing Lights".
"Glow with the Show" Ears synced with Fantasmic at Disney's Hollywood Studios
We searched high and low for these ears on our last trip, but even at the $25 price tag, the demand has outweighed the supply, and there were none to be found on property. We did see people wearing them, and they looked awesome. We can only imagine what it would look like to have a sea of guests wearing their ears, lighting up in unison along with the music and lights of the Disney nighttime spectaculars!
With the innovative "Glow with the Show", the light up souvenir has been transformed from something you buy each trip and throw in the toy box at home, to a must-buy park essential that you treasure and pack to bring with you each trip back to the parks.
This article was originally written by us for WDW Magazine and appeared in the February 2014 issue, "WDW After Dark".