One of our favorite Easter treats are Marshmallow Peeps! But as far as we know, nobody makes a Mickey Mouse shaped Peep. We solved that little problem and we're going to show you how to do it too!
Peeps come in many shapes and colors for just about any holiday, but they are most well-known for Easter.
We found a recipe for making homemade marshmallow, and modified it to suit our needs.


This will require you let the marshmallow filling sit overnight, so plan for that.
What you will need:
Equipment
Electric Mixer with Whisk Attachment (do not use hand mixer)
Medium Saucepan
Rubber Spatula
Plastic Wrap
Parchment Paper
Mickey Mouse shaped cookie cutter
Non-stick Cooking Spray
Ingredients
3 Packets of unflavored gelatin
1/2 Cup of Cold Water
1/4 Cup of Water
2 Cups of Sugar
2/3 Cup of Light Corn Syrup
1/4 Teaspoon of Kosher Sea Salt
1 1/2 Teaspoons of Vanilla (or other flavored) Extract
Sanding Sugar
Melted Chocolate (optional decoration)
Directions:
Homemade Marshmallow
1. Line the bottom and sides of a 13×9 baking sheet with plastic wrap. Spray with cooking spray and set aside.
2. In the bowl of the electric mixer, add the cold water and contents of the gelatin packets. Let stand for 10 minutes.
3. Combine the sugar, 1/4 cup of water, and corn syrup in the medium saucepan. Bring to a boil. Boil rapidly for 1 minute while stirring.
4. Start the mixer on medium speed and slowly pour the heated sugar into the bowl.
5. Add salt to mixer and increase speed to high. Mix for 12 minutes.
6. Reduce mixer speed to low, add extract and mix until combined.
7. Using a rubber spatula that has been coated with cooking spray, pour the contents of the mixing bowl onto your baking sheet and smooth out.
*it is easier to smooth out the marshmallow using your hands. Just be sure to coat them with cooking spray first. It you have disposable kitchen gloves, you can use them as well, coated with cooking spray.
8. Spray another sheet of plastic wrap and cover the marshmallow (spray side down) and let sit overnight
Cutting and Coating Marshmallows
Prepare Bowls of Sugar
We only had one color of sanding sugar. We wanted multiple colors, so we used some gel food coloring with regular household sugar to create our own.
1. Added gel coloring to a bowl of sugar.
2. Mixed well.
3. Sifted through strainer to remove chunks.
liquid food coloring may have been less chunky, but we think it may have also been less vibrant.
Coating the Mickey Heads
1. Remove plastic wrap. Coat your cookie cutter with cooking spray, cut out the marshmallow shapes and set them parchment paper.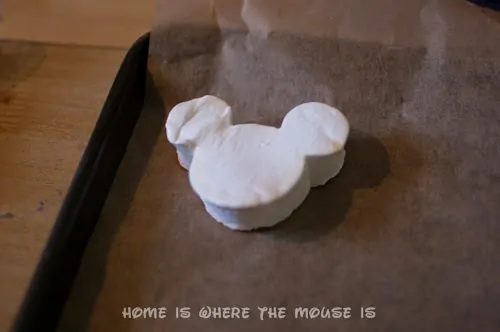 We were able to get about 13 Mickey heads from our sheet. Perhaps we could have gotten more if we had planned out the cutting pattern better.
2. Coat the marshmallow shapes with sugar. To make the sugar stick, you'll want to coat the shapes with some water. You want just enough water to coat the surface. Too much will make the sugar clump up.
We used a bowl of water to dip and let the excess drip off. You could also use a brush to apply the water.
3. Shake off excess sugar and place on parchment paper. Let stand for about an hour so the sugar coating can dry.
We think they look great!
But how do they taste?
Our little taste-tester sniffed one, licked one, and ate one. He thought they tasted great!
Turns out even Peeps are better when they are shaped like Mickey!