Summer will soon be here! While it's exciting at first, inevitably the summertime boredom will set in. Cut your kids off at the pass and give them a bucket of ideas sure to keep them occupied all summer long. Here is an idea for a Disney-themed Summer Bucket List full of activities for plenty of summer fun!
As a teacher, I get the whole summer off. For me it's a time to catch up on everything I may not have had time to do for myself during the school year. But, also I love getting to spend time with my kids. Since Bella was born, I've tried to fill summer breaks with day trips, beach days, crafts, cooking, you name it.
Once she got to be preschool aged, we started to make Summer Bucket Lists. Together we would decide what we most wanted to do that summer.Over the years we've tried different variations. We've simply made a list, put slips of paper in a beach pail and written our ideas on paper buckets. Last year we tried to keep to a daily schedule, but we didn't like the lack of freedom.
This summer, since we'll also be counting down to our Walt Disney World trip, I thought it would be fun to put a Disney spin on our bucket list. While we might not get through everything, it will be fun doing a Disney themed activity each day.
Our Bucket List has 5 categories: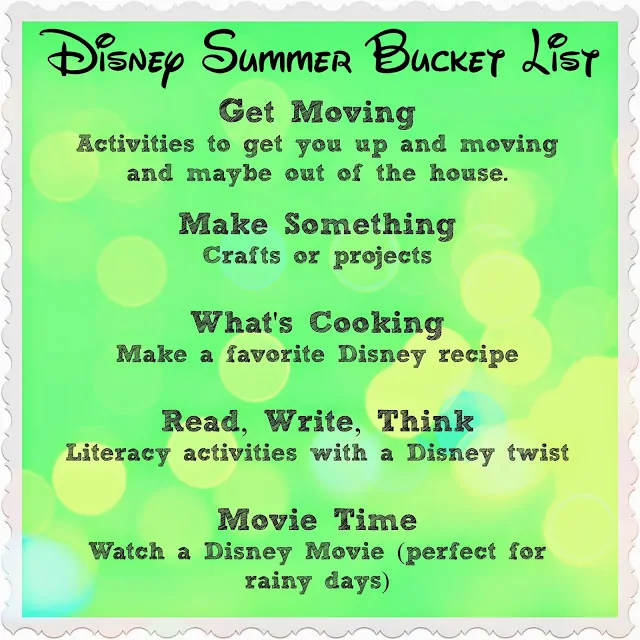 Now it's time to make it!First I chatted with the kids about what they'd like to do this summer and I made a list. Jackson is now preschool aged, so it's his first time planning the summer activities. And boy did he have some ideas. (He only wanted to go shopping! Four-year-olds! )
We had a combination of ideas ranging from simple art projects to full out movie nights. Many of the activities we chose won't cost us much money and can use things we already have around the house. (Yay!)
Then we color coded the Popsicle sticks to go along with each category. I let Bella do this part. She also chose the colors.
Next, I wrote each activity on the Popsicle stick, giving it a Disney theme as needed. I also had to make sure the activities were ones both of the kids could do.
Here are some of the activities we chose in each category:
Get Moving:
Visit the Living Seas(Aquarium)
Visit the Animal Kingdom (Zoo)
Explore the Wilderness
Have a Pirate Treasure Hunt
Make Something:
A Fairy Garden
Box Cars
Snow
Characters out of paper bags
What's Cooking:
Make Dole Whips
Have a Tea Party
Try a New World Showcase Food
Have a Disney themed Lunch
Read, Write, Think:
Read a fairy tale (compare it to the movie)
Research Nemo and friends
Save up for Disney~ Have a lemonade stand
Movie Time:
Big Hero 6 Movie Night
Drive-in Movie Night (use the Cars box craft)
See Inside Out (in theaters June 19th)
Have a Campout movie night
Go to an outdoor movie
We also have some more ideas on our Disney Summer Camp/School board.
Follow Lisa&James | Home is Where the Mouse is | Disney Tips's board Disney Summer School/Camp on Pinterest.
Finally, we placed the sticks in our Mickey Bucket. We have about 10 sticks in each category. When summer comes. I'll let the kids choose one stick a day. I also will suggest the color stick they'll choose depending on time and weather. We'll probably not be able to finish them all, but we have lots of options.
Now all that's left to do is wait. (School doesn't let out until the end of June here, ugh!) I can't wait to have fun with my kids this summer. We'll let you know how it goes.
What's on your summer bucket list?