Welcome to this month's Blogorail Black Loop. Today we are sharing some ideas to get you started on your holiday shopping, including those lovable, stackable Disney Tsum Tsum!
---
Disney Tsum Tsum make great holiday gifts! Whether you're looking for a stocking stuffer or something to wrap, there are Tsum Tsum gifts that will delight any fan this holiday season.
The Tsum Tsum Advent Calendar
Make the countdown to the holiday fun! You'll have to pick this hot item up prior to December to get the countdown started for Christmas. As of right now, I've seen 3 versions of the Advent Calendar out there.
Target's version is shaped like a tree (includes 18 minifigures and 13 accessories) – $39.99
Their website currently says shipping is not an option, but they do tell you if it's in stock at your local store. I had to ask an employee for help when I couldn't find them the other night. He brought out a box from the stockroom.

Toys R Us stocks one shaped like a Gingerbread house (includes 18 minifigures and 13 accessories) – $39.99
I've also seen the Gingerbread House advent calendar on Amazon through re-sellers. It's going slightly higher there and none I've seen were eligible for Amazon Prime.
Is there any difference between the Target and Toys R Us versions other than the shape? We'll be opening both to find out.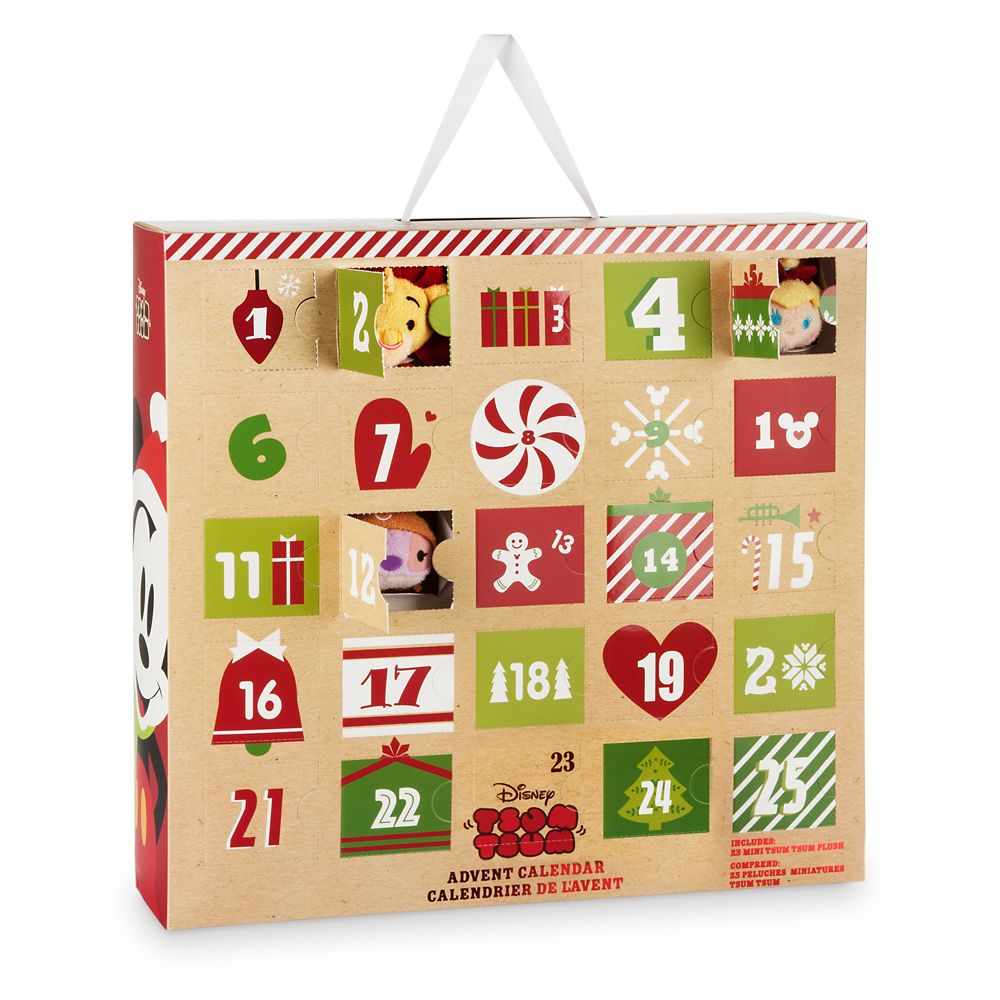 Disney Store has a box version (includes 25 mini plush tsums) – $139.95
This one is pricey, but if you keep in mind you'd pay about $6 per tsum at the Disney Store, it would cost slightly more.
Tsum Tsum Plush
The smallest mini plush Tsum Tsum are perfect stocking stuffers. But, if you're like me and have been collecting these all year long, the holidays are an opportunity to splurge a larger size.
Holiday Plush Sets
Mickey and Minnie mini tsum Holiday Set – $12.95 Disney Store
Mickey is dressed like a snowman and Minnie is decked out like a Christmas tree. Very cute.
Mickey's Christmas Carol mini tsum Set – $54.95 at Disney Store.
This is on my MUST HAVE list. It includes 10 mini tsums of characters from the movie.
Bob Cratchett (Mickey Mouse)
Mrs. Cratchett (Minnie Mouse)
Tiny Tim (Morty or Ferdie Mouse*)
Ebenezer Scrooge (Scrooge McDuck)
Fred (Donald Duck)
Isabelle (Daisy Duck)
Ghost of Christmas Past (Jiminy Cricket)
Jacob Marley's Ghost (Goofy)
Ghost of Christmas Present (Willie the Giant)
Ghost of Christmas Yet to Come (Pete)
This is a unique set that includes rare characters like Scrooge McDuck, Willie the Giant, and Morty/Ferdie Mouse. Morty and Ferdie are Mickey's twin nephews. It just doesn't say which was playing the part of Tiny Tim. That's some Trivia you cans impress your Disney friends with.
Nightmare Before Christmas set
Released for Halloween, you still may be able to snag one of these great sets. Its a Christmas movie too, right?!
Recent plush sets
Available from Disney Store: Moana, The Muppets, Star Wars Episode I, Disney Parks: Adventureland, Disney Parks: Fantasyland,
Upcoming Sets
Marvel Icons was just released on November 15th. What will December bring?
We now know that on December 6th, the Finding Nemo set will be released. This is a great one and I know we're going to have to pick these up.
That leaves one "Tsum Tsum Tuesday" before Christmas on Dec. 20th. This is usually a Star Wars or Marvel release. I'm personally guessing mid-December will be a Rogue One set with the movie also hitting theaters around the same time!
Tsum Tsum Subscription Box
The original Subscription Box program has ended, but the Disney Store site says a new line is coming in January. If it's the same as the previous version, subscribers will receive one set each month that includes one small tsum and one mini tsum. The cost was $24.95 the first subscription.
Tsum Tsum Minifigures
Tsum Tsum minifigures come in a variety of different combo packs, each containing different sizes and a checklist to help you collect them all. They have a little more playability to them than the plush tsum, but their small size makes them a choking hazard in addition to being apt to get lost or stepped on.
They also come in Mystery Packs, which include a minifigure and an accessory. The accessories are fun and add more playability.
And to help organize and carry your minifigures… A carrying case!
The carrying cases look Mickey and Minnie tsum. Each can carry over 45 minifigures! Jackson is definitely getting one of these this year!
Tsum Tsum Activities
What started out as collectible plushes has branched out into activity kits. We've seen several varieties available.
Tsum Tsum Clothing
If you're tsum tsum fan is less into play and more into showing their personality, tsum cuteness makes for adorable clothing options.
This list will be updated as more tsum tsum items are bound to hit the shelves a the holidays approach!
What is on your Tsum Tsum Wishlist? Are we missing anything from our list? Let us know!
For moreHoliday Gift Guides,
check out the other great posts from the Blogorail!
---
Here is the map of our Magical Blogorail Black | Holiday Gift Guides Loop: