Which Walt Disney World Quick Service restaurants should you skip on your next vacation? We're breaking it down park by park and are suggesting where you should dine instead.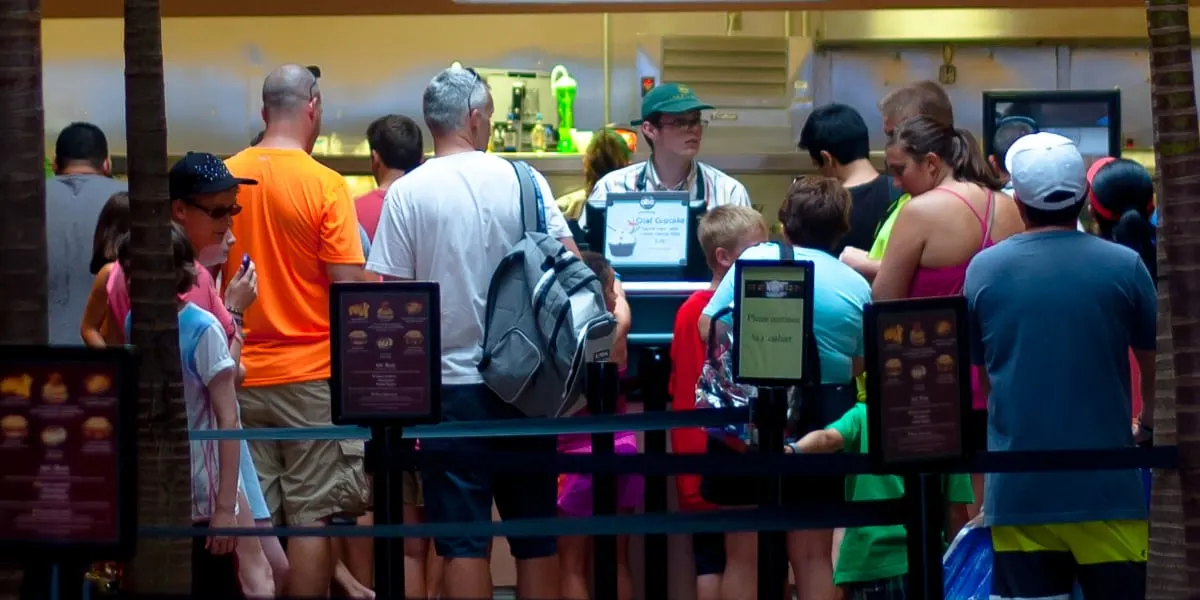 "Quick Service" restaurants are Disney World's version of Fast Food. Dining at Quick Service restaurants is the fastest and easiest way to get your hunger needs met. Throughout all 4 parks, there are a variety of quick service options to choose from serving many different types of cuisines. But, just like with table service restaurants, not all quick service restaurants are created equal.
Walt Disney World Quick Service Restaurants to Skip
Whether you're looking to save money (like you did with your discounted park tickets), looking to save time, or if you just have Disney Dining Plan credits to use up, finding a Quick Service Restaurant to eat at might be on your to-do list. Even though you are seeking out a quick bite, you don't want to settle. Less than stellar menus, inconvenient locations or lack of anything special are reasons these restaurants are worth skipping.
Epcot (Future World)
Skip: The Electric Umbrella
Located at the front of Epcot in Future World, The Electric Umbrella is easily forgotten about. The location makes it inconvenient for lunch and dinner times since most people head to the back of the park once World Showcase opens at 11. The menu is also nothing to write home about either. It's no surprise that this quick service location is overlooked.
Dine: Sunshine Seasons (The Land)
Sunshine Seasons in The Land has a wide variety of food. It has something for both adventurous and picky eaters alike. Many of the selections are made from ingredients grown at The Land pavilion. Sunshine Seasons also has some yummy desserts to satisfy your sweet tooth. If you are looking for something quick in Future World, Sunshine Seasons is the place to go.
Epcot (World Showcase)
Skip: The Liberty Inn (America Pavilion)
The food found here is very basic; burgers, fries, nuggets. There's really nothing special. You're in World Showcase to experience other countries. Why would you want to eat American fare when there are so many other options to choose from?
Dine: Any other quick service in World Showcase
Anywhere in World Showcase is a better choice, but I do have some favorites. Tangerine Cafe in Morocco is a great choice especially if you have vegetarians in your party. My kids love tacos and empanadas, so they often request to eat at La Cantina de San Angel in Mexico. Lastly, if your kids love chicken nuggets, they'll love the kids sweet and sour chicken at Lotus Blossom Cafe in China.
Disney's Animal Kingdom
Skip: Restaurantosaurus
Back in the early days of Animal Kingdom, Restaurantosaurus used to be sponsored by McDonald's. At that time you could get McDonald's fries and nuggets. Since those days are over, the menu here has gone through a few reinventions. But in the end, it's really just a burger and nugget place. With so many other options at Disney's Animal Kingdom, you can easily find better places to eat.
Dine: Flame Tree Barbecue
Instead of dry burgers and chicken nuggets, feast on smoked ribs, barbecue chicken and pulled pork at Flame Tree Barbecue. Their homemade barbecue sauce is out of this world. All entrees come with a side of beans and slaw so you're getting a full meal. Portions are also huge and are easily shareable. Not only will you get a great meal, but you'll also be able to save money too.
Magic Kingdom
Skip: Tortuga Tavern
With the exception of their Chipotle Barbecue Short Rib, their menu is nothing special. You could easily find any of the other items on their menu in other places in the park.
Dine: Columbia Harbour House
Columbia Harbour House is not your typical quick service restaurant. Sure kids and adults can get chicken nuggets, but they can also be paired with shrimp or fish. You could also get other New England inspired fare such as lobster rolls and grilled salmon. The uniqueness of Columbia Harbour House is what sets it apart from other quick service locations in the Magic Kingdom.
Disney's Hollywood Studios
Skip: ABC Commissary
Though there are a variety of options, ABC Commissary is reminiscent of a school cafeteria. Since the dining options at Hollywood Studios are limited, the Commissary is often crowded. There's nothing like having a tray full of food with nowhere to eat it.
Dine: Backlot Express
It was difficult to come up with a great alternative since the options at Hollywood Studios are slim. But based on our personal experience, we've had more success at Backlot Express. Though they serve burgers, they also have other options such as the Caprese and Cuban Sandwiches. There's also a good amount of seating.
Agree? Disagree? Got other recommendations for Quick Service spots people should skip or where they should go to get a quick bite to eat? That's what the comments are for!
Walt Disney World Restaurant Posts
For more information on Walt Disney World restaurants and dining, check out these posts.