Are there Disney World Rides that are better at night? That's a good question, especially since it's not guaranteed that you will have the chance to enjoy a Disney ride both during the day and at night in the same visit.
Walt Disney World Resort boasts over 50 rides at its 4 theme parks. A good number of these rides are fully indoors. These "dark rides" are not typically affected by whether it's day or night outside. There are a handful of rides that are partially outside, and some rides that are completely outside.
So what Disney World attractions are not just a little bit different, but actually better to experience at night? Which ones should you actually plan your day in a way to make sure you can experience them at night?
Here are our picks for the Disney World rides that are better at night.
Magic Kingdom Rides that are Better at Night
Haunted Mansion
As I mentioned above, most "dark rides" are completely indoors, which means the experience is exactly the same no matter what time of day you ride it. The Haunted Mansion is one of the rare exceptions to that rule.
The whole vibe of the Haunted Mansion is evident as soon as you approach the queue. The Mansion is shrouded in mystery that only gives hints as you make your way through the gates and into the line. At night, the eeriness is more palpable. I think the Cast Members even feel it and get more into character, as well.
Then, as you exit the Haunted Mansion, you carry the experience with you for a bit. And while exiting the spooky atmosphere of the attraction back out into broad daylight has the effect of snapping you out of it, doing so at night is totally different. If possible, I highly recommend getting on line for the Haunted Mansion right as the park closes. You'll exit back into a "ghost town" in more ways than one!
That all makes the Haunted Mansion so much richer and more satisfying.
An argument can be made that the Twilight Zone Tower of Terror is also better at night for similar reasons, but I think the effect isn't as good, and the difference between riding in the day or at night is not great enough to prefer one over the other.
Astro Orbiter
Astro Orbiter is already the most thrilling of Disney World's various "spinner" attractions due to its speed and elevated platform. Getting to ride it at night when Tomorrowland is all it up makes it so much better.
The theme of rockets and planets is just better in the dark with everything lit up and glowing. It just gives you more of that feeling of being a rocket in space.
Mad Tea Party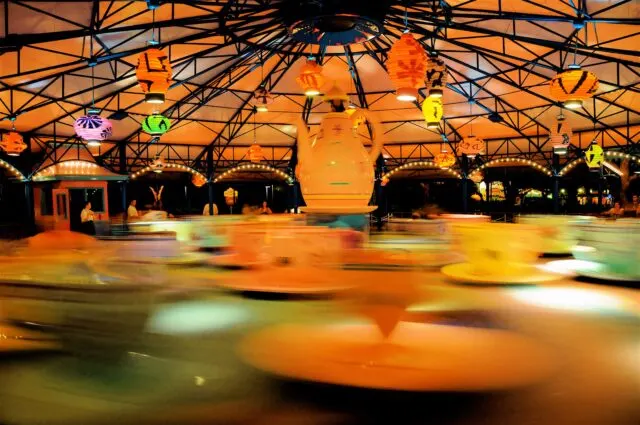 While high-tech, interactive features have become more common throughout Disney theme parks, there is still one attraction that relies a bit on its guests flexing their own muscles. Despite anyone's pleas to take it easy, we can't resist spinning as fast as possible in both directions on the Mad Tea Party.
And, we all know parties are better at night, under the lights! That's why the Mad Tea Party is so much more fun at night.
Prince Charming Regal Carousel
Maybe it's the feeling that you are closer to midnight and the ball is about to end that makes riding the carousel at night more of a thrill. But I think it's a combination of the lights, seeing Cinderella Castle aglow, and the more intimate environment when you are less focused on the crowds and onlookers.
Riding the Prince Charming Regal Carousel at night is simply… more charming.
Disney's Hollywood Studios Rides that are Better at Night
Alien Swirling Saucers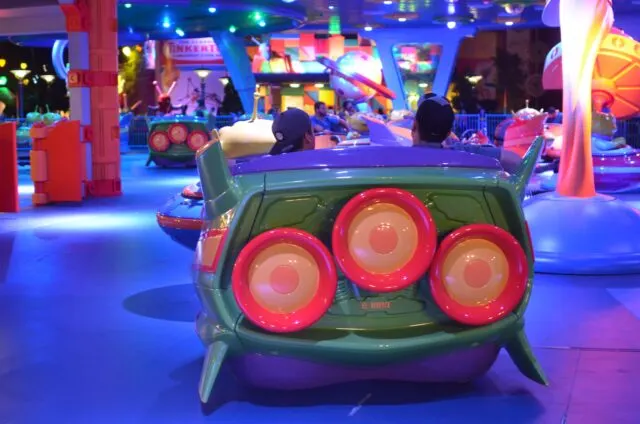 I was pleasantly surprised at how much we enjoyed Alien Swirling Saucers the first time we rode it. But then we returned for a second time in the evening, we had that feeling of surprise all over again.
Same fun ride. Same music. The glow and lights just take it to a whole new level. Much like the Astro Orbiter, the space theme just lends itself to being a night-time ride.
Slinky Dog Dash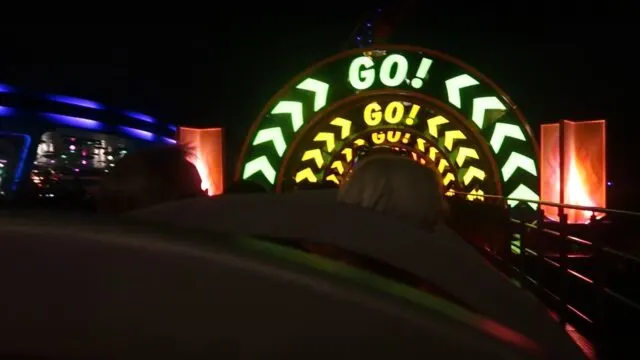 Slinky Dog Dash is one of the most popular Disney World rides for a reason. It's just plain fun. And If I had to choose between riding Slinky during the day or at night, I would choose a night-time ride every time.
I think Slinky was made with the night in mind. Why else would they put lights inside the track? Or on Slinky himself? or make the relaunch go through those light-up rings?
Disney's Animal Kingdom Rides that are Better at Night
Expedition Everest – Legend of the Forbidden Mountain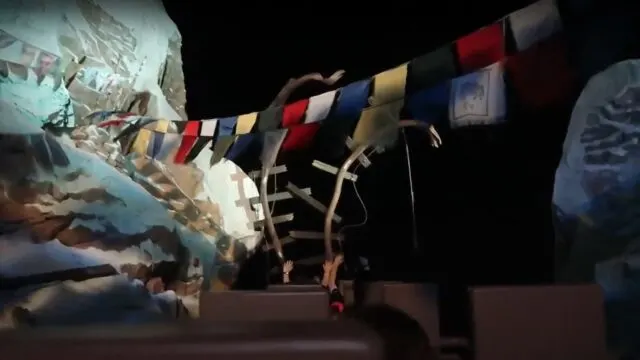 Expedition Everest is at the top of the list of my favorite Disney World rides. I love the thrills and the theming. I'll ride this any time of day, but it's better at night.
I especially love the use of light at night to highlight the details of the mountain. While the track itself is dark, Everest appears to be glowing. The ride takes you through alternating sections of light and dark, and treats you to some awesome views of the Disney's Animal Kingdom and even parts of Disney World outside of the park.
TriceraTop Spin
Of all the Walt Disney World "spinners", (Dumbo, Magic Carpets of Aladdin, etc.) TriceraTop Spin makes it on our list by virtue of being right in the middle of Dinoland, U.S.A., which is one of the best lands in any Disney Park at night. The flashing lights and carnival sounds add such a fun dimension to the experience. And, if you're lucky, there will be a dance party going on nearby, adding some fun music and maybe a few character sightings.
While Dumbo does have good lighting effects that make it cool at night, we think the ride is just as enjoyable in the daytime. The exception to this is if you can time it so you ride Dumbo during the fireworks. That is pretty cool.
Kali River Rapids
Kali River Rapids is without a doubt the most interesting ride on this list because it's the most difficult of all the attractions to ride at night because Disney's Animal Kingdom closes before sunset most of the year. But on occasions when the park is open late enough for it to be dark, and Kali is running, it makes for a unique experience.
At night, Kali River Rapids is a more thrilling ride with dark portions that rival roller coasters like Expedition Everest. The one downside is it won't be as easy to dry off after you get soaked. But, if you ever have the opportunity to ride Kali after the sun sets, do it!
Does Epcot have any Rides that are Better at Night?
None of the attractions at Epcot has made our list of Disney World rides that are better at night. There just aren't many rides at Epcot to begin with, and most have no outdoor elements. The only two that are affected by the time of day aren't any better because of it.
Other Disney World Attractions at Night
Now I know there's a number of other attractions that you can ride at night, but I really tried to focus on rides that I felt were a lot better when it's dark out. That being said, there are plenty of other rides you can enjoy at night and I totally recommend doing so when the opportunity presents itself.
Rides like Big Thunder Mountain Railroad, Dumbo, Magic Carpets of Aladdin, 7 Dwarfs Mine Train, Tomorrowland Transit Authority, Splash Mountain, The Barnstormer, Tomorrowland Speedway, and Walt Disney World Railroad in the Magic Kingdom all have a different feel to them at night.
At Disney's Animal Kingdom, the nighttime version of Kilimanjaro Safaris (when available) is interesting and worth doing if you have the chance.
Epcot's Test Track has its outdoor segment that hits a little differently at night. If Living With the Land is operating, that can be different than what you are used to during the day.
And at Disney's Hollywood Studios, the Twilight Zone Tower of Terror can be cool to experience at night. Though, in my opinion, during the day is just as good or even better.
Upcoming Disney World attractions
There are a few Disney World attractions we're awaiting that will have different feels depending on if it's day or night. The Tron Light Cycle run seems like a candidate to be added to this list. It is, after all, based on having light-up motorcycles in a dark environment.
The other upcoming attraction is the Journey of Water, Inspired by Moana walk-through attraction. That should be interesting to compare at night vs. during the daytime.