We're about a month away from the new live-action version of Disney's Aladdin. Today, we get our first look at some of the new toys for the highly-anticipated movie.
We were given an assortment of these new products courtesy of Jakks Pacific toys. Our opinions are our own. And if you are of the opinion that you need any of these, you should be able to find them at any Target, Walmart or Amazon.
Disney's Aladdin
Unless you've been trapped in the Cave of Wonders for the last ten thousand years, you know all about how Disney is remaking Aladdin. The animated classic is beloved and as you might expect, people have strong feelings about this new version, and it hasn't even hit theaters yet.
And poor Will Smith, he's damned if he's blue and damned if he isn't.
At least there is one thing we can all agree on… new Aladdin toys mean a whole new world of fun!
Princess Jasmine Musical Doll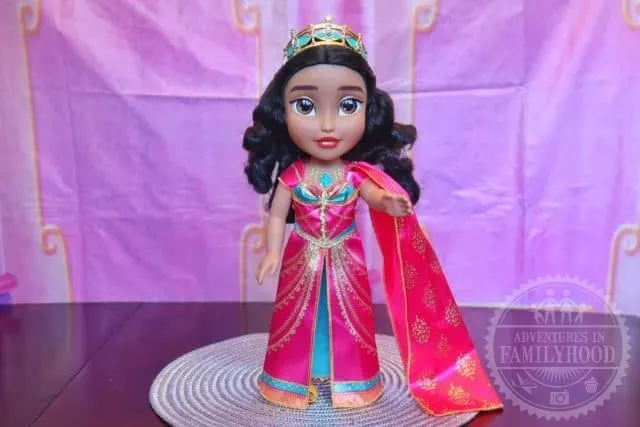 When we opened our box of goodies from Jakks Pacific, this musical Jasmine doll was the first thing that caught our eye. Or more to the point, it was her big brown eyes that got our attention!
Jasmine is about 15″ tall. Her arms, legs, and head move. She is wearing a royal pink dress from the movie. It's not the one we're used to seeing from the animated feature. But since this dress can be removed, maybe the teal dress will be available at some point as an accessory.
The reason for the pink dress is that this is the one Jasmine wears in the upcoming movie as she sings her new song, "Speechless". And if you press the pendant hanging from her necklace, this Jasmine will sing part of that new song for you.
Hearing just part of the song at home, it does sound like it might be a show-stopping moment for Jasmine much like "Let it Go" was for Elsa from "Frozen".
The Princess Jasmine Musical Doll is recommended for kids ages 3+ and retails for $29.99.
Aladdin Magic Genie Lamp
While Jasmine was the first toy to get our attention, the Magic Genie Lamp was the diamond in the rough.
I mean, after seeing Aladdin, who didn't want their very own magic lamp with a genie to grant them wishes?
The Aladdin Magic Genie Lamp responds when you rub it and make a wish. It shakes, lights up, and will answer your request with one of several funny lines from Will Smith's Genie.
Just be careful what you wish for! The Genie may or may not decide to grant it!
The Aladdin Magic Genie Lamp is for ages 3+ and retails for $19.99
Jasmine Outfit Assortment
The next items we pulled from the box made wish that our daughter was a little girl all over again!
For dress-up play, you can have the best part of both worlds with both the new royal pink "Speechless" dress or the iconic "A Whole New World" teal outfit. The movie version comes with a cape, too.
The outfits fit sizes 4-6X and retail for $29.99 each.
Jasmine Royal Accessory Set
Of course, the outfits don't come with shoes or bling. So that's where the Jasmine Royal Accessory Set comes in.
It features a pair of shoes, earrings, a wrist cuff, and a tiara/headpiece. Their designed to match Jasmine's teal "A Whole New World" outfit, but I think there is enough of the teal in the royal pink dress to wear it with both and look great!
The Royal Accessory Set is also for ages 3+ and retails for $19.99.
Agrabah Tea Set
If there was ever a reason to get all dressed up, it was for a glamorous tea party! The Agrabah Tea Set is perfect for an Aladdin-inspired playdate or some quality time with Mom, Dad, or any special guest.
The set comes with a fancy gold tea pot, sugar bowl, two tea cups, two plates, and two spoons. It's strictly for pretend play. Do not use with real food or liquid.
The Agrabah Tea Set is also for ages 3+ and retails for $19.99.
These last two items were not in our box, but are also available now.
Deluxe Jasmine Wig
If you don't have the hair to pull off Jasmine's signature hair style, then Jakks Pacific has the wig for you. It comes with three removable hair clips to help you get that perfect Jasmine look.
It's available for $19.99.
"A Whole New World" Jewelry Box
The last item to help celebrate Disney's Aladdin is this "A Whole New World" Jewelry Box. It features Aladdin and Jasmine figures on the magic carpet. It even plays the song, "A Whole New World" to help recreate the iconic film scene.
The jewelry box also comes with a ring.
The "A Whole New World" Jewelry Box retails for $24.99.
New Aladdin Toys are High Quality Fun.
Thank you to Jakks Pacific for our box of Aladdin toys. We are honored to have been among the first to preview them.
The musical Jasmine doll and Magic Genie Lamp are our favorites. We can imagine there will be lots of kids loving their musical Jasmine doll after seeing the movie. And the magic lamp is already getting a lot of rubs and laughs in our house!
The outfits and accessories are perfect for dress-up and bring back memories of when our daughter was wearing the old-school Jasmine and other princess outfits.
Keeping in mind that the tea set is for pretend play only, the quality and design should make for hours of fun.
Since we didn't personally receive the wig or jewelry box, we can't speak to their quality. But I can't imagine they wouldn't be the same level of quality as the toys we got to see.
Look for the new line of Aladdin toys from Jakks Pacific at your local Target, Walmart, and on Amazon!