One of the best parts of the Frozen Summer Fun Experience at Hollywood Studios was the Frozen Fireworks Spectacular Dessert Party. Unfortunately, since this event will only be around until September 1st, not every Disney fan will get to experience it. Fortunately, many of the delicious desserts that we tasted that night can easily be replicated at home. So that's what we did. We took the easiest, most budget friendly desserts and created our own "At-Home" dessert party.
Our party was inspired by the Frozen Fireworks Spectacular Dessert Party being offered at Hollywood Studios this summer. Included in the premium package, the Frozen Dessert Party offers guest a wide variety of desserts and drinks and gives you a front row seat to the Frozen Fireworks.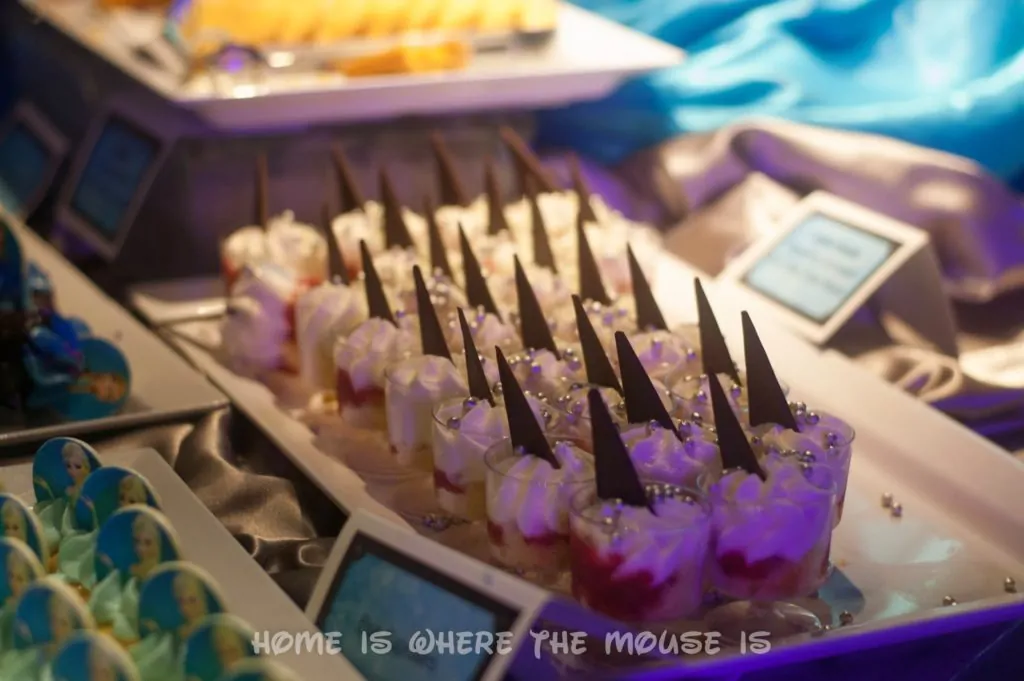 To create this Frozen themed dessert party at home, I had to make some adjustments. First, not all ingredients are available in your local grocery store, so I only chose items that would be easy for anyone to make at home. I also changed some of the names of the treats to put my own spin on it. I added a fondue station (instead of warm ganache) and made the bon bons out of cocoa krispies to make them more chocolate-like.Our "At-Home" Frozen Dessert Party included:
The Ingredients:
To recreate our dessert party at home, all you need to do is make or buy:
24 min vanilla cupcakes (1/2 for cupcakes and 1/2 for trifles)
frosting
24 mini brownies
caramel sauce
whipped cream
strawberry filling
crispy rice treats (shaped into bells)
confectioners sugar (to make glaze for the crispy rice treats)
assorted sprinkles (for cupcakes, brownies and trifles)
strawberries, bananas and marshmallows for dipping
The Display:
I created a simple tablescape out of decorations we already had. The white sheer curtains were the backdrop for the dessert table. Attached was a party decoration left over from our
Frozen Birthday party
. The table was draped in a sheer blue fabric and adorned with snowflakes. The desserts were displayed on white dishes and pedestals.
The Desserts:
Mini Frozen Cupcakes topped with Frozen rings.
Grand Pabbie's Strawberry Shortcake Trifles- sliced mini cupcake layered with strawberry filling and whipped crea.m
Elsa's Snow Dusted Brownie Bites with Salted Caramel
Olaf's In Summer Punch- Pineapple, Orange and Guava juice mix
Anna's Bon Bons- Bell shaped cocoa crispy treats topped with confectioners sugar glaze.
Maybe it's the party talking…or the chocolate fondue station- Assorted dippers and sticks to use in a chocolate fountain. (fondue pot will also work)
All of these treats were easy to recreate at home. It was nice to relive some of the magic we experienced at the Frozen Fireworks Spectacular Dessert party. Even if you can't make it this summer, we hope you'll find some time to create this party at home so you can enjoy a little Frozen Fun this summer!
This post is a part of a Frozen Blog Hop! Visit the blogs listed below to be even more inspired to make this a Frozen Summer!