Instead of candy this holiday, we're giving our kids more fun in their Easter baskets.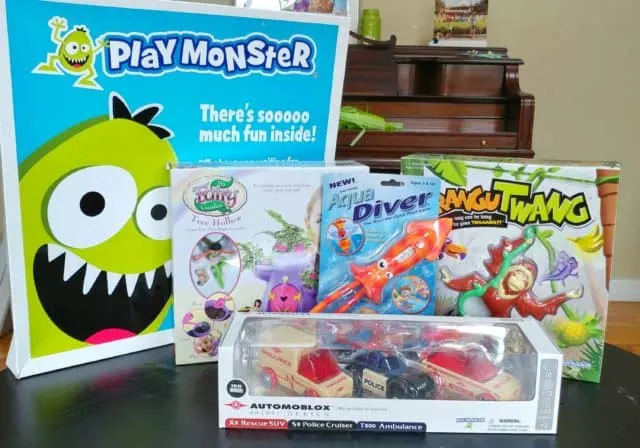 With the help of our friends at PlayMonster, we've got lots of options for filling our Easter baskets with hours and hours of play!
Who Is PlayMonster?
PlayMonster has been making toys and games for nearly 35 years. We've had the privilege of collaborating with PlayMonster and what we love is that they have something for everyone.
Fun For All Ages
No matter who you are building a basket for this holiday, PlayMonster has something great you can include.
Orangutwang
We're big fans of family games, and Orangutwang is a good one. One the one hand, the gameplay is simple enough for the youngest in the family to play. On the other, there is an element of strategy as you decide where and how to hang your fruit.
And during it all… the suspense of not being sure when the orangutan will… TWAAAAANG!
You can find Orangutwang for a great price at Target, Walmart, and Amazon.
Automoblox
Automoblox is a line of wooden cars with interchangeable parts that kids can collect, customize and play with. They are heavy-duty and high-quality.
The large parts are great for the littlest of hands and kids can have fun creating new vehicle designs by swapping parts. Then the fun continues as they race and play with their Automoblox.
My Fairy Garden
We wrote an in-depth review of the My Fairy Garden as a Christmas gift last year, as well as why it makes a perfect gift for Easter.
In short, My Fairy Garden is perfect for Spring because it combines the benefits and fun of imaginative play with a love of nature.
Aqua Diver
We can't wait for summer to try out our new Aqua Diver. Our kids love to swim, and the Aqua Diver is something we can take with us to any pool we visit.
Ever since they gained the confidence to go underwater, they've been throwing different things into the pool to retrieve. The Aqua Diver takes that to a new level with its built-in timer that automatically starts when it hits the water! They can use it to challenge themselves, their friends, or each other.
More PlayMonster Fun
Other PlayMonster products we thing would be great this spring:
Outdoor Fun
Games
Building Sets