This easy, festive and inexpensive Santa Mickey Wreath costs just $5 to make and will add a little Disney magic to your Christmas decor.
While I like to craft, I am not the best crafter in the world. Too many directions and complicated steps tend to overwhelm me. For me the best crafts are ones that I can assemble easily, but will look amazing. When it comes to crafts, if I can do it you can do it. Trust me!
I recently visited my local Dollar Tree for some holiday craft inspiration. To my surprise, I was able to find all the materials to create a festive Santa Mickey Wreath. Not only does it take just 5 things to make this cute wreath, but it only cost me $5 to make it! Plus, it's super easy to make too!
Santa Mickey Wreath
Materials:
1 18″ wreath
2 13″-15″ wreaths ( I used 15″)
1 Santa hat
1 wreath bow
*Note: You will also need pipe cleaners, wire or twist ties to assemble the wreath. Whatever you have on hand that will do the job will work.
Instructions:
STEP 1: Attach the two smaller wreaths to the large wreath using pipe cleaners, wire or twist ties, to create a Mickey head. The wreath I used had wire branches and I was able to use one to attach the ears to the head.
STEP 2: Attach the bow to the bottom part of the head.
STEP 3: Attach the hat to the wreath. This is the most complicated part. Place the hat on the wreath and flip both parts over together. Mark with two marks where you will need to attach the hat to the wreath. Carefully cut two holes where you marked the hat. Thread pipe cleaners, wire or twist ties through the holes so the tying ends face out. Twist the ends to attach the hat to the wreath.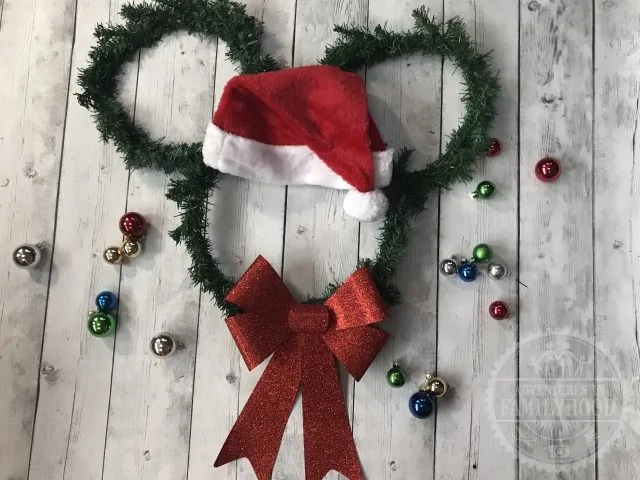 There you have it! In just three simple steps, you can have a cute Santa Mickey wreath that will show off your Disney side during the holidays.
Here's how it looks on our front door:
For more Disney Christmas Crafts:
Disney Themed Glitter Ornaments