Do you Tsum Tsum? It took a while for us, but it's safe to say that we're now hooked!
What's not to like about Tsum Tsum? They are cute, soft, fun, and would you believe they actually can be used for something other than playing, cuddling, or collecting?
Here's what you need to know about Disney Tsum Tsum.
What are Tsum Tsum?
Originally introduced in Japan, Tsum Tsum (pronounced "tsoom tsoom") are stackable toys. "Tsum" is a play on the Japanese "Tsumikasanaru" which means "pile up", or "Tsumikasaneru" which means "stack up".
Shorten that to "Tsum Tsum" and you get a sort of Japanese slang that can be translated as "Stack Stack".
Tsum Tsum App
In the free Tsum Tsum app available on iOS and Android, you can clear stacks of Tsum Tsum to score points. Collect different Tsum Tsum characters and complete special missions. The game uses an additional app called LINE for the social features like sending hearts to each other and competing against each other on the leaderboard. If you play, you can feel free to connect with me. My LINE ID is "baseballmickey".
Tsum Tsum Shorts
Disney also has a series of very cool Tsum Tsum shorts. My kids love to watch these and try and spot the "Hidden Mickeys" in each one.
Tsum Tsum Merchandise
Plush Tsum Tsum
These bean-filled plush toys are adorable. They're soft and incredibly cute. If you have more than one, they become stackable.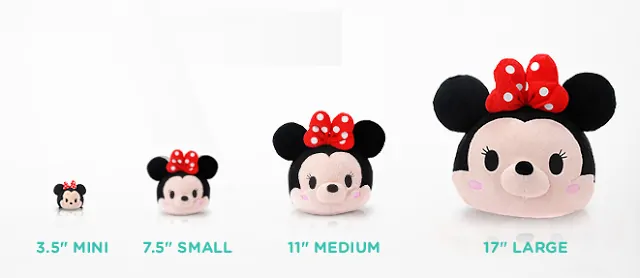 Tsum Tsum come in several sizes: mini 3.5″ ($5-$7 each), small 7.5″ (only comes in $24.95 subscription box), medium ($13-$15 each), and large 17″ ($25 each).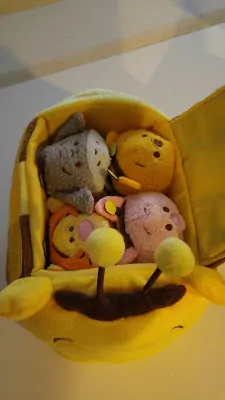 While the small size is only available through the subscription box (more on that below), there have been some collections released like this Pooh honey bee set that used a small-sized Tsum Tsum as a carrying case for the collection of minis. These sold for $34.95 in the Disney stores.
We've even seen a few "mega" Tsum Tsum at a whopping 35″ that sold for about $100 each. These are a bit out of our price range, but they were great for laying on.
If you ask me, the mini TsumTsum are where the action is at. They are the least expensive, ranging from $5 – $7 each. That size also has the most characters. Only certain characters have been released in the larger sizes. We have a couple of medium sized Tsums, but we've yet to spring for any large Tsums.
The one thing we don't do with our Tsum Tsum, however, is use them for cleaning our phone's screens. This is apparently something they are used for overseas?? There are even amazon and ebay listings that describe them as plush smartphone cleaners.
The bottom is almost feels like a terrycloth or similar material. I just don't see why you would want to get them all dirty using them that way.
Tsum Tsum Minifigures
Disney's answer to Shopkins? We've recently started seeing these tiny Tsum Tsum minifigures in stores like Target, Toys R Us, and KMart.
They aren't very big, and the tiniest ones are so small they are choking hazards. I think my kids are old enough to not be putting these toys in their mouths, but I still worry about losing them or finding them stuffed into places they don't belong.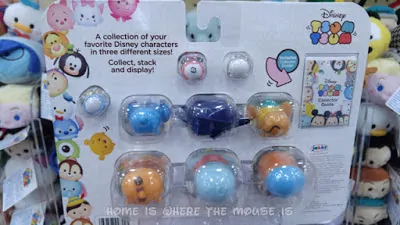 They come in different size packs, much like Shopkins do. The larger packs have a mystery Tsum.

You also get a checklist to keep track of which Tsums you have. "Series 1" has 21 characters in 3 different sizes each, 2 characters in 2 sizes, and 3 characters in just 1 size for a total of 70 minifigures in all. It's hard to read, but the missing sizes say "coming soon", so I guess eventually they will have all these characters in each size.
I personally wish they had just settled on one size, or at least made them bigger.
They also have Mystery Stack Packs, which is a smaller set of medium sized vinyl Tsum Tsum that come with accessories. When I saw they had a Dumbo with the camera (which he has in all the videos) I immediately wanted one. It was easy to figure out which package he was in due to the unique shape of the camera strap. I couldn't guess the other package had Figaro because the fish bowl was in 3 separate pieces inside the package.
Mystery Stack Packs are labeled "Series 1", which implies there will be more. I'm more likely to buy these for the kids than the other packs.
For now, the kids seem to be more into Shopkins than the vinyl Tsums, so we'll see.
Other Tsum Tsum Merchandise
One of the clues that Tsum Tsums are here to stay is that Disney is expanding the line to include apparel, accessories, and home goods.
Retail space is precious, and the fact that Tsum Tsum merchandise has been taking up more space in stores lately is an indication that Disney thinks sales are going well.
Look online at DisneyStore.com and you'll find even more merchandise. Cell phone cases, trading pins, shirts, pens, etc.
Our little guy has asked for a Tsum Tsum party for his birthday, so the additional merchandise might come in handy.
Where to Find Tsum Tsums
The Disney stores and Disneystore.com website are usually the first place new Tsum Tsum plushes will appear. The Disney Tsum Tsum line has even expanded to include apparel, accessories, and home goods.
Tsum Tsum Tuesdays – It used to be just the first Tuesday of every month, but now every FIRST and THIRD Tuesday is when the newest collections of Tsum Tsum hit the stores. They are generally available online by 3am ET (sometimes a little earlier). Disney store locations in our area usually keep the new releases behind the register due to the popularity. There is also a limit on how many you can buy on release day.
Monthly Subscription Box – The Disney Store site has a monthly subscription that sends a set of Tsums to your house for a recurring charge of $24.95. The set includes one small Tsum and one mini Tsum. The subscription is the only place you can get a "small"-size Tsum.
Exclusive Tsum Tsums – The NYC Disney Store has an "I Love NY" Mickey and a Statue of Liberty Minnie that aren't available anywhere else yet. Aulani has a Hawaiian Stitch.
Disney Parks
At Disney Parks here in the U.S., the official word is that Tsum Tsum are sold in a specific store on each coast:
Walt Disney World, Fl – Once Upon a Toy, Disney Springs
Disney Store in Orlando International Airport has had Park Exclusives
Disneyland, CA – World of Disney, Downtown Disney District
With the growing popularity, you can expect that they'll be sold in more places soon. You can also find a selection of Tsum Tsum available via the Shop Disney Parks App.
Other Places to Find Tsum Tsum
If you are looking for older Tsum Tsum collections as well as the new vinyl toys, try checking these stores:
Disney Outlets – Older sets of Tsum Tsum have made their way to outlet stores and can usually be bought at a discount. We haven't been to the outlet closest to us to verify, but we've seen others talking about finding them at the Disney outlets near WDW.
Target – Our local Target stores have endcaps in the Toy Department dedicated to Tsum Tsum. You can find assorted sizes plushes and vinyls. They do not have much available online.
JCPenney – We found a selection of mini and medium plushes both in store and online.
Walmart – rumored to have vinyls and to now be getting plushes. BUT all the mini Tsum Tsum listed on Walmart's site are being told by a company called Toywiz, at a SIGNIFICANT markup, so watch out.
Ebay/Amazon – If you really want a Tsum Tsum that you can't find anywhere else, you can search ebay and amazon sellers. You'll probably end up paying extra for these.
The sets sold through Target, JCPenney, etc, can vary slightly in their design from the first-run Disney Store Tsum Tsum. The difference is not big enough to matter to me or my kids, though. I'm happy to have a way to get the sets I missed out on without paying extra, plus it's fun to find ones we don't have whenever we stop by our local Target.
Do you Tsum Tsum? Tell us about your collection, Which do you have? Which do you most want?