The Disney Parks Characters experience has changed a lot over the years. Having characters interacting with Guests inside the parks has gone from an afterthought to major attraction.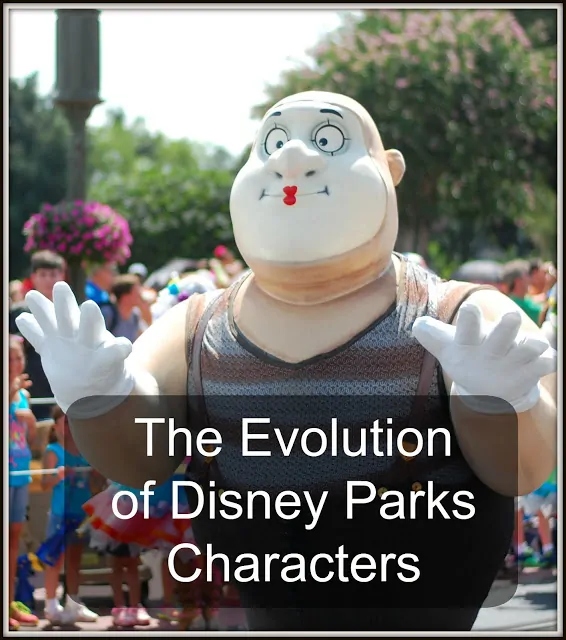 Guests are coming to expect a lot more from Disney when it comes to character interaction, and Disney is delivering.
The First Character Costumes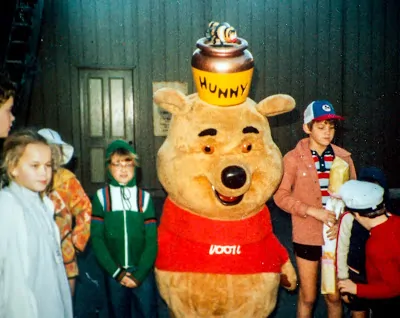 My sister poses with an earlier version of Pooh Bear
To put it gently, the first costumed Disney characters were not very good. I think my children would have nightmares if these characters were walking around the park today. The famous Disney attention to detail just wasn't there. The proportions were off, and the designs were as uncomfortable to wear as they were to look at. There was also no consistency. One Mickey would be 6 feet tall, and another would be 5 feet tall.
Mickey and Minnie when Disneyland opened
When Disneyland opened in 1955, the characters greeting guests in the park were borrowed from the Ice Capades, who were working on a Disney-themed show for the following year. They were designed to maximize the performer's ability to skate, and never meant to be seen up close by people.
Walt knew things had to change, and he enlisted some of his own people to fix it, telling them, "Other places can have thrill rides and bands and trains. Only we have our characters."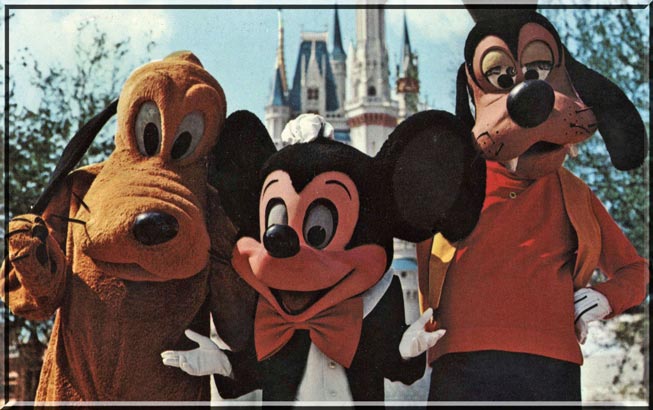 Pluto, Mickey and Goofy at Walt Disney World's opening
And so Disney's character department was formed. It took years to develop better character costumes, always keeping the safety of the cast members inside as their first priority, and accuracy as their second. Over the years the designs improved, and when Walt Disney World opened in 1971, the characters were a lot more like the ones we know today.
Character Interaction
My family trying to get a picture in a mob of guests and characters
In the early days, the characters roamed freely and randomly. Many had arms that hung limp at their sides, and couldn't do more and stand there and let you take a picture with them. As costume design improved, so did character interaction, as characters could now wave to guests, gesture and give hugs.
Bella gets a hug from Aurora
As more characters were added, standards were implemented for character costumes, along with "rules" for their behavior. This has become known as "character integrity". This is why you'll never see more than one of any character at any time, or rarely see characters from different movies intermingling, or hear them talking about something outside the Disney universe.
To prevent the mob scenes that began to occur when characters would appear, Disney created character schedules and assigned areas of the park where they would meet guests. That took some of the spontaneity out of it, but has ensured that more guests could get to meet their favorite characters in a more orderly fashion.
Jackson gets a hug from Duffy in his designated greeting area.
Some characters even have permanent "homes" inside the park to meet guests all day long, as opposed for just a few minutes here and there outside in the Florida heat. These meet and greets are often elaborately themed, allowing guests to meet their favorite characters inside the world of their stories.
The level of interaction can vary from character to character. "Face Characters" (characters that can talk) can generally interact more with guests, but you'd be surprised at some of the conversations we've had with fully costumed characters like Mickey and Minnie over the years just through gesturing.
Great Ways to Interact
Jackson asks Daisy to tell him his future
Ask a Question
Don't just say hi! and pose for a photo. Ask a character a question or comment about their outfit and see how they react! You can ask about some of their friends who aren't there, or even some of their enemies.
Get an Autograph
Most characters will sign their autograph for you. You just need something for them to write on. It could be an autograph book that they sell in every gift shop, or one you make yourself. Celebrating a birthday? bring a large birthday card for the characters to sign!
Show Them Some Love
If you're a big fan of Mickey Mouse, show him your Mickey Mouse watch! (Show Donald Duck your Mickey Mouse gear to see how he reacts!) Ariel loves to see things from the human world. Offer to help brush Rapunzel's hair!
Me and Smee are very alike… we even pose the same.
Strike a Pose!
Don't just stand there! Propose to your favorite character! Make funny faces! Do your best impersonation! Bounce with Tigger! Do the "Hot Dog" Dance with Mickey! Just have fun with it!
Future of Character Interaction
Jackson and Bella with Talking Mickey
In recent years, Imagineers have taken character costumes to a whole new level. The costumed characters in shows and parades now have eyes that blink and mouths that move when they talk and sing. Until now, that's only been for shows and parades, but we were blown away when Mickey Mouse actually talked to us!
If there's one thing that we can count on, it's that Disney will keep working to bring its stories and characters to life inside the theme parks. As technology evolves, they'll keep finding new and more imaginative ways to do this.