How does your family kick off the holiday season? Ours usually begins with lots of decorating and the return of our Elf on the Shelf, Little Elf. While others may scoff, we welcome him each year. He brings such joy to our kids, how could we not continue a tradition that makes them so happy? Here's how we welcomed in the most wonderful time of the year.
Getting Ready for the Holidays
We spent the Thanksgiving weekend away with family, and we returned home feeling a bit under the gun to get into the Christmas spirit, given how late Turkey Day was this year.
On Sunday, we went to pick out our Christmas Tree.
On Monday night, we decorated our tree as well as the interior of the house.
And we started getting to work on the outside decorations, which usually takes some time…
Lisa got crafty, making this Mickey-shaped wreath. Instructions are in the link.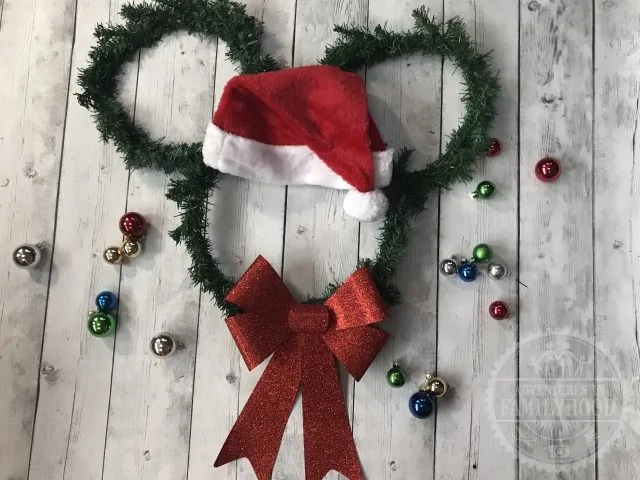 The Return of Little Elf, Our Elf on the Shelf
This week also marked the return of "Little Elf", our Elf On The Shelf. He always marks his return by writing the kids a welcome back letter. They get so excited to see this on the morning he returns.
Elf on the Shelf Welcome Letters
Here are some letters that he's left over the years. They are ready to download, print and go.
And he wasted no time making things interesting around here… He made us a "welcome back" breakfast…
Then we set up his apartment, and he got settled in and threw a tea party!
He gave us a grocery list of things he wanted us to buy for him, saying he was "hungry". Here's what was on it.
Marshallows
Chocolate
Candy
Syrup
We bought these items, and gave him some that night. Little Elf spent the next day in bed with a tummy ache. Good thing Doc McStuffins was here to take care of him.
Yesterday, he left out some M&Ms with a note telling us to bury them in some "Magic Sand"… this morning, we found these growing out of that sand:
Today, Little Elf is having a dance party with some Disney friends. He "borrowed" my phone to stream some Christmas music, but I had to take it back. I showed him how he could use my iPod to do the same thing.
The holidays are in full swing now! For more Elf on the Shelf inspiration and holiday fun:
24 Days of Play with The Elf on the Shelf
Elf on the Shelf Printables and Crafts
Elf Holiday Family Movie Night