Our original post recapped our preview visit before the park was finished. We've updated our review to include our second visit when the park was fully open.
We eagerly awaited the opening of LEGOLAND New York for over a year and a half. Our first visit (a preview day by virtue of purchasing "1st To Play" Passes) was a bit of a letdown because the park wasn't finished and only about half the rides were open.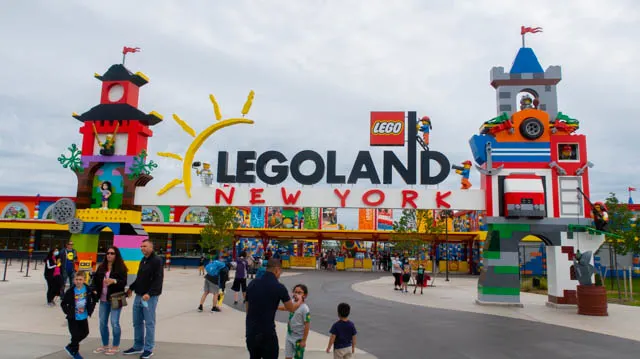 I'm happy to report that our second visit to LEGOLAND New York was much better. What a difference it was having all seven lands open and being able to enjoy all the attractions!
In our opinion the park could still improve in a few areas, but we'd say a visit to LEGOLAND New York is definitely worth it!
LEGOLAND New York
LEGOLAND New York is the newest addition to the LEGOLAND theme park lineup. Located in Goshen, New York, the park is about 60 miles north of New York City, making it a day trip destination for all residents of of the Central New York, the Greater New York City Area, Western Connecticut and Massachussetts, Northern New Jersey, and Northeastern Pennsylvania.
For those that don't want to be cooped up in the car for hours going and there and heading back on the same day, LEGOLAND New York Resort features a hotel for making your visit an overnight or multi-day getaway.
Our Passholder Preview Visit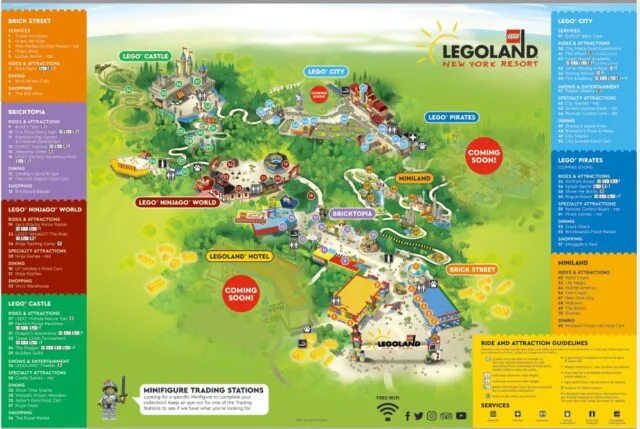 LEGOLAND New York had previews through July 8, 2021. Tickets were available to anyone at a reduced price of $49 per adult and $45 per child. As "First to Play" Passholders, we were invited to reserve a date to visit free of charge, without activating our passes.
While the park features seven lands to explore, the preview map shows the LEGO Pirates section and part of the LEGO City section as not being completed. These and the LEGOLAND Hotel were marked as "Coming Soon."
As we explored the park, we found our experiences to be a little more limited than that, as not everything in the other lands was finished or open. Here's a list of things we couldn't do:
The LEGO Factory Adventure (not running that day, but has been other days)
The Dragon
The Dragon's Apprentice
"West Coast" Section of Miniland
Coast Guard Academy
Fire Academy (not running that day, but has been other days)
No Scheduled Shows in the Theater (still rehearsing)
No characters for meets/photo ops (saw one character briefly walk through LEGO City area)
LEGO Pirates Section
LEGO Ninjago: The Ride (open intermittently, with issues)
LEGO Ninjago Playground (not fully open)
A family friend visited the day after us and told us that they were able to ride the LEGO Factory Adventure. We also saw other posts/videos showing the Fire Academy was running at some point, so it appears we had a bit of bad luck.
Our Second Visit to LEGOLAND New York
By our second visit August 10, 2021, all 7 lands of the park were fully opened. And what a difference it made!
Firstly, having all lands open allows you to experience the park in a full circle, as opposed to going out to the end and back through the park the way you came. On our visit, Jackson and I did two full laps around the park.
LEGO Pirates adds some much-needed thrill to the park… and some much-needed cooling off! Splash Battle and Rogue Riders are two fun rides which also add interactive elements that allow guests who aren't on the ride to get in on the action!
Jackson was soaked just from shooting water guns at the splash battle boats and getting shot in return. Then he discovered he could set off the water cannons on Rogue Riders and get doused by the spray! Who needs a waterpark when you can get that wet without even getting on the ride?
We were also able to experience other featured attractions such as The Dragon coaster and the LEGO Factory Adventure!
First Impressions of LEGOLAND New York
So, keeping in mind that LEGOLAND New York is still getting into a groove, here are 6 things that stood out to us on our first two visits to LEGOLAND New York.
1. LEGOLAND New York is HUGE!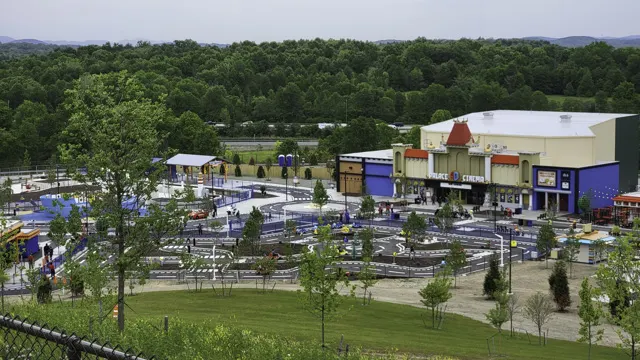 The park is 150 acres, which makes it the largest LEGOLAND ever built by Merlin Entertainment Group. By comparison, LEGOLAND Florida is 145 acres, and LEGOLAND California is 128 acres.
The Park is divided into 7 themed lands: Brick Street, Bricktopia, LEGO Ninjago World, LEGO Castle, LEGO City, LEGO Pirates, and Miniland
It's important to note that this size difference right now just pertains to land/acreage. Both LEGOLAND Florida and LEGOLAND California boast more in the way of attractions than LEGOLAND New York. But I'm hopeful we'll see things added in the future.
The large park makes for a lot of walking.
2. Built Into a Hill
Plus, LEGOLAND New York is built on a hill, which makes it unique. You drive up and park at the top, and as you proceed through the park, you walk downhill via stairs and switchback paths to reach the bottom.
And as you might have guessed, that means you have to walk all the way back up to leave! Comfortable shoes are a must!
(If the folks at LEGOLAND are reading this, some sort of escalator, gondola or tram to get guests up and down in a fun way might be a good idea down the line!)
3. The Big Shop is… BIG!
And on the subject of "BIG"… The "BIG Shop" is the biggest LEGO store I've ever been in. It's absolutely huge!
4. Lots of Interactive Features
I lost count of how many times we said, "Oh look, a button!" or "What does that lever do?". LEGOLAND New York appears to be loaded with interactive features.
Some don't require buttons. Lisa stuck her head into a model lion for a photo and it roared!
Unfortunately, most of these interactive features weren't working yet on our first visit. More were operational on our second visit, but they were still working on several areas.
One of the best uses of the interactive features is at LEGO Pirates where you can set off water cannons at Rogue Riders and shoot water guns at guests on Splash Battle boats. Loads of fun!
As you can imagine, everyone wants to push the buttons, pull the levers, and turn the wheels. Be sure to pack some patience, and maybe some hand sanitizer or wipes!
5. Unique Attractions
LEGOLAND New York is not simply a copy of the parks in Florida and California. While it does feature a lot of the same attractions, there are a few that are unique to this location.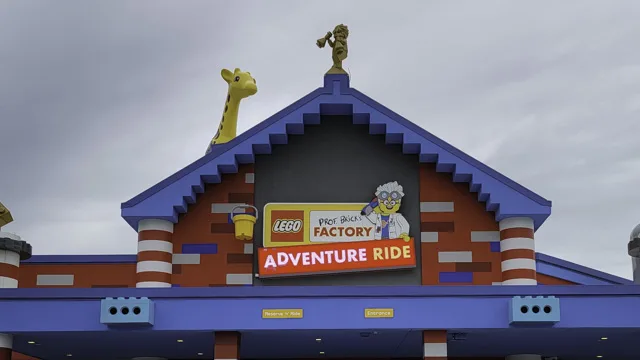 The LEGO Factory Adventure is the newest and most unique attraction that you can only experience in New York as of right now. It's a trackless ride with featuring technology that turns you into a minifigure!
We got to experience the LEGO Factory Adventure on our second visit. And while it was shorter than I would have liked, the ride was smooth and enjoyable. The minifigure effect didn't quite work for us, and I would have enjoyed a few more scenes of life-size LEGO builds as opposed to screens. But overall, the great theming of the queue makes the wait tolerable for a fun ride.
In addition, the NY version of the carousel features unique Brick creations for you to ride on as opposed to horses. Jackson also liked how they had The Dragon's Apprentice coaster for little kids. And the Fire Academy attraction is more high-tech than the version we saw in Florida.
And throughout the park you could find hard-to-find builds or displays that you are not going to see at your local LEGO store, like an actual build from LEGO Masters TV show.
6. No Waterpark, No Problem
*update: LEGOLAND New York has announced a new water playground coming in the summer of 2022!
We were curious if LEGOLAND New York had any plans for adding a waterpark in the future. But from what we saw once LEGO Pirates opened, it isn't necessary. Kids were getting absolutely soaked from firing water guns at the guests on Splash Battle (and getting hit in return), and from setting off the water cannons on Rogue Riders.
This is one of the best ways to cool off, as the park offers little in the way of shade.
7. Variety of Food
LEGOLAND New York has multiple food options, and it's not all hamburgers, pizza and french fries. There are plenty of interesting options inside the park to satisfy a variety of tastes and dietary needs. You can also add the restaurant inside the LEGOLAND New York Resort Hotel next door as a place to grab a bite after the park closes and before you hit the road.
Snacks
One of the many things on our to-do list was getting a batch of Granny's Apple Fries. This is a must-get snack during any LEGOLAND visit.
We were also enchanted by the Wizard's Nachos (cinnamon covered tortilla chips served with ice cream), and we found a quick vegan option at the rice bowl stand in Ninjago World for lunch that was affordable and filling.
Unfortunately, the "Jumbo" pretzels were just ordinary-sized pretzels.
Meals
On our first visit, we enjoyed some food-truck style eats at the Ninja Kitchen. The asian-style offerings included chicken, beef, or tofu with rice and vegetables. The portions were adequate and the everyone enjoyed the food.
On our second visit, we opted for Smokey's Brick-B-Que. This was more of a cafeteria-style restaurant where you go through the line, get your food, pay, and then sit down to eat. The food was good, but in hindsight I wish we had opted to split a meal instead of getting individual plates. The portions are huge.
8. I Love New York
Of course, LEGOLAND New York pays tribute to both the state and city it gets its name from. Merchandise is available that playfully expresses the familiar "I Love NY" slogan as "I Love LEGOLAND New York".
On top of that, one of the can't-miss highlights of LEGOLAND New York is the amazing Miniland, which features over 22 million bricks!
Within Miniland, there are several sections paying homage to New York., including:
Goshen
The Bronx
Midtown Manhattan
Greater New York City
The most eye-catching section is a recreation of midtown Manhattan. The buildings literally tower over you! And there are so many details you can find if you spend the time to look.
Lastly, you can find one of New York's most iconic symbols, Lady Liberty herself, in not one, but TWO places. First, she appears in the New York City section of Miniland. Second, she can be found as a minifigure statue in the heart of LEGO City.
It's great that LEGOLAND New York isn't just a clone of one of the other LEGOLAND parks.
9. Low Capacity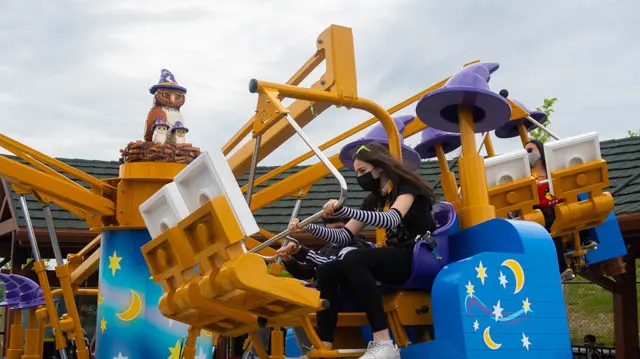 LEGOLAND New York has few continuously loading attractions. The wait times for these rides can be long, especially when the rides don't accommodate a lot of people on each run.
So we were a bit disappointed to see that some of the attractions were on the small side.
For example, the "Merlin's Flying Machines" ride has six machines that each seat two people. That's a maximum of 12 people who can ride at one time. What puzzles me is that it's the exact same capacity as the Merlin's Flying Machines ride at the indoor LEGOLAND Discovery Center over in Westchester.
There was an opportunity to go a bit bigger, but they didn't.
10. Growing Pains
You expect a bit of growing pains with anything when it first opens. And some of the growing pains for LEGOLAND New York were made a bit more noticeable by the fact that the park was opened before it was really ready.
One example of this was our experience Minifigure Trading. You can bring (or purchase) your own LEGO minifigures and trade them with any Model Citizen in the park. Some wear a minifigure on their name tag, others may have a display with multiple minifigures to choose from. But, since the park is brand new and all the Model Citizens are mostly new to minifigure trading as well, we found that the majority of model citizens all had the exact same minifigures.
Small things like that should be worked out over time.
Our Overall Impression of LEGOLAND New York
Like any first impressions, you risk rushing to judgment without having all the information. Based on what we saw on our preview day, I would have given a barely passing grade. Fortunately, we returned a few months later and had a much better overall experience.
Having all of the attractions up and running allowed us to get a good feel for how much you could do in the park. There were a few more characters to be seen, and a little more in the way of entertainment, as well.
It's obvious that the delays caused by the pandemic have affected things, but LEGOLAND New York appears to be trending in the right direction. I feel there is still room for improvement, and any new rides and attractions that are added will increase the value of a visit to the park.
Grade: B-
When I originally posted our experience from the preview, I gave the park a "D" for the fact that much of the park wasn't open for us. I pointed out that the park could potentially be an A-/B+ once everything opened up.
Having now experience the full park, I'm giving an overall grade of B.
Here's how I break it down:
Attractions: B
LEGOLAND New York is not a thrill park, nor is it geared completely toward kids. While some adults may not want to go on certain attractions with their kids, there are few that don't allow families to enjoy the attractions together, and that's a huge plus.
The park has a good variety of rides, but some are on the smaller side.
Food: A
We were pleased with the number of options to sit down and eat, or just to grab a snack. Locations were well-distributed around the park. From a value standpoint, we think it was a bit of a mixed bag, ranging from our disappointing jumbo pretzel to being totally stuffed from the portions at Smokey's Brick-B-Que.
We also made good use of the refillable drink option and water bottle filling stations.
Overall, the value was solid for theme park food, and having something for everyone is great.
Entertainment: D
*update: LEGOLAND New York has announced new shows and venues for 2022
The poor grade for Entertainment is mainly because it was lacking. And perhaps we're a bit spoiled from other parks we've experienced that all typically have a show, parade, or special effects spectacular that you need to see as part of the visit.
It even felt as if there should have been more character meets/photo ops or random performers sprinkled throughout the park. Hopefully some of that is due to just getting the park up and running and dealing with pandemic.
This, in my opinion, is one of the biggest areas for improvement.
Presentation: C
What I mean by presentation is how the park looks, sounds, and feels. This is the part that typically sets a theme park above and beyond the experience of just being an amusement park.
As you would expect from a brand new park, LEGOLAND New York was very clean and for the most part, everything was in working order. The few things that weren't working right were being addressed.
The flip side of being a brand new park is that none of the landscaping has had time to grow in yet. This gives the park an unfinished, cold feel. It also takes away from the immersive aspect of the park. Hopefully this will change as the grass comes in and the trees grow and fill out.
We also saw numerous guests walking over and through areas that they were clearly not meant to be, despite the numerous warning signs. I can't help but think a few well-placed shrubs, bushes, or trees might help prevent.
In the height of the summer, the park was hot. The design offers practically no shade unless you go indoors. Coupled with all the walking you'll do, sometimes up and down inclines as you navigate the hill, you could potentially feel a bit miserable.