So let's say that you're in the vicinity of Walt Disney World, but you don't have a resort reservation or park tickets… What can you do? Well, there are in fact a few things to do at Walt Disney World that are absolutely FREE!
That scenario is completely hypothetical, and I'm not sure I'll ever find myself in a situation exactly like that, but I can definitely see there being times when I want to take a break from the parks, still do something Disney, but also not spend more money than I already have. So, here are some of my favorite FREE things to do:
1. Explore Disney Springs
Each trip, we make time to go to Disney Springs. It has become a tradition to check out of our resort and head over for a while before hitting the road.
There are plenty of great shops to browse, and restaurants to grab a bite (which isn't free, but let's face it, you gotta eat).
Yes, the potential is there to spend a lot of money, but you could just as easily visit without spending a dime. Like:
Window Shopping
Photo Ops
Building and Racing Cars at The LEGO Store
Playing at Once Upon a Toy
Live Music and Entertainment
Free Food Samples
Splashing in the Fountains
Earl of Sandwich has a club you can join for free for a free sandwich during the month in which you were born. you'll also get emailed a coupon for a free triple chocolate brownie, which tops the list of my favorite snacks at Walt Disney World. So be sure to sign up for their EClub here!
2. Disney's BoardWalk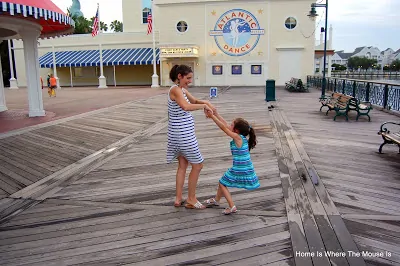 Just a short walk from EPCOT and a slightly longer walk from Disney's Hollywood Studios is a great spot to visit. Disney's Boardwalk is a beautiful place for a stroll, or doing some window shopping.
You can enjoy the free boat transportation between Disney's Hollywood Studios, The Swan & Dolphin Resorts, Disney's BoardWalk Inn and Villas, Disney's Yacht & Beach Club Resort, and Epcot's International Gateway.
At night, the Boardwalk lights up and comes alive with entertainers and the sounds of music and people having a great time coming from the restaurants and clubs. For adults, the Atlantic Dance hall has no cover charge, if you want to bust a move for FREE!
And from the BoardWalk area, you can see parts of IllumiNations fireworks from Epcot, and the Star Wars: Galactic Spectacular fireworks from Disney's Hollywood Studios.
3. Resort Hop
Gingerbread house at the Grand Floridian Resort, 2010.
Disney puts incredible detail into everything, including their incredibly themed resorts. I've never had trouble stopping by any Disney Resort to have a look around. Unless it's very crowded, they'll usually let you park for free.
While the use of amenities such as the pool or gym is limited to resort guests, you can still roam around the resorts and take in all the magic, look for hidden mickeys, and take lots of photos.
The holiday season is an extra special time to resort hop as well, as many of the resorts add extra decorations. You may also stumble upon a show or some extra friendly Cast Members who will add some magic to your day. Think of it all as research on what resort you want to stay at for your next trip. Some of our favorites:
Animal Kingdom Lodge – incredible theming and you can also see the animals on the Savannah!
Grand Floridian Resort and Spa – Just walking into the lobby is an experience.
All-Star Resorts – walking around all the over-sized props is a lot of fun!
Art of Animation – Each section has great decor and life-size sculptures of Disney characters!
*You can see both the Happily Ever After fireworks display over the Magic Kingdom AND get a close up view of the Electric Water Pageant from any of the Magic Kingdom resorts: Grand Floridian, Contemporary Resort/Bay Lake Tower, or Polynesian Resort.
4. Take a Ride
Who says there is no such thing as a free ride? Hop aboard a Disney monorail from one of the resorts and take a ride around. Disney also has boat service around the Seven Seas Lagoon, Crescent Lake, and to and from Disney Springs from a couple of nearby resorts. Opening in the Fall of 2019 is the new Disney Skyliner gondala system.
Combine some resort-hopping with some relaxing Disney transportation for a fun, and FREE day at Disney!
*Disney has transportation cards you can collect. These are FREE, and are obtainable simply by asking the drivers and crew members of the monorails, buses and boats. I believe there are 18 different cards in all, depicting different modes of Disney transportation with interesting facts about each.
When you think about it, you could spend the whole day at Walt Disney World without even setting foot inside the park! What are your favorite Walt Disney World freebies? Let us know in the comments.