The movie 'Frozen' has become an instant favorite and our family's new obsession. Naturally, when we asked our daughter what theme she wanted for her birthday party, she replied "Frozen!" Mommy was happy to oblige.
For every party I do, I like to create a fun and festive tablescape. For this party, we used cotton snow, blue organza fabric and a silver runner (this was just silver ribbon that I bought on clearance after Christmas).
We also decorated the party space with homemade snowflakes (thank you to my sister for all her hard work) and snowflake lights (part of our Christmas light stash).
We used the characters in the movie as inspiration for the eats and treats we had at the party. Some things required time and effort, while for others we took some help from the store.
Our appetizers and snacks included:
Olaf's Noses (Carrots and ranch dressing)
Sven's Antlers (Pretzels)
Anna's Snowballs (Cheese Balls snack)
Elsa's Cheese and Cracker Blizzard (Snowflake shaped cheeses on crackers)
The dessert side of the table included:
Frozen Hearts (White Chocolate Covered Strawberries made by my mom)
Olaf Snowmen
Kristoff's Ice (blue Jell-o cubes)
Rock Candy
Snowflake Sugar cookies and dip (thanks to my mom for making the cookies)
Powdered Donuts
But, the highlight of the table was the cake.
The cake was a simple yellow cake covered with whipped cream frosting. The top layer had a heart cut into it. I was originally going to fill the center with ice cream to be a "Frozen Heart", but switched it last minute to a cool whip and fresh strawberry filling.
On top, I place mini Frozen characters that came in The Frozen Busy Book. I also decorated the cake with white chocolate snowflakes and crushed rock candy.
The birthday girl was thrilled with how her party turned out!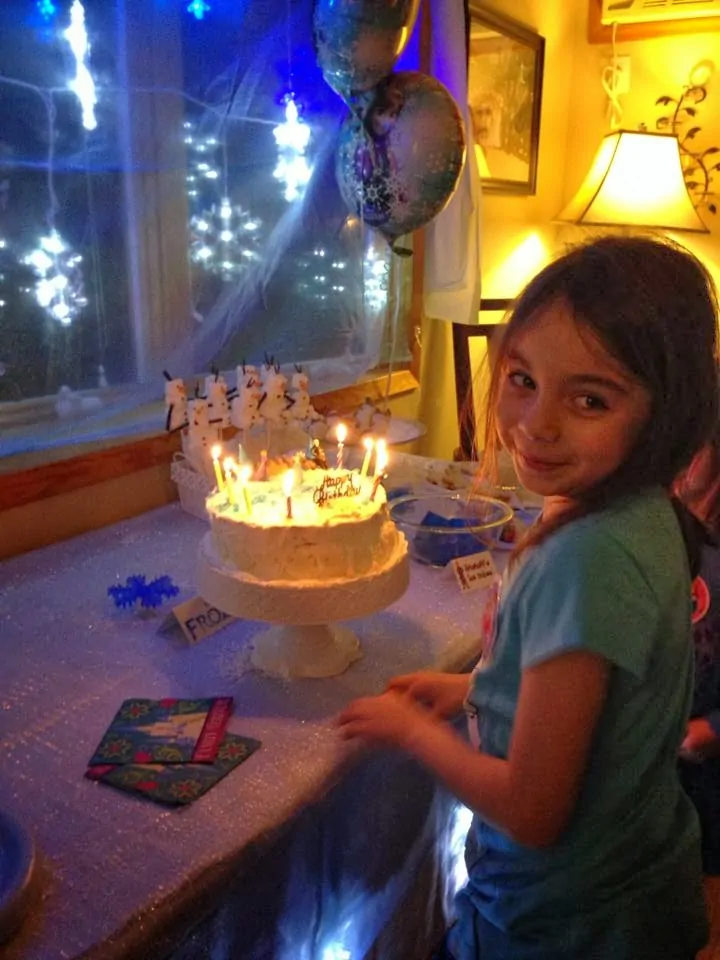 All the inspiration for this party can be found on my Frozen Party Pinterest board. I hope you will be inspired to throw your own Frozen at home!
Since a number of people have asked for the Frozen Food Labels, we've uploaded them and made them available to download here:
Frozen Food Labels 1
Frozen Food Labels 2
Frozen Food Labels 3
Frozen Food Labels 4