Chip and Dale's Disney's Garden Grill in Epcot might be the most underrated Character Meal at Walt Disney World. And you can trust our opinion, because we know Disney Character Meals. Let's take a look at why you should be making an ADR for the Garden Grill for your next trip.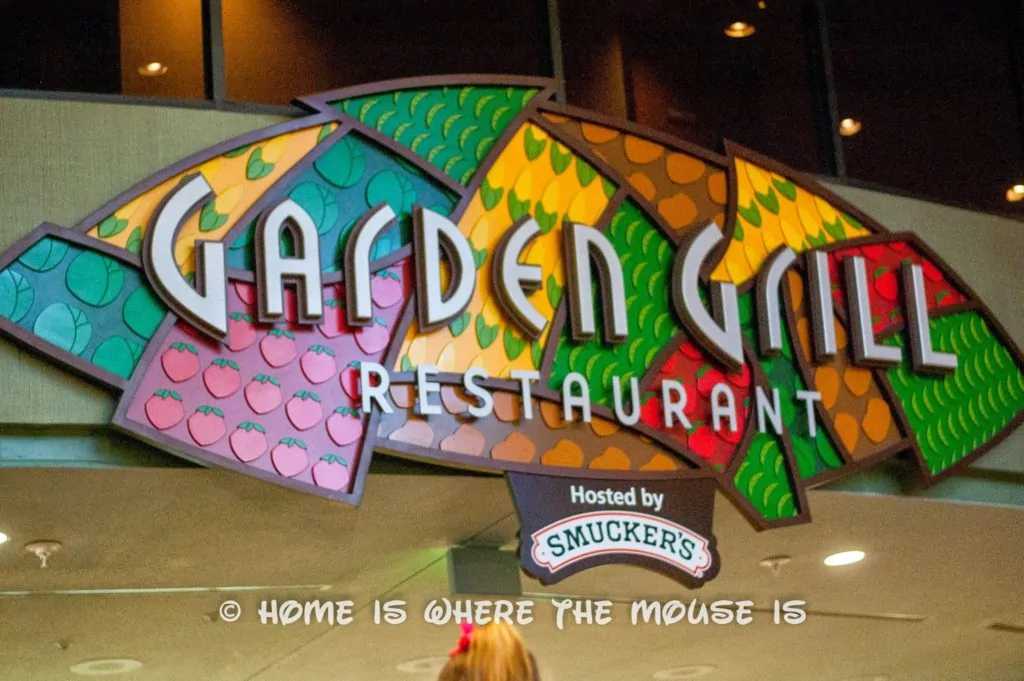 Due to its location inside The Land pavilion in Walt Disney World's Epcot theme park, The Garden Grill restaurant requires park admission in addition to the cost of dining. It is only open for dinner from 4pm-8pm. Dinner features Chip, Dale, Pluto and "Farmer" Mickey!
It had been years since we had been back to the Garden Grill. In fact, this would be our kids' first visit to this restaurant. We made a reservation for 5:45pm to have dinner and give us time to head back to World Showcase afterwards.
I'm fond of paraphrasing Bruce from Finding Nemo by saying "character meals are about Friends, not Food!" Generally speaking, you're paying for the character experience and getting the food as a bonus. The buffet style of most character meals, added with the frenzy of characters milling about and interrupting you for autographs and pictures can certainly detract from enjoying your meal.
This character meal is an exception in that regard. The food was excellent and served family style, so there was no getting up multiple times. All-you-can eat means you can ask for more of your favorites!
Fresh rolls and maple butter.
Is there anything better than hot, fresh bread and butter? I don't think so. The maple drizzled on the butter adds a little something too.
"Living with the Land" Garden Salad
featuring ingredients from the gardens of The Land pavilion.
I'm not a salad eater, but I've seen enough of them in my life to notice the freshness of this salad as soon as it arrived.
Adults are served a platter of Turkey with gravy…
Filet of Beef with steak butter, and buttermilk mashed potatoes…
and fresh sustainable fish (Tilapia, in our case) with tomato jam.
The turkey was a bit dry, so having the gravy helped. Lisa likes her poultry on the dry side, so it was right up her alley! I thought the filet was tender and tasty. The buttermilk mashed potatoes were incredible! And the fish was good too. Even Lisa enjoyed the fish, and she's naturally turned off by seafood.
Mixed in with the main components of the platter were some other veggies, to help round out the meal.
The kids' platters featured chicken drumsticks,
and cheese, sweet potato fries, and broccoli.
Dessert for the adults was a skillet of goodness.
Warm sugar cookie crust filled with berry-lisciousness,
topped with vanilla ice cream.
The kids got these really cute cupcakes wrapped in paper cones.
As the name suggests, this meal is hosted by Chip and Dale.
Appearing along with them are "Farmer" Mickey and Pluto.
I love all the different outfits you can see characters in throughout the parks. I wish they had given Chip, Dale, and Pluto some overalls too!
The character interaction here is great. The restaurant is on the smaller side, so less guests means the characters come by more often, and can spend a little more time with you.
The 2 most unique things about Garden Grill that you won't find anywhere else in Walt Disney World are that the restaurant rotates, and that it gives guests a view inside an attraction.
If you've never eaten here, then don't let the fact that the restaurant move deter you. It moves very slowly, and is hardly noticeable. It took the entire hour or so that we were in the restaurant to make a complete circle. During that time, the scenery changes as you move from jungle, to desert, to farmhouse scenes of the Living with the Land attraction below.
There is also a large painted mural on the wall, which our server told us contains a hidden mickey. For the life of us, we couldn't spot it. Our server had to point it out. Here's the section of mural with the hidden mickey. Do you see it?
I don't want to ruin the fun of searching for anyone. If you really want to know, you can see the hidden mickey revealed here.
With wonderful fresh food and a great character experience in an intimate setting with unique, ever-changing views on an Epcot attraction, Chip and Dale's Harvest Feast at Garden Grill shouldn't be overlooked when making your next Walt Disney World dinner reservation!
Have you eaten at Garden Grill? Let us know your thoughts in the comments below!