This was my view on the last night of our stay at Disney's Animal Kingdom Lodge. Of course, this is NOT at the resort. Instead, I spent the night at Celebration Hospital. How did I end up there? Well, I'll get to that story in a moment. The important thing is that I am fine now. But while lying here I couldn't help but wonder, what if something worse had happened? So I decided to write this post dedicated to handling medical emergencies at Walt Disney World.
We always hope that our vacations will be perfect, but inevitably something always happens. Usually, these events are minor annoyances in an otherwise great time. But sometimes, bad things can happen, even at Disney. We've had our share of inconveniences, from minor falls, to getting sick while in Disney. Thankfully, none of these has ever been serious enough to ruin our vacation.
First Aid Centers
All Walt Disney World Theme Parks and Water Parks have a First Aid Center. Nurses are available during park hours to supply "quick remedies", such as bandages and over-the-counter medication to get you back to enjoying your vacation. We've had to visit the First Aid Center on a few occasions.
Lisa went to get band-aids for blisters on her feet.
I got some pain relievers for a headache.
My Mother-in-law got a bad rash on her leg. The nurse could not say for sure what was causing it, but supplied cortisone cream and suggested covering up the leg
Our niece fell and cut open her leg once and had to pay a visit to First Aid. This was just after the park had opened and the nurse at the First Aid Center not only patched her up, but also gave her a FastPass.
Now, I don't advocate cutting yourself open as a strategy for getting FastPasses, but in certain situations it seems the nurses have the authority to provide one if they feel you've been inconvenienced.
But what if it's something Tylenol, or band-aids can't fix?
Urgent Care
The case of my Mother-in-law above wasn't fully taken care of by a visit to First Aid, but she stuck it out for the rest of the trip. Had she decided to seek further medical attention, what would her options have been? Well, it just so happens that we have some experience with this as well. In 2010, during our holiday trip to Walt Disney World, our daughter got very sick. Even though we were confident of what her illness was (since she had a history of respiratory problems in her short life), our pediatrician was 1,000 miles away and we could not simply get a prescription called in. We needed to see a doctor.
Enter Centra Care. Centra Care is Florida Hospital's urgent care center with locations just off Disney property on both the East and West sides. From Centra Care website:
Centra Care's Board-Certified Adult and Pediatric-Trained Doctors are accessible when you need us, 7 days-a-week with some centers open until midnight. Centra Care is the affordable alternative to the emergency room for urgent, non life-threatening medical care. For visitors to Orlando, our Physician Room Service allows you to receive quality medical care in the comfort of your hotel room, or our free transportation can take you to our closest facility from most area attractions, resorts, and hotels. From broken bones, infections, allergies and pediatric concerns to orthopedic conditions and stomach problems, Centra Care has the medical experts and urgent care technology to help you feel better again!
Disney will provide transportation to Centra Care should you need it, whether it be from the parks, or anywhere else on property. And as it states on their website, a doctor can also come visit you in your hotel room. In our case, we had a car, so we drove ourselves over. It was pretty busy, and we waited for about 45 minutes before we were seen. According to their website, Centra Care does have certain medications on site that they can issue to you so that you don't have to visit a pharmacy. But they don't have everything, and what we needed required a pharmacy. The doctor gave us a prescription, and we left to get it filled at a 24 hour pharmacy before returning to our resort. Bella perked up after a few treatments and we were able to finish out our vacation in better spirits.
Just like the First Aid centers have limitations, so does the urgent care facility. In some cases, what you need is a hospital, or the emergency room. That brings us to my story:
After a day spent at Disney's Animal Kingdom, we returned to the Animal Kingdom Lodge for swimming and a nice dinner at Sanaa. While enjoying a great dinner with excellent food and incredible views of the Savannah, a piece of meat became stuck in my esophagus. It was far enough down that it did not prevent me from breathing normally, but it blocked my esophagus completely. I couldn't drink or eat anything. I tried to wash it down, but to no avail. I excused myself to go to the restroom to try and get it out, but had no luck there either.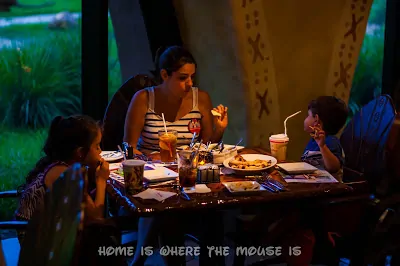 I returned to the table, everyone else finished their meals, had dessert, and then we went back to our room. I spent an uncomfortable night of not being able to really sleep, hoping that the meat would somehow move along in the night. It did not.
The next morning, we headed out for Disney's Hollywood Studios. We had a character breakfast and I couldn't eat or drink a thing. I lost count of how many times I excused myself throughout the day to go to a restroom where I would try to force the issue, unsuccessfully.
By dinner time, I was starting to feel the effects of not having anything to eat or drink all day. Thankfully, it had been a rainy week and the temperatures were not as hot as they could have been. I can remember staring at everybody's drinks as they walked by. It was then I made the decision to go to the hospital. I figured I could last a while longer, so we finished out our night with the early Fantasmic! showing and went back to the resort. Lisa stayed with the kids, and I drove myself to Celebration Hospital.
I have to pause the story here to give a big shout out to the DisDads. I posted my situation on Facebook and they immediately responded with advice and even located the hospital and provided directions! Thanks again, guys!
I arrived at the hospital in a matter of minutes. I chose the hospital, not just because of the late hour (it was around midnight), but because I wasn't confident my situation could be handled at urgent care. As it turned out, I was right. I ended up being admitted and had to wait until the morning for a gastrointestinal specialist to come in, put me under, and perform an endoscopy to remove the block.
I can't say enough about the staff at Celebration Hospital. From the moment I walked in, I was being treated. As soon as I gave my name and described my problem, the information was entered into the computer, and someone from the ER staff came out to see me, all while I was still checking in! I even finished my paperwork after being seen by the ER doctor and administered IV fluids as well as a medication to try and help move the block. Compared to hospitals I've dealt with in the past, this was unheard of. They were extremely efficient and incredibly pleasant. The only negative was that the food was atrocious. My breakfast was gross. But I ate as much as I could to prove their were no complications and I could be released and get back to my family and our vacation.
I was released around 10:30 in the morning and made it back to the resort by 11. Just in time to check out, load up the car, and head to Vero Beach. Our original plans had been breakfast at 'Ohana that morning, followed by a half day at the Magic Kingdom. That went out the window, but thankfully that was the extent of it.
The whole time I was at the hospital, and even now, I can't help wondering, "what if it was worse than that?"
Emergencies
Walt Disney World has their own fire and paramedic response teams, Reedy Creek Fire and Rescue, that work closely with local hospitals. In the case of an emergency, having these paramedic teams on property allows them to get there quickly. It's good to know that no matter where you are on property, these trained professionals can get to you quickly, and get you to a hospital, if need be.
*a tip I've read on line is that calling 911 from any land line on property will get you directly to the Reedy Creek dispatch. However, calling from a cell phone does not guarantee that and you may get an off property operator. In that case, you should specify that you are on Walt Disney World property to get patched over to Reedy Creek.
So, if you should find yourself in a situation where you, a loved one, or even a stranger needs emergency care, notify a Cast Member if possible so they can contact Reedy Creek by land line phone or by radio. But by all means, don't hesitate to call 911 on your cell phone if that's all you have. Just be sure to specify that you are on property inside the Walt Disney World resort.
In addition to calling for help, it's also good to know that all Disney resorts, theme parks, and cruise ships are equipped with Automated External Defibrillators (AEDs). These are devices that can help save lives in the event of cardiac arrest. The Magic Kingdom, for instance, has 20 AEDs within the park, and are all marked on your park map. While having experience or certification is the use of an AED device certainly is helpful, the ones on Disney property can be used by anyone, Cast Member or guest alike. Direct from Disney's website:
No training or certification is required. The device will prompt the user with step-by-step verbal instructions. All AEDs deployed at Walt Disney World Resort are suitable for use on adults and children. Mobile security units and recreation lifeguards are also equipped with AEDs.
What have we learned?
The thought of being in a life-threatening situation is certainly something no one ever wants to think about, especially on vacation. My recent adventure in the ER while at Walt Disney World has prompted me to think about it more than I might have otherwise, and here's what I've taken away from my experience:
Plan for what you can. There are common ailments and injuries that can be avoided, simply by planning and remembering to act accordingly.
Hydrate Yourself
Wear sunscreen/sunblock
Wear comfortable clothes/shoes
Notify the resort and restaurants of any allergies or dietary needs
Bring prescription or preferred medications with you, even if it's only something you might need
Obey safety guidelines at parks, attractions, and resorts.
Bring your insurance card(s)
Be aware that Disney rents strollers, wheelchairs, and ECVs should you have need.
In case of injury, all Theme Parks have First Aid Centers and all resorts have First Aid available by contacting the Front Desk. Transportation from Disney property to off-property urgent care or hospital is free.
In case of emergency, alert Cast Members and dial 911. If calling from a cell phone, be sure to let them know you are on Disney property. Defibrillators are available throughout Disney property in the case of cardiac arrest.
In addition to these tips, here's a list of Urgent Care Centers and Hospitals near Walt Disney World:
Centra Care Locations
Near Downtown Disney
Lake Buena Vista Centra Care
12500 S. Apopka Vineland Rd.
Orlando, FL 32836
(407) 934-CARE (2273)
Mon – Fri: 8am to Midnight
Sat – Sun: 8am to 8pm
Near Disney's Animal Kingdom
Orange Lake Centra Care
8201 W. Irlo Bronson Highway
Kissimmee, FL 34747
(407) 944-0236
Mon – Fri: 8am to 8pm
Sat – Sun: 8am to 5pm
Hospitals
Celebration Health Hospital
(407) 303-4000
400 Celebration Place, Kissimmee, FL 34747
Health Central
10000 W. Colonial Drive, Ocoee, FL 34761
407-296-1000
Osceola Regional Medical Center
700 West Oak Street, Kissimmee, FL 34741
407-846-2266
Southlake Hospital
1099 Citrus Tower Blvd, Clermont, FL 34711
352-394-4071
Winnie Palmer Hospital
83 West Miller Street, Orlando FL 32806
Arnold Palmer Hospital for Children
(407) 841-5111
92 West Miller Street, Orlando, Fl. 32806
I hope this post has been as informative for you as the experience that prompted it was for me! If you have any tips on dealing with medical issues at Walt Disney World, be sure to leave a comment!