Tips and ideas for hosting a virtual Thanksgiving with your extended family. Here are some suggestion for things you can do together virtually even though you have to be far apart.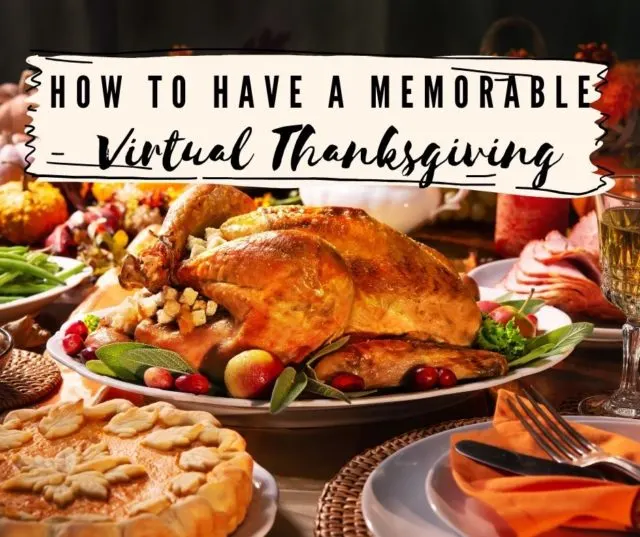 This year has definitely been like no other. While we thought (or hoped) the pandemic would be better by the holiday season, it seems as though it's doing the opposite. This time of year is usually reserved for gathering with our family that live out of state. Deciding what to do for Thanksgiving has been difficult. On one hand, 2020 has take away multiple opportunities to be together as a family. With my parents getting older, we don't know how many of these opportunities we have left. But on the other hand, I want my family to be healthy and safe so that they can be with us for years to come. Do I want to risk their health for one meal? In addition, travel and gathering restrictions have been imposed. Ultimately the health and safety of our family members is our top priority. We just don't see how we can safely make Thanksgiving happen for us this year.
I know other families may also have to come to this difficult decision as well this year. Virtual or Zoom Thanksgiving dinners will be all the rage this year. But I think we can take this one step further. Just because families have to be apart this year, doesn't mean that they can't do things together. With that in mind, I've come up with a few ideas that you can do to make your virtual Thanksgiving celebration a memorable one.
Get the Family Together
Just because you're not in the same house, it doesn't mean you can't hang out together. Come up with a few events during the Thanksgiving holiday. Perhaps have each household host an event. Think of the activities you typically do each year. For example, during our virtual Thanksgiving we plan on having a family game night, story time and my sister will do crafts with the kids.
Cook Together
Is there a family recipe that you usually make together? Make it together virtually. Have a Zoom meeting where you create one of your favorite family Thanksgiving recipes together.
Have a Competition
The best way to get the family together if for some good old competition. Host a contest either individually or each household. Some ideas for the contest can include:
Cupcake wars
Gingerbread house making
Scavenger Hunt
Talent Show
Art Contest
Eat Together
Even though you are in different houses, take the time to eat together. Zoom has lifted the 40 minute time limit so you can eat the whole meal together if you'd like. If not, consider having a toast together or just getting together for dessert.
Play Games
Games are a great way to have fun as a family. James' family has been doing this throughout quarantine. There are so many games you can play virtually. Here are some suggestions: