We couldn't pass up the chance to do the Ice Palace Boutique Package for our little "Elsa".
We don't know how many more years she'll be into getting dressed up at Disney like this. Here's how it went:
We reserved the Ice Palace Boutique package but upgraded to the deluxe when we found the dress we brought with us no longer fit and had some rips. The package included a PhotoPass photo shoot and access to the Ice Palace Cafe for up to 6 people, as well as reserved seating for the Frozen Sing-along.
The Ice Palace Boutique is accepting reservations for now through Sept. 7, 2015 (the end of "Frozen Summer Fun"). The boutique is located at Disney's Hollywood Studios, so park admission is also required. Children must be ages 3-12. Reservations can be made by calling 407-827-7400.
They offer a few different packages:
Frozen Summer Fun package $75 (includes tax) – Includes shimmering makeup palette, face gems, nail polish, braided hairpiece with sparkling snowflake accessories.
Ice Palace Boutique package $175 (includes tax) – includes everything from Frozen Summer Fun package PLUS access to the Ice Palace Cafe for up to 6 guests and one priority seating at "For the First Time in Forever: A Frozen Musical Celebration".
Ice Palace Boutique Deluxe package $240 (includes tax) – Includes everything from the Ice Palace Boutique package PLUS a choice of either an Anna or Elsa costume dress.
Olaf-inspired Glitter Hair Style $20 – this option can be purchased as a walk-up and includes a basic hair style with glitter and mickey confetti and an Olaf t-shirt.
Here are pics of the experience.
The Frozen Dresses and skirts offered in the packages.
Bella changed into her dress and took a seat, and her Fairy Frostmother, Mary got to working on her hair.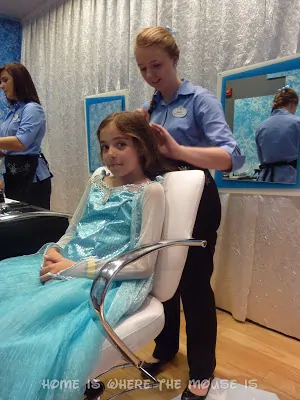 Bella's hair was pulled back into a side ponytail.

We had the option of weaving the braid into the pony tail, or attaching the braid and tucking the hair behind it. We chose to weave it in.

The braid was adorned with snowflakes.
Bella's nails were done in her choice of color.

They gave her some eye shadow next.

Then some blush…
She applied A snowflake "jewel" to Bella's cheek.
Fairy Frostmother Mary then sprinkled Bella's hair with magic while Bella made a wish.
The Olaf Makeover
Our son decided he wanted the "Olaf" makeover which is a walk-up option. Jackson's Fairy Frostmother was Jennifer.
Jennifer styled his hair into a sort of spikey mohawk. Then, she added Mickey treasure and glitter.
It looked great, and he loved it. Unfortunately, the mickey heads started falling out almost immediately. The Fairy Frost Mothers did offer to fix his hair later in the day. However, we had plans to head over to the Magic Kingdom.
We did drop in on the Harmony Barber Shop once we got to Magic Kingdom and asked for a sprinkling of pixie dust in his hair. They were more than happy to do that for us for no charge.
After the makeovers, we went outside to have photos taken.
There was also a PhotoPass photographer on hand. They took a "magic shot" of Olaf and the kids. We downloaded it with our Memory Maker.
Next, they escorted us to the Ice Palace Cafe. The package included access to the Cafe for up to 6 people. Inside the Cafe were treats and beverages, as well as a coloring station for the kids.
Here's a video we shot of the cafe.
We hope you enjoyed seeing our experience at the Ice Palace Boutique and Cafe. If you have any questions about the Boutique or Cafe, please ask away!