Losing a child while traveling is a parent's worst nightmare. Learn tips for keeping your child safe at Disney Parks.
On our last trip to Walt Disney World, we lost one of our children. While shopping at Disney Days of Christmas in Disney Springs, we turned our backs for just a moment and Jackson was gone!
Our hearts sank. We frantically began searching the store, checking by his favorite things, looking in the corners. No luck. James asked a Cast Member if they'd seen him. They didn't. On the verge of tears, I went outside and began circling the building calling his name. Nothing. Once I came back in I hoped and prayed James had found him. He was still not found. We did one more sweep of the store when suddenly he popped out of the inside of a clothing rack gleefully yelling "Surprise!" We were relieved to say the least. After we got done covering him with hugs and kisses, we looked at each other and knew we did something wrong.
This moment was a huge wake up call for our family. We realized that in the event that Jackson or Bella actually did become separated from us, they were not fully equipped with the knowledge or information that would get them back to us safely. It prompted us to make some changes in order keep our kids safe and protected while on vacation.
While the scenario above cannot be entirely avoided, there are some things you can do to keep your kids safe. Learn from our mistake and set this plan into motion before your next trip. Here are some suggestions.
Tips for Keeping Your Child Safe at Disney Parks
Learn Your Cell Phone Number
While Bella knows our home phone number, she does not know either one of our cells. When you're on vacation, this will be the number they will need to contact you. If your child is capable of memorizing, before your vacation, teach them your cell phone number. Back in the day, I taught Bella using the old '80s hit, Jenny 867-5309, replacing that number with ours of course. Recently, Genevieve Goings of Choo Choo Soul came out with a new song to help kids learn their number.
Safety tattoos
Temporary tattoos
can be used to ensure your phone number will go where ever your child goes. There are a wide variety of options to choose from in many designs. It's best to place them in places that will get less wet throughout the day such as the upper arm (also it's hidden under sleeves).
If you're not into tattoos, you can buy
Travel ID Bands
to wear around their ankle or wrist. Your personal information is located inside the band and away from prying eyes. You could also buy number beads and create a bracelet with your phone number on it.
Tag Their Magic Band
Since most kids wear
Magic Bands
in the parks these days, you can make them serve two purposes. Just like the Travel ID Bands, you can write your personal information on the inside of the band in permanent marker or paint pen.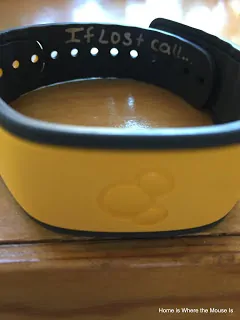 Find a Cast Member
I used to watch Mr. Rodgers religiously when I was a kid. One of the most important lessons I learned that in times of trouble, always look for the helpers. You'll always find people helping. That lesson can be applied to a child getting lost as well.
Becoming separated from your parent can be a very scary thing. But if you teach them to look for the helpers, they will find the help they need.
In this scenario the helpers are the Cast Members. Something we have done since losing Jackson is teach our kids what a Cast Member name tag looks like. We've told them that if they get separated from us, find the nearest Cast Member or Security officer (they also wear a Cast Member ID badge).
Parents: Cast Members will take your children to the Baby Care Center if they don't see you in the immediate area.
Know Who Has the Kids
Here's a tip for you. Know who has which kid. This may seem like a no brainer, but it's something that needs to be done. There have been a few time when we each assumed that the other had one or both of the kids. Let each other know who is with you before you go off to explore.
Take a Picture
This is another tip for you. As the panic of finding out your child is lost sets in your mind goes blank. Even the simplest detail such as what they are wearing can be erased from your memory. Before you head out each morning, take a picture of your kids on your phone and set it as your wallpaper. In the event of an emergency, you'll have a visual reminder of all the information you'll need.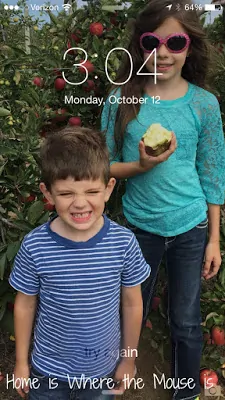 We learned a lot from that experience this summer. We're hoping that history won't repeat itself. But if it does at least now our family will be equipped to deal with such an emergency.
Here are some helpful products:
You might also like:
How to Handle Medical Emergencies at Walt Disney World
Preparing for a Toddler's First Trip to Walt Disney World
How to Survive Disney with a Baby