Welcome to this month's Blogorail Orange Loop. Today the kids are answering the question, which Disney pool is the best?
---
Our entire family loved our stay at Disney's Wilderness Lodge last summer. But our kids especially loved the pool! We asked Bella, our 9-year-old, to share her thoughts on the resort's Silver Creek Springs Pool. In a word, she thought it was AMAZING!
Kid Review of Silver Creek Springs Pool
The Wilderness Lodge is amazing! But to make your stay even more amazing, hit the pool! From the Silver Creek Pool to the splash area to the activities, it's fun for the whole family!
The Pool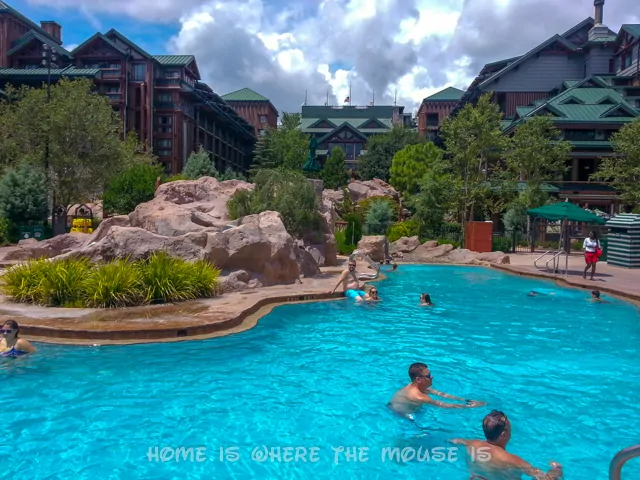 The Wilderness Lodge has an awesome pool.
The water comes from a small waterfall (stream) that begins inside the resort's lobby.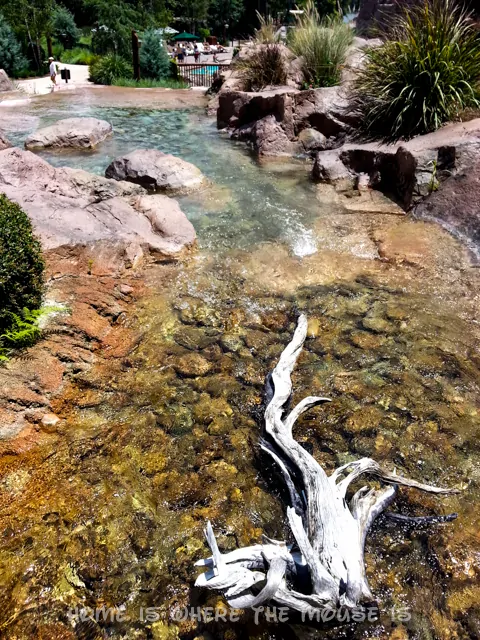 It flows to the 5 feet area of the pool. The pool is huge and fun for the whole family. It has a shallow area, a deep end and a waterslide.
The pool area also has a nearby snack and lunch place.
There is one waterslide at the pool. It goes pretty fast, but it is fun for all ages. (Mommy even went on it) The waterslide is built into the rocks so you have to climb up some stairs to get to the top.
The Splash Area
The Splash Area is fun for all kids. It has two waterslides and a tower that dumps buckets of water on your head. If you have toddlers this is the place for them. Toddlers will love the small waterslide and the water shooters. Other kids would love sitting around, getting sprayed and getting soaked by the huge bucket of water.
Pool Activities
Cast Members host games and Disney trivia poolside throughout the day. You also may even get to be in a hula hoop contest or a fun relay challenge.
Rating
On a scale of 1-10, I would rate the Silver Creek Springs Pool at the Wilderness Lodge at 10! It is fun for the whole family. When staying at the Wilderness Lodge, hit the pool and have some family fun!
Tips from my Parents:
Life Jackets are available and multiple Lifeguards are on duty
Roaring Fork Counter Service is just steps away
Pool Bar and Restrooms are just outside the pool
Splash Area is separated from Pool by a fence
Don't miss the Fire Rock Geyser located just behind Splash Area (erupts on the hour, from about 7am-10pm)
For more kid reviews,
check out the other great posts from the Blogorail!
---
Here is the map of our Magical Blogorail Orange | Kid Reviews | Disney Pools Loop: