We received products from Leap Frog, CLIF Kids, and Mom Select in return for organizing this party and writing this post. Our experiences and opinions are our own.
---
LeapFrog recognizes the importance of getting kids up and active. They declared September 6, 2014, "Fit Made Fun Day", a day to celebrate healthy habits and to encourage kids to get moving. To celebrate the day, a special event was held in Santa Monica, California to see if kids from all over, with the help of soccer star Mia Hamm, could beat a Guinness World Record for active play. The event coincided with the launch of LeapFrog's new activity tracker, LeapBand.
Unfortunately, California is a bit too far for us to travel, but thanks to
LeapFrog
,
ClifKid
, and
Mom Select
, we were able to host our very own Fit Made Fun celebration at home!
A few weeks before the party a box of goodies arrived at our door. It included 2 LeapBands, boxes of ClifKid ZBar Protein Bars, and a great packet on how to throw a fabulous Fit Made Fun party.
LeapBand is the cool new wearable activity tracker for kids! It's designed to encourage kids to get up and get moving by giving them fun activities and challenges to complete with a virtual pet pal. LeapBand tracks kids movement to help them earn jewels. The more they move, the more jewels they'll earn. The games on the band help them to learn about their bodies and suggest how to move more actively. Each band is loaded with challenges, a stopwatch, games and an activity tracker.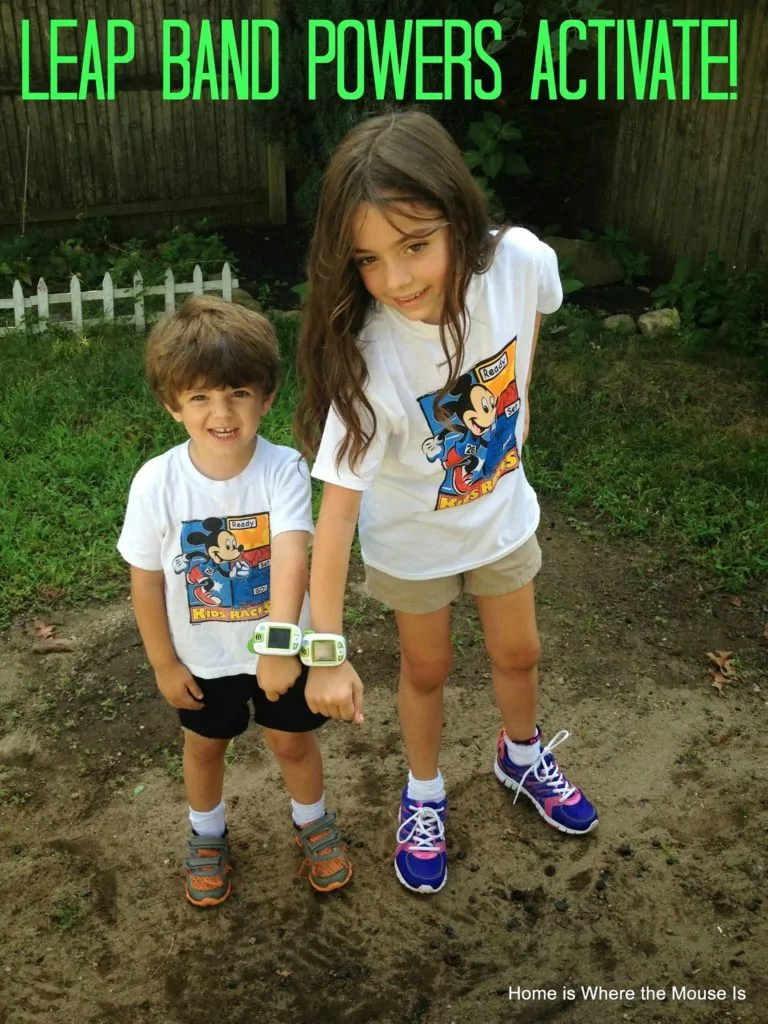 The Party:
We invited kids ages 3-7 to our house for lunch and fun! Different stations were set up throughout our yard to keep our little guests fed, hydrated and entertained.
While we were waiting for the guests to arrive, the kids had fun at the Coloring Station. We couldn't help but have a little Disney infused into our party by having the kids make chEAR signs compliments of runDisney. There were also plently of LeapFrog pals coloring pages to create.
Our Fuel Up For Fun station was filled with healthy snacks including fruit, veggies and ClifKid Zbar Protein. The bars were a big hit with the kids. They kept coming back for more.
For lunch we served sandwiches on whole-grain sandwich thins with a side of veggie chips.
We wanted to make sure we kept our guests well hydrated so we set up a Hydration station. It was a good thing because the thermometer reached almost 90 degrees in New York!
We chose to do 3 activities; Kids Challenge Relay, Fit Made Fun Record Breaking Challenge and a Fun Run.
First up was the Kids Challenge Relay. The kids used the pre-loaded challenges on their LeapBands to complete activities as a team. They didn't know what the band would say so they had to listen carefully to see if they had to jump like a kangaroo, fly like a superhero, walk like a monkey, etc.
Next,we did our part to help break the Guinness World Record. They participated in 3 challenges: snorkel dancing, lawn angels and follow the leader. We confess, due to the heat, we cut down on the time spent on each activity. But, the kids had a blast with all the activities, especially follow the leader.
Our last activity was supposed to be a mini-Marathon, but due to the heat we cut it down to a fun run around the house. Armed with the LeapBand, we challenged the kids to do a miles worth of running as a team. Each kid took a turn to run with the LeapBand and cut through the tape at the finish line. Everyone received a medal for crossing the finish line!
At the end of the party, each kid received a goody bag with a certificate, picture page, ClifKid Zbar protein bars, a running bib and a banana.
Helpful Hints:
The kids had a great time using the LeapBands. They were easy to use and the kids were able to get used to using them right away. The moms loved how they were a cost effective way to get their kids active and many mentioned wanting to purchase one for the holidays. For us, as a family who has begun running together, we're happy that there is a devise that will help our kids track their activity that is kid-friendly and fun.
Here are some things you should know about the LeapBand:
Not only does it promote activity, but it also promotes healthy eating habits!
Volume is low, so make sure kids hold the speaker to their ears.
While it's designed for kids 4-7, our 3 year old got the hang of it right away. However, the activities and challenges were quite easy for our 7 year old and I can see her losing interest in it soon.
It's very durable, so you don't have to worry about the kids dropping it. If they do, it will be a-ok! It's also water-resistant!
The battery is rechargable. Make sure to recharge nightly if your child will use it daily.
Before the bands first use, you need to download the LeapFrog Connect App to your computer and connect your LeapBand via USB cord.
The LeapBand needs to be registered through a new or existing LeapFrog account.
We received products from Leap Frog, CLIF Kids, and Mom Select in return for organizing this party and writing this post. Our experiences and opinions are our own.