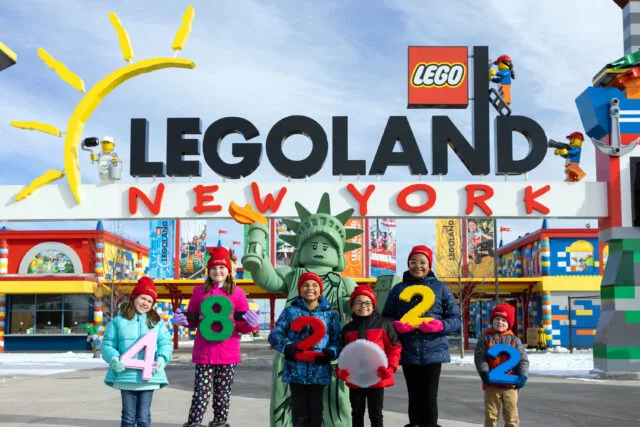 LEGOLAND New York is adding more things to see and do this year, including a water playground, fireworks, entertainment, and holiday events! This is great news for a theme park with loads of potential that has not yet hit its stride due to the pandemic.
When LEGOLAND New York finally opened last summer, we were initially underwhelmed because the park wasn't finished. It was a bit frustrating that so much wasn't open, but we did see the potential for a lot more fun once things were fully operational. You can read our first impressions of LEGOLAND New York here.
Some of that potential was realized when all seven lands of the park finally opened up later that summer. The addition of LEGO Pirates land really made a difference in the experience for us. The additional rides are awesome and added the much-needed ability to cool off in the summer heat.
As big of an improvement as that was, we were still left wanting a little more from LEGOLAND New York. And it looks like we're getting some of that this year.
What's New at LEGOLAND New York?
Here's the rundown on the new additions to look forward to this year:
New Water Playground
Many people were disappointed that despite being the largest LEGOLAND built in the U.S., LEGOLAND New York did not include a waterpark like its sister parks in California and Florida.
Any initial letdowns I had about there not being a waterpark when we visited last year were quickly forgiven once the LEGO Pirates land opened. We got absolutely soaked just playing with the water guns and water cannons in that area.
Now, LEGOLAND New York has announced that they will be adding a water playground complete with waterslides, a dump bucket, and water features in its LEGO City section. From the description and photos, it is almost a mini waterpark.
We expect the new water playground to open in the summer of 2022 and to operate seasonally. So, you'll definitely want to add a bathing suit or change of clothes to your LEGOLAND New York packing list if you're visiting in the summer! During the late fall/winter and early spring, we wouldn't expect the water playground to be open.
Three New Shows
Another aspect of the park that was lacking last year was entertainment. There were no shows or entertainment options on our first visit. And even on our second visit, with only one theater, catching a show meant being in the right place at the right time. We did manage to catch a pop-up show on Brick Street before we left for the day.
Now, you could argue that shows are pretty far down on your list of priorities when visiting a theme park. But I've often been surprised by how much a good show has made us smile and laugh, given us a much-needed break from walking, or a chance to enjoy a few treats before heading to the next ride.
This year, LEGOLAND New York is adding 3 new shows to their entertainment lineup:
Academy of Arrrrr
Detective Trace
Earth BEAT!
These new shows will be performed on two new stages in the LEGO City and LEGO Pirates sections. So, not only will there be more entertainment, but the entertainment will be spread around the park more evenly. That will make it much easier for guests to enjoy!
Holiday Celebrations
While LEGOLAND New York did have a little festive flair through its inaugural season, 2022 will be even more festive. The park has announced that its signature Halloween celebration will be even better this year with the addition of a new 4D movie.
Also, LEGOLAND New York will be open on select days through December 31, 2022, which means you'll be able to get in the holiday spirit at the park!
Brick-or-Treat – Weekends in October will be back with a new 4D Movie: "Monster Party".
Christmas Bricktacular – For the first time, LEGOLAND New York will host LEGO Santa and have a series of seasonal activities and builds for families to enjoy!
"Red, White, and Boom!" Fireworks
On July 4, 2022, LEGOLAND New York will host its first fireworks show to celebrate America's Independence Day. Park Hours will be extended until 10pm that evening.
No further details have been released, but we'd expect they would have patriotic activities throughout the day before the fireworks that evening.
The question is, where in the park will be the best place to watch them? Depending on where the are being set off, there may be some great photo ops from Miniland!
2022 LEGOLAND New York Ticket Prices
The gate price for Day tickets to LEGOLAND New York is $89.99. Purchasing your tickets ahead of time online will usually get you a discount. Depending on the date, discounted prices range from $67.99 to $84.99 per person 3 years of age and up. (Children under 3 years old are free)
LEGOLAND New York also currently offers two annual pass options for those who will visit multiple times:
Silver Annual Pass – $149.99
Elite Annual Pass (Formerly Gold Annual Pass) – $299.99
Silver Annual Pass
LEGOLAND New York's Silver Annual Pass option grants you admission to LEGOLAND New York for one year from the date of purchase. Unfortunately, that does not include blackout dates, of which there are many. In fact, the entire summer is blacked out from the last week of June through the first week in September. Other blackout dates for 2022 include Memorial Day Weekend, Saturdays in October (Brick-or-Treat), and the week after Christmas through New Year's Eve. You can view the full calendar of blockout dates here.
There are also no retail, dining, or parking discounts with the Silver Annual Pass.
So, the Silver annual pass only makes sense for those who intend to frequent LEGOLAND New York during the spring, fall, and winter. You'll want to plan at least 3 visits to get your money's worth.
Elite Annual Pass
Like the Silver Pass, the Elite Pass grants you one year of unlimited admission to LEGOLAND New York from date of purchase, but with no blackout dates.
The Elite Pass also gets your free parking (saves you $20 per visit), as well as a discount on shopping, dining, and even the LEGOLAND New York Resort Hotel.
Additionally, the Elite Pass grants you admission to 30+ Merlin Attractions in North America. These include:
LEGOLAND Theme Parks
Madame Tussauds
SEA LIFE Aquariums
LEGOLAND Discovery Centers
Purchased for LEGOLAND New York alone, an Elite Pass will pay for itself in 4 visits. Obviously, going 5+ times, plus taking advantage of access to other Merlin attractions will get you the most bang for your buck!
Know Before You Go
LEGOLAND New York Opens Friday, April 8 for the 2022 season!
Dated ticket holders do not need a park reservation.
Reservations Are Required for Non-dated ticket holders and Annual Passholders
COVID-19 Policies: Numerous health and safety protocols have been implemented, you can find the latest news on requirements on the Safe to Play page.
Most attractions, shops, restaurants, and venues are ADA accessible. Guests must be able to transfer to/from rides with assistance from a member of their own party. You can read the full accessiblity guide here.
Parking Fee: $20 (can be prepaid online). Elite Passholders and LEGOLAND New York Resort Hotel guests get free self-parking.
Strollers ($16), Double Strollers ($22), Wheelchairs ($14), and ECVs with canopy ($56) are available to rent and can be prepaid online.
Water bottle refilling stations are available throughout the park
Refillable Beverage Cups can be purchased inside the park and are a good way to share some refreshment throughout your visit.
Rainy Day Promise – If inclement weather closes attractions for more than 2 hours during your visit, guests can receive a code to book a free return visit online within 365 days, no questions asked. Does not apply to annual passholders.
All bags are inspected prior to entry. Prohibited items include: Any item deemed to be a weapon; Fireworks and/or smoke bombs; Noise Makers; Glass bottles or other articles which may cause injury and/or be deemed offensive or dangerous; Sharp objects or anything which may be considered a security risk including knives, penknives, scissors, corkscrews, metal nail files, toy or replica guns; Intoxicating liquor; Illegal substances and/or legal highs; Skateboards, scooters and rollerblades; Drones; Suitcases; Coolers larger than 10"x12"x12" (Except School Trips).