When is LEGOLAND New York opening? Mark your calendars! The official date has been set for July 4, 2020!
We also now know what it will cost to get in, and what days the park will be open next year.
LEGOLAND New York to Open July 4, 2020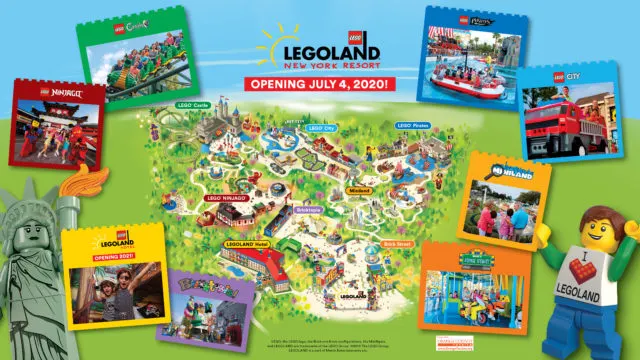 Independence Day is an interesting choice for the LEGOLAND New York opening day. On the one hand, it's sure to be a busy weekend with lots of families looking for something fun to do. On the other, you typically want to have everything up an running smoothly before such a big holiday.
It's a bold choice. But we think it will pay off. We know there will some preview days for "First to Play" passholders and maybe a media event before the official opening.
As far as what the grand opening may entail, we don't know yet. The LEGOLAND folks have said it will be a "star-spangled" celebration. And if you're interested in attending, you can get tickets now!
Related: Here's everything we know about LEGOLAND New York so far
LEGOLAND New York Tickets
Tickets to LEGOLAND New York are already on sale through their website. Single Day admission is $69.99 for kids and $79.99 for anyone over 13. And there's a 10% discount if you buy them online, which knocks the price down to $63 and $72, respectively.
If you want to visit more than once, then you should consider purchasing an Annual Pass.
But if you want to be there for the LEGOLAND New York opening celebration, you will either want to get a single day ticket or a premium or gold annual pass.
First to Play Pass (sold out) – $94.99
Standard Annual Pass – $119.99
Premium Annual Pass – $134.99 ($149.99 without the current online discount)
Gold Annual Pass – $209.99
First to Play Pass
The LEGOLAND First to Play Pass was a special offer to be the first to experience LEGOLAND New York. The First to Play Pass gives you 12 months of admission to the park. It has the same blackout dates as the Standard Annual Pass. But, it also includes a special preview event opportunity prior to the park's official opening.
Standard Annual Pass
The Standard Annual Pass for LEGOLAND New York provides admission to the park for 12 months from the first day of use, with the exception of certain blackout dates. Standard Annual Passholders will get admission to special events, as well. (But it doesn't look like the grand-opening celebration will be one of those since it's a blackout date)
Premium Annual Pass
For an extra $15-$30 each, the Premium Annual Pass has no blackout dates, includes free parking, admission to special events, and gets you shopping and dining discounts. If it's important to be able to visit on busy summer or holiday weekends, this is the pass you want.
Gold Annual Pass
The Gold Annual Pass gives you everything the Premium Annual Pass does PLUS admission to any of the other 31 Merlin North America attractions. That includes the other 2 LEGOLAND theme parks in California and Florida, as well as the 14 LEGOLAND Discovery Centers, 6 SeaLife Aquariums, 7 Madame Tussaud's Museums, and the San Francisco Dungeon.
LEGOLAND New York 2020 Operating Schedule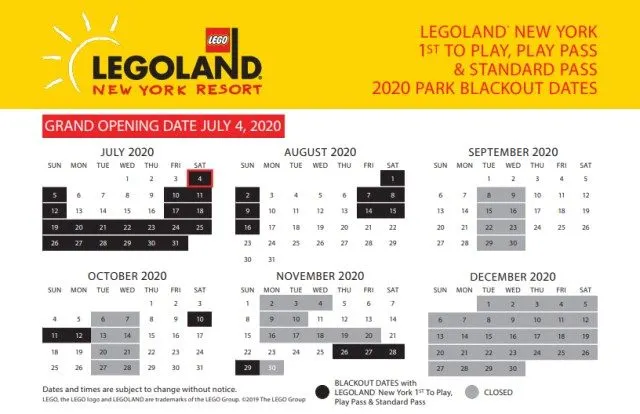 LEGOLAND New York will operate seasonally, like many other amusement parks in this part of the country. In its inaugural year of operation, LEGOLAND New York will be open from July 4th through November 29th, with closures on certain weekdays September – November.
The calendar above also details the blackout dates for the First to Play Pass and Standard Annual Passholders. Those who purchase these options won't be able to go Fri-Sun in July and through mid-August, Columbus Day weekend in October, and Thanksgiving Weekend in November.
We believe that for 2021 and beyond, LEGOLAND New York will be open at least on weekends in the Spring.
So, who's planning on spending next 4th of July at LEGOLAND New York?!?!