The Northeast is getting its first new theme park in a really long time. The third and largest LEGOLAND theme park in the U.S. will be opening in 2020 just 60 miles from New York City!
We visited LEGOLAND Florida just last year and are super-excited that LEGOLAND New York is only going to be 2 hours from us!  Here is what we know about LEGOLAND New York so far.
LEGOLAND New York Resort
We first heard about LEGOLAND New York when we noticed it on a list of LEGOLAND theme park locations while planning our trip to LEGOLAND Florida. A few months later, LEGOLAND's third U.S. theme park was officially announced along with a new LEGOLAND New York Hotel!
Where is LEGOLAND New York Resort?
LEGOLAND New York will be located in the town of Goshen, NY. That's about 60 miles northwest of New York City. So you're talking about an hour and a half by car from the Big Apple. Philadelphia is a 2-3 hour drive. Boston is about 4 hours away. The park's location will be near I-84 and the closest airport is Stewart International, about 25 minutes away by car.
For us, it's probably going to be about 2 hours to get there. That makes a day trip possible, but it's more than likely we would plan to stay over so we can enjoy ourselves more.
Largest LEGOLAND Yet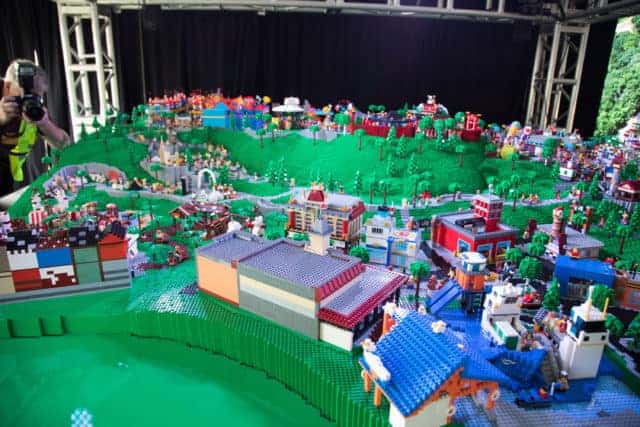 The site for the newest LEGOLAND theme park is 522 acres. 150 of those acres will be dedicated to conservation. That leaves 372 acres for development.
The theme park itself is reported to take up about 153 acres. For comparison, LEGOLAND California is 128 acres, and LEGOLAND Florida is 145 acres.  Even accounting for the hotel and support structures, that will still leave room for possible expansion in the years to come.
LEGOLAND New York Theme Park
Like the other LEGOLAND theme parks, LEGOLAND New York will be divided into several sections, each with a different theme. Altogether, the park will include 50 rides, shows, and attractions.
Factory Street
LEGO Shop
Minifigure Trading
Bricktopia
The Big LEGO Adventure – All new for LEGOLAND NY! Be shrunk to the size of a minifigure and see how LEGO bricks are made!
Brick Party – A carousel of LEGO creations.
Imagination Celebration – Spin around while a minifigure DJ plays music.
Robotic Play Centre – Build robots with LEGO Mindstorms.
LEGO Creative Workshop – Take a class with a Master Builder.
Build and Test – Build and race cars, test structures, or just create!
Creative Jungle – For the little ones to climb, slide, and build.
Duplo Express – All aboard the Duplo number train.
Heartlake City
Meet LEGO Friends: Emma, Olivia, Stephanie, Andrea and Mia. Take a balloon ride over Pinefall Woods. Sample Granny's famous Apple Fries.
LEGO Ninjago World
LEGO Ninjago The Ride – Master the power of the elements and save the world of Ninjago.
Jay's G-Force Trainer – Train to spin like a Ninja.
Lloyd's Spinjitzu Spinners – Spin around and upside down like a Ninja.
Ninja Training Camp – Think, move, and train like a Ninja.
Animal Sanctuary – Younger Ninjas can learn about the amazing animals of Ninjago and play with them.
LEGO Castle
The Dragon – Chase the red wizard and his dragon from the castle.
Dragon's Apprentice – Train baby dragons to fly.
Merlin's Flying Machines – Take a ride in Merlin's flying contraptions.
Tower Climb Tournament – Hit the targets while you climb the tower.
Builder's Guild – Help build the castle.
Royal Stables – Learn about caring for the royal horses and kingdom's farm animals.
LEGO City
Rescue Academy – Put your firefighting skills to the test.
Driving School – Kids ages 6-13 can earn their drivers license.
Junior Driving School – Kids 3-5 can experience the thrill of driving.
Coast Guard Academy – Join the Coast Guard and take a boat out on patrol.
Palace Cinema – Enjoy a 4D movie.
City Wharf – Explore and Play on the cargo ships.
City Station – Learn about being a policeman or firefighter.
LEGO Pirates
Splash Battle – Use your water cannon to fend off pirates, spectators, and other riders.
Rogue Riders – Ride your racing barrel through storm and other ocean dangers
Anchors Away – Get tossed and turned as you would on the high seas.
Castaway Camp – Explore and play on the infamous Brick Bounty
Swabbie's Schooner – Younger kids can meet the captain and learn about the ship and animals you find.
Buccaneer Builders – Help the pirates redecorate the Harbor Master's office and jail.
MINILAND
MINILAND – See the whole country in one day!
Build a Boat – Build and race your LEGO boat.
LEGOLAND New York Tickets
As of right now, the complete operating calendar and ticket information have not been released.
But, if you're interested in being one of the first to experience LEGOLAND New York, you can purchase a limited "First to Play" Pass. It's a special annual pass that comes with an invitation to a pre-opening preview day.
More about the "First to Play" Pass, and why we'll probably get it.
LEGOLAND Hotel
One thing that we know from the announcement is that like most LEGOLAND locations, this new LEGOLAND theme park will include a 250-room LEGOLAND Hotel that will open along with the park. While there are many guests who will visit LEGOLAND New York as a day trip, there will be benefits for those opting to stay at the LEGOLAND Hotel.
Themed hotel with interactive LEGO features throughout.
Your choice of LEGO themed rooms-Pirate, Kingdom, Adventure, LEGO Ninjago or LEGO Friends.
Located right at the main entrance of LEGOLAND New York.
Exclusive early access to LEGOLAND New York.
FREE buffet breakfast at Bricks Family Restaurant.
Nightly children's entertainment.
On our visit to LEGOLAND Florida last summer, we stayed in the LEGOLAND Beach Retreat and really enjoyed ourselves. We can only imagine that staying at a LEGOLAND Hotel would be just as awesome!
We're told the LEGOLAND New York Hotel will start taking reservations in the second half of 2019.
Seasonal Schedule
One of the challenges to operating a theme park in the Northeast is the weather. As a result, LEGOLAND New York will be closed during the winter months with an operating season that runs from April-November. Even in peak season, the park will probably close around 8pm nightly.
LEGOLAND Hotel will be an experience in and of itself and be open all year round. It will make a unique place to stay for families who want to enjoy nearby winter activities.
I hope they'll consider doing some holiday themed special events during the winter. Can you imagine a MINILAND all decorated and lit up for the holidays? Awesome!
As more information on the progress of LEGOLAND New York becomes available, we'll share it here and on our social channels. You can also follow LEGOLAND New York's progress on Facebook. If you happen to be in the area of Goshen, NY, you can stop by the LEGOLAND Community Center at 6 North Church Street, Goshen, NY 10924.