We received a complimentary Rocket Fishing Rod from Goliath Games in order to facilitate this review. All opinion are our own.
When I was a kid in the 80's, I was into Barbies and Cabbage Patch Kids. I played doll house and drew a lot. But something I was also into was fishing. Fishing was something my dad and I had in common and something he did regularly with my sister and me. My dad would grab his trusty brown tackle box (which he still has to this day) and we'd head to the local fishing pond or out to Long Island Sound to fish for bluefish. I can still remember casting out my line into the oblivion, hoping and praying I'd catch something. And when I did, the joy was immeasurable. It was like I won the lottery. These times were special for us. When I became a parent, I couldn't wait to pass on the love of fishing to my kids.
Now it's time for the next generation to learn how to fish. Jackson has been asking to go fishing for a few years now. The opportunity didn't present itself until this past week when we went on a family getaway to Lake Winnipesaukee in New Hampshire. Since it was our first time taking a lake vacation, Jackson understandably couldn't wait to go fishing. We were recently gifted the Rocket Fishing Rod from Goliath Games, so we made sure to pack it along to see what it could do.
Rocket Fishing Rod
The Rocket Fishing Rod is a ready to fish pole made for kids. Instead of casting like a traditional rod, the Rocket Fishing Rod blasts its line up to 30 feet. All you have to do to set up is attach the hook (and a worm), and you're ready to go. The safety bobber safely hides the hook until it hits the water, and all but eliminates getting tangles in the line. All kids have to do is pump, launch and reel in a fish!
For Jackson, casting the Rocket Fishing Rod was easy. We let him try it out without the hook until he got a feel for it. After a few practice casts, he was good to go. His only issue was making sure he shot the line straight out. When it came time for the real deal with the worm, it was smooth sailing. Compared to the other kids who were using traditional rods, casting was easier and a little more fun for Jackson. He didn't have to deal with a tangled line or not casting out far enough.
Reeling in the Rocket Fishing Rod was pretty smooth as well. It did get stuck once, but that issues was easily fixed. The hardest part was making sure the hook and bait were tucked into the bobber. Jackson also struggled a little with getting the capsule closed and loaded. But I suspect the more he uses the rod the easier that will become for him.
As a parent, I especially loved the safety features. The hook was protected from little hands as it became enclosed in the capsule once reeled in. The rod also features a safety button. The bobber will not launch unless the safety button is pressed while pulling the trigger. This added step prevents the bobbler from being cast at will.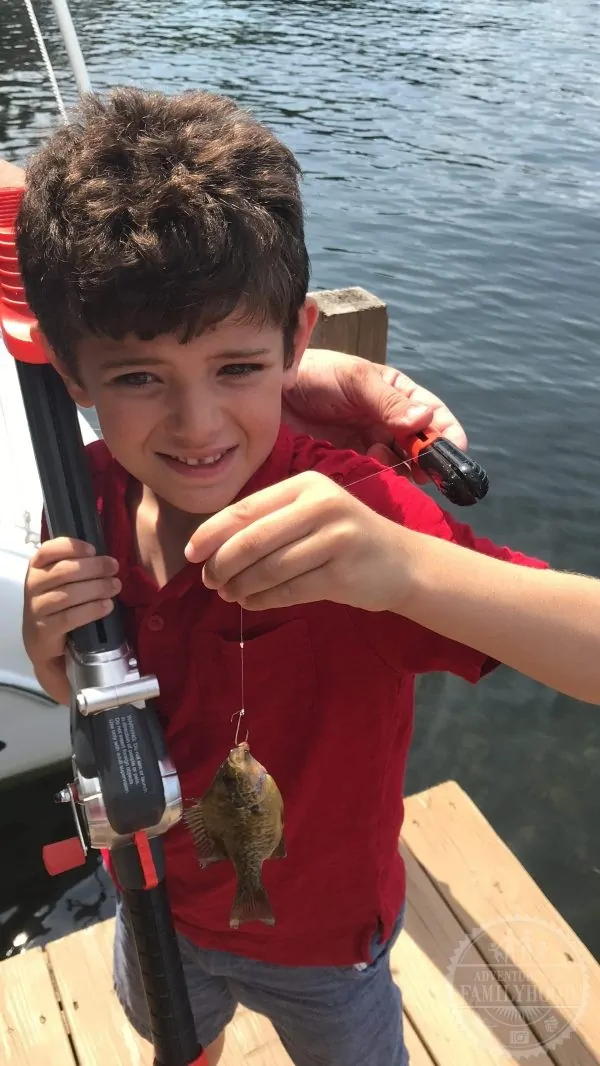 The biggest thing Jackson learned from his first fishing experience was that fishing requires patience. It was hard for him to keep casting and coming up with nothing. But as they say, good things come to those who wait. On his final try he caught one! In his face I saw the same joy I experienced as a kid. I can say with confidence that his first fishing experience was a success.
We think the Rocket Fishing Rod is a great first fishing rod for kids. It's easy to use and does all the things a traditional fishing rod does without the hassles. Rocket Fishing Rod can be purchased through Amazon , Target, Walmart and Dick's Sporting Goods.