In April, our little guy turned 2 years old. We celebrated in Disney style, of course, with a "Mickey and Donald farm" party! (Inspired by the "Mickey and Donald Have a Farm" episode of Mickey Mouse Clubhouse, Jackson's love of animals and Mickey Mouse!)
Want the clubhouse party to appear? Well, first, you've got to say the magic words:
"Meeska! Mooska! Mickey Mouse!"
Welcome to the Clubhouse!
We altered the Mickey Mouse Clubhouse logo
to create a Welcome sign for the front door!
A mickey head birthday banner hung for all to see!
This was the table the guests saw as they first walked in.
The birthday boy and Mickey Mouse
Festive ear hats for all!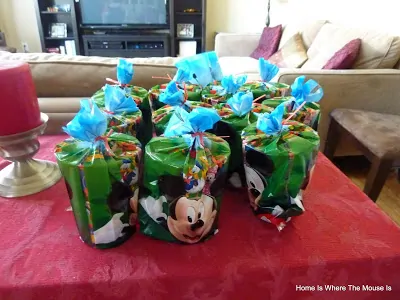 Party Favors!
The Dessert Spread!

Every party should have an awesome dessert table, and ours was no exception. Mostly Mickey Mouse Clubhouse in theme, it did have some barnyard touches. Our dessert buffet included:
Mickey Cupcakes (chocolate cupcakes, frosted ,
topped with crumbled oreos, and mini-oreos for "ears"
"Moo Moo Cow" Rice Krispie Treats with vanilla chocolate
and chocolate spots
Gooey Fish
Mickey Oreo Pops
Mickey and the Gang greeted guests as they filled their plates with yummy treats.
There was also apple pie and cow tails to snack on. We also had a small store bought cake just for the birthday boy!
And then there was the farm portion of the party
We set up this part of the party to resemble a farmer's market. Jackson's Farmer's Market had 3 stands:
Donald's Milk and Eggs

Mickey's Farm Fresh Produce

Hot Dog, Hot Dog, Hot Diggity Dog Bar
our party "Farm Stand"
Beverages, plates, bowls, utensils, & cups table.
The utensils were tied up with twine and put into a bucket
labeled "Pitchforks and Shovels".
Mickey's Farm Fresh Produce section featured
Apples,fruit skewers, and Caprese Pasta Salad and…

… A vegetable garden
Donald's Milk and Eggs section featured Mickey shaped bread, cold cuts,
and toppings for sandwiches, as well as deviled eggs.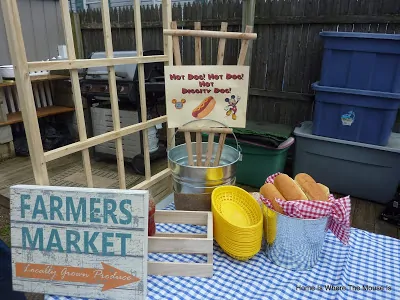 And of course, there was the Hot Diggity Dog Hot Dog Bar!
Our tables were adorned with festive mickey head topiaries.
See our post about how to make them here
Oh Toodles!
A Farm Photo Op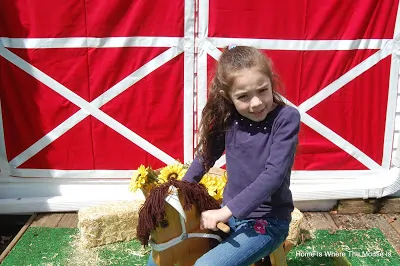 It was Bella's idea to include the rocking horse.
The birthday boy!
One of our activities for the kids was an Egg Hunt.
There were also potato sack races in the backyard.
Jackson's Smash Cake was a simple cake
topped with a Farmer Mickey toy figure.
| | |
| --- | --- |
| | This party would not have been possible if it had not been for all the ideas I found on Pinterest. It is time to give credit where credit is due. Here are some of the original ideas for this party: |