Counting down to a Walt Disney World vacation can be just as fun as the vacation itself. In honor of the opening of Toy Story Land, I created a Mr. Potato Head Disney Vacation Countdown. As Mr. Potato Head comes to 'life' the closer you are to starting your magical vacation.
In a few short weeks, we'll be packing the car and heading down I-95 to Florida. The main reason why we wanted to visit Walt Disney World this summer was to check out Toy Story Land. As soon as the land was announced at D23, we knew that this would be a place our whole family would enjoy. We're so excited to experience the two new rides, eat at Woody's Lunchbox and explore Andy's backyard.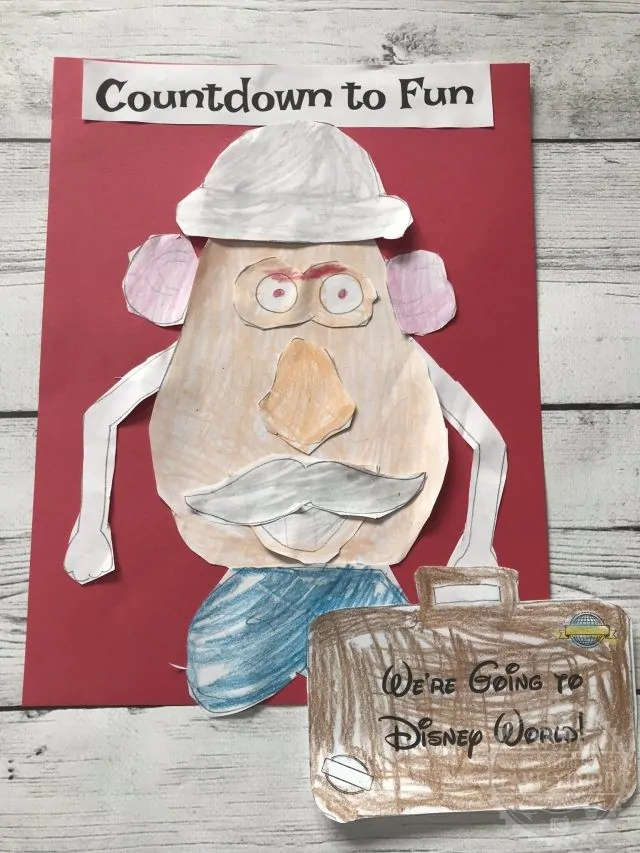 In anticipation of our trip, I thought it would be cute to make a Toy Story inspired countdown chart. I decided to use Mr. Potato Head not only because he's adorable, but because he has so many parts. I created a 10-day Mr. Potato Head Disney Vacation Countdown. Each day as you countdown to your trip, you'll add a new part to Mr. Potato Head. When Mr. Potato Head is all done, it's time to go!
Follow these easy instructions for making your own Mr. Potato Head Disney Vacation Countdown.
Download and Print
Download and print our free "Countdown to Fun" Mr. Potato Head countdown printable. It includes his body, parts and suitcase. The only other supplies you'll need in a piece of cardstock or construction paper to glue him on.
Color and Cut
As you countdown to your trip, you'll color and cut out one of Mr. Potato Head's parts. Each part is labeled as to which day they will be added to the chart. Start by coloring and cutting out the body, and gluing it onto cardstock or construction paper. Also, cut out the "Countdown to Fun" heading and glue that to the top of the paper.
Add the Parts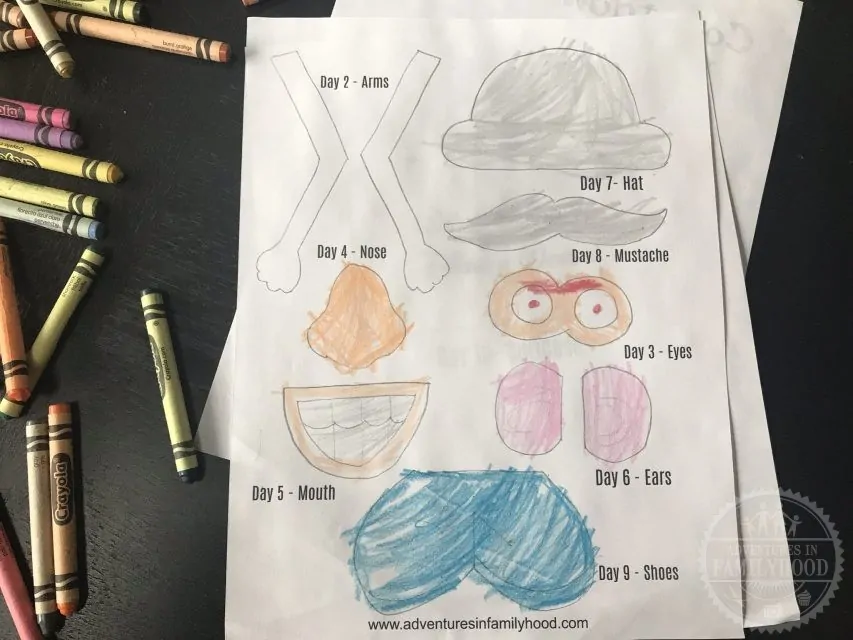 Each day, color, cut and glue one part and add it to Mr. Potato Head. The parts go in the following order:
Day 1: Body
Day 2: Arms
Day 3: Eyes
Day 4: Nose
Day 5: Mouth
Day 6: Ears
Day 7: Hat
Day 8: Mustache
Day 9: Shoes
We're Going to Disney World
On day 10 it's time to color, cut and paste the "We're Going to Disney World" suitcase to the chart. Now that Mr. Potato Head is complete, it's time for vacation!
Variation
If you're feeling a bit more creative, try this variation. Print out all the parts. Trace each part onto construction paper. Cut out each part and put them into a food storage bag. Each day, glue one part onto Mr. Potato Head in the order that you wish. However, always end with the suitcase on day 10.
How do you like to countdown to your Disney vacation? Let us know in the comments.
For more countdown ideas, check out: