Welcome to those of you joining me from 400 Miles to Disneyland and those of you just hopping aboard. I am the Final Stop on our Magical Blogorail.
I am honored and thrilled to be joining the Red Loop this month as a Guest Blogger. This month's theme is Disney Side. Your Disney Side is the side of you that laughs more, screams more and just plain lives life to the fullest. For me, I bring my Disney Side out in 2 ways.
Disney Side in the Park: The Fashionista
When I'm at Walt Disney World, you might see me looking like this…
My Disney Side in the parks comes out through what I'm wearing.
From ears…
to shirts…
to my accessories…
and even bags…
I am decked out in Disney Style. Sometimes my toes are Disney-fied as well.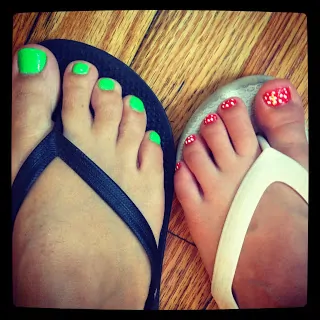 My Tinkerbell Toes and Bella's Minnie Toes
Disney Side at Home: The Party Planner
At home I show my Disney Side through the Birthday parties and movie nights I plan for my family. I love planning parties (in fact, I think I missed my calling in life). When it comes to one of my Disney themed parties, it's anything goes.
We dress up…
we go on Safari…
Animal Kingdom Night
and we play games!
Bella's Toy Story Mania Birthday Party
But, the highlight of all my parties has to be the food/dessert tables. Here are some of my favorites.
Bella's Princess Tea Party Birthday
Lilo and Stitch Movie Night
Toy Story 2 Movie Night
Jackson's Mickey and Donald Have a Farm Birthday Party
Animal Kingdom Theme Night
Winnie the Pooh Movie Lunch
I'm currently working on a Frozen themed party for my daughter's birthday.
Thank you for joining Magical Blogorail Red this month. We will be back on February 6th with an all new theme. Keep checking in with our blogs in between loops to keep up to date with our Disney news, photos and stories. If you are looking for more Disney magic, you can make your way over to The Magical Blogorail website to see all our members and their blogs, as well as all our previous loops.
Here is the map of our Magical Blogorail should you happen to have to make a stop along the way and want to reboard:
Final Stop ~ Adventures in Familyhood (You are here!)