There are many things I love about Fall. But one of my absolute favorite things is driving through miles of the splendor of colorful leaves, or just watching them fall from the trees.
This fall, enjoy the colors of the season by visiting our nation's natural treasures: its parks. National Parks from coast to coast put the beauty of our country on display. While you can't go wrong with any park you choose, here are the 10 best National Parks for "Leaf Peeping".
When to Go?
The leaves change colors and fall no matter where you live. In some places it happens earlier than others. So how do you know when the best time to go "leaf peeping" is? There are 3 ways to decide:
Historical Info – look at when colors have usually peaked in different areas. An unusual weather pattern could throw this off.
Foliage Reports – Get real time updates from "peepers" online. Great if you are flexible with your schedule and can wait until the last minute to head there.
Foliage Forecasts – Use data to predict peak foliage colors. The best tool for planning in advance.
Where to Go?
Generally, I think of New England when I picture fall colors. I enjoy driving to my in-laws in Connecticut during the fall, or heading into "upstate" New York for apple-picking or seeing the Great Jack O'Lantern Blaze. I imagine the colors get better and better the further north you go.
But that's not exactly true. Leaves will change colors all across the United States, even in the South and West. All you need to do is find a forested area with a great view. So what better place to go than a National Park?
I've searched through all of the best fall foliage lists and these are the 10 National Parks that are mentioned the most when it comes to "leaf peeping".
Acadia National Park, Maine
Acadia is on almost every list I've seen. With mountains providing great vantage points, and the sunrise to really light up the colorful leaves, you can see why this is one of the best places to go for fall foliage.
Shenandoah National Park, VA
Famous for the Skyline Drive views of this beautiful area, Shenandoah National Park puts on a colorful display in the latter half of October. The scenic drive is breath-taking, but be sure to make time to stop and really take in the view at one of the overlooks or hiking trails.
Yosemite National Park
Yes, California has a Fall season. With colors in display as late as early December, leaf peepers can enjoy fall foliage in place of snow.
Great Smoky Mountains National Park, Virginia/North Carolina
With over 100 different kinds of trees, there are that many different hues of color to be seen in the Great Smoky Mountains. Higher elevations will begin to change as early as September. But the most spectacular time to visit for fall colors is typically mid October through November.
Cuyahoga Valley National Park, Ohio
With no great tourist attraction, towering mountain, or natural wonder to lure you to Cuyahoga, you may not consider making the trip. I had certainly never considered it until it kept turning up on these fall foliage lists. After seeing the pictures on this post about a visit to the park, I would definitely put it on my list. It may not be as sexy as some of these other national parks with their iconic landmarks… but it's beautiful in its own understated way.
Grand Teton National Park, Wyoming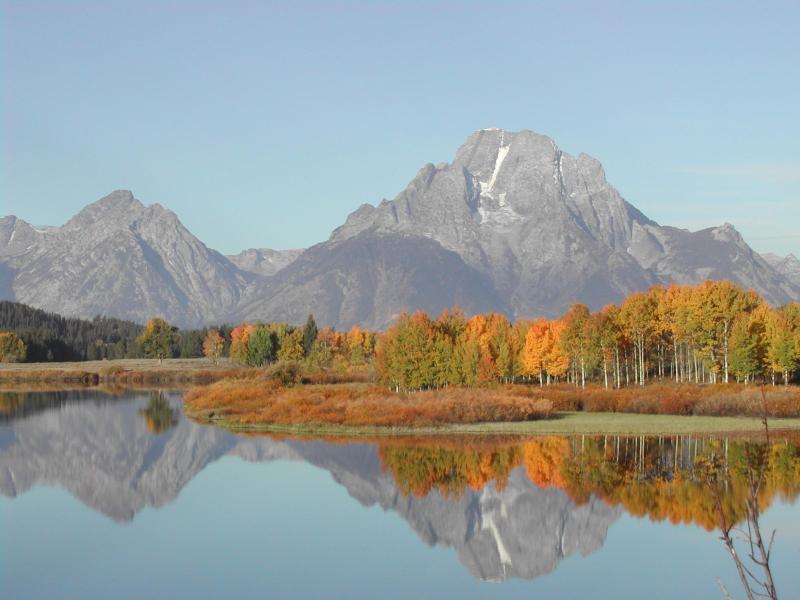 Colors typically peak here about the third week in September. And is there anything more I can say that the picture doesn't? You get twice the color with that amazing reflection in the lake. Wow!
Rocky Mountains National Park, Colorado
In the Rockies, the higher elevations will start to show their colors in August. The effect of the golden color and the winds causing them to shimmer is called "quaking". Quaking continues through September as more and more of the Aspens turn golden.
Zion National Park, Utah

Zion National Park is another surprising addition to this list. I admit that I didn't even know where it was. But enough people were talking about its fall colors to merit an inclusion here. The park appears to feature a canyon with many trails and gorges to explore. This is not a drive-through route. Peak color is typically late October into November.
Glacier National Park, Montana
With scenic drives (you can also bike), the grand vistas of Montana are their most colorful in September through mid-October.
Denali National Park, Alaska
The autumn season in Denali National Park is a short one. The peak colors here will be in August, the earliest full peak of any park on our list. Still, there is a unique beauty to this land that makes it worth squeezing in a visit if you can. Time it right and you can peep out some of the most interesting fall foliage in the U.S..
For more ideas of things to do this Fall, check out our Fall Bucket List.